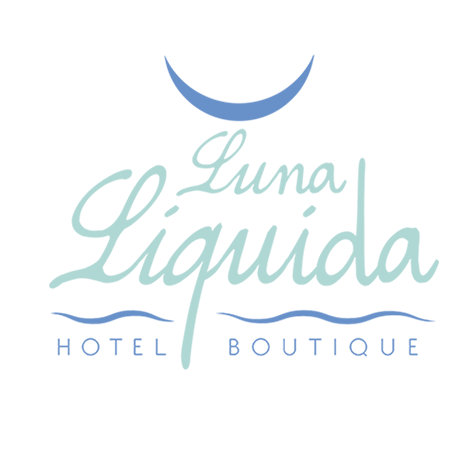 A bohemian space inspiring and artistic… in the heart of downtown with a relaxing ambience that will welcome you. Its name "Luna Líquida"  wich means Liquid Moon, recall us the reflection of the moon over the Pacific Sea, which you can appreciate form its magnificent location.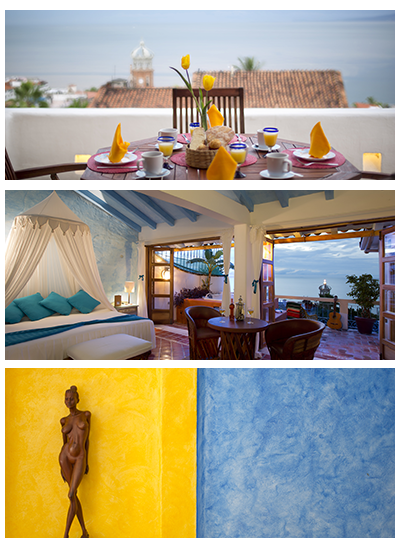 The hotel is built in two constructions that have been connected by their central patios, with a traditional Vallarta style, many white areas with solid color details that highlight the spaces making them to come alive. Decoration details of different countries including Mexico are the final touch of each area that will surround you with the magic experience Puerto Vallarta.
Wide spaces in each room you will find the correct one for your travel, as it offers a great variety of posibilities that can accommodate up to 6 persons.
CONSIDER THIS…
From its pool you will have one of the best views of the city, you will be pamper during the day with organic snacks and petit fours.
Some of the rooms have full equiped kitchen that will offer you more livin space and to show off your culinary expertisewith fresh products of the region.
YOU'LL SPECIALLY LOVE
Its amenities are prepared locally helping the economic developement of women of the region. Through their Experience Embassadors you can request aditional services inside and outside of the hotel, they will always support you to make more warm your stay. From specialy design menus for each client, relaxin massages or aromatherapy.

YOU MAY WANT TO KNOW
In the evenings the hotel is transform, the lights, the fountains and gardens create a warm and romantic atmosphere.
WHAT'S FABULOUS HERE
Due to its location you will be just a few blocks from the boardwalk, art galleries, restaurants of a great variety of tastes and nightlife of the destination.

WHO IT WILL APPEAL TO
The hotel is perefct for families or groups of friens as you can rent several rooms and have an entire villa. For those that wish to explore the heart of Vallarta in a casual ambience.
---
Rates
All rooms of Luna Liquida have Air Conditioned , ceiling vents , cable and safety deposit box.
Note: Rates are quoted in US dollars and are subject to change without notice. Please note that hotels will charge in Mexican pesos at current exchange rate when payment is processed. We invite you to contact us if you need rates for the following year and do not see them on our site.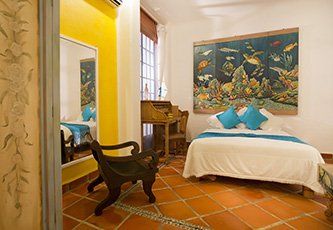 Standar Room
Option of 1 or 2 double beds, independent bathroom. Maximum capacity for 3 persons.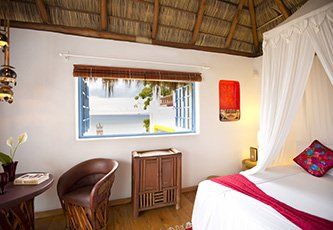 Ocean View
Option of 1 or 2 double beds, bathroom, ocean view terraces. Maximum capacity for two persons.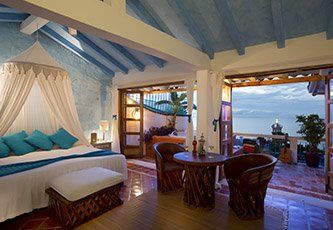 Junior Suite
King Size bed, bathroom with bath tub or jacuzzi, ocean view terrace. Maximum capacity of 2 persons.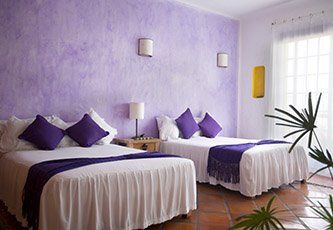 Conecting Rooms
Option of 1 or 2 double beds, shared bathroom, ocean view terrace. Maximum capacity of 6 persons.
Terms and Conditions
Deposit Policy:
50% of the total stay deposit is required; the total payment must be done 7 days prior to the arrival date. If you are booking 7 days or less prior to the arrival date the total stay must be paid at time of booking.
Cancellation Policy:
If the guest requires to cancel 1 day or more days before your arrival date, teh 50% of the total stay will be refunded.  All cancellations must be request in written.
No Show Penalty:
2 night stay penalty will be charged.
Credit Cards:
VISA ans Mastercard
Includes
Continental Breakfast.
Notes
Rates do not include 19% tax.
Children under 13 years old are noc accepted.
Check - In: 3:00 p.m. | Check - Out: 12:00 p.m.
Transportation
The transportation services requires advance request and has an additional cost.
book now
Services
14 Rooms
Infinity Pool
Jacuzzi and Wi-Fi
Wine & Food
The hotel offers to all their clients continental breakfast that can be offered in different areas of the hotel or in the terrace of your room. They also offer private dinner with an additional cost that are prepared specially for you according to their preferences.
Receive information about this hotel