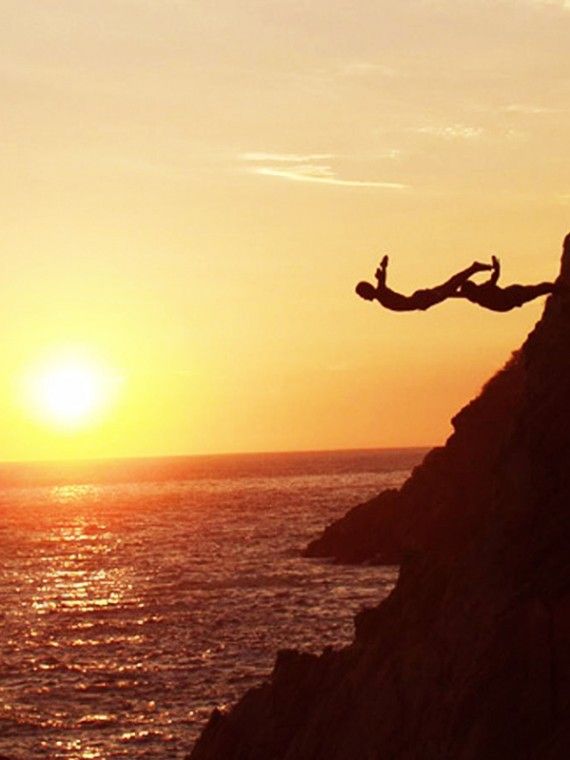 Acapulco
Acapulco, Guerrero
Acapulco, known as the coastal playground of México since the early sixties, attracts tourists from all over the world. Acapulco´s spectacular bay with it´s tropical landscape and exotic islands is lined with hotels, beautiful homes, postcard beaches, restaurants and its famous nightclubs.
Acapulco's history
Acapulco enjoys a romantic and glorious history.
The name Acapulco, although very elusive as to its origins in the native tongue of the Nahoas indians (the predecessors of the Aztecs), means "The place where the reeds were destroyed".
Centuries later, Acapulco was conquered by the Spaniard Hernan Cortes when the Aztec Empire fell in 1521. Spanish settlements and colonization began in 1550 and it was then that the Nahoa Indians were enslaved and displaced from their more than 1000 years homeland.
From 1571, Acapulco retained its importance as the most important commerce and trading port for Europe with the Philippines and other Asian and South American ports for the next 400 years. During that time, Acapulco became a haven for pirates including Sir Francis Drake. The Fort of San Diego, now a modern museum, was built to defend the city from their attacks.
Acapulco played a key role in the Independence of Mexico from the Spaniards in 1810. There is even a recorded Independent movement from Acapulco´s native Indians as early as 1531. During the Mexican war of Independence, the Fort of San Diego was one of the most difficult positions to liberate from the Spaniards. It even became an obsession to Morelos, one of the most important Independence Generals.
Acapulco began its transformation to that of a vacation destination in the 1920´s when the Prince of Wales, the future King Edward VIII, visited the bay on a fishing expedition, and the Highway to Mexico City was completed in 1931.
Wealthy Mexicans, American writers, Hollywood Stars and European jet-setters soon flocked to Acapulco. It was here that Elizabeth Taylor married Mike Todd, John F. Kennedy and Brigitte Bardot honeymooned, and Frank Sinatra, Judy Garland, Johnny Weismuller (Tarzan), Harry Belafonte and Baron de Rothschild became regulars.
Today, it is still a preferred destination by the Mexican Jet-set and many celebrities visit this charming city.
Where is Acapulco
Acapulco stretches along the 11km (7mi) shore of the huge Bahía de Acapulco on Mexico´s Pacific coast.
It is now considered that there are two Acapulcos. The original Acapulco overlooks the "C" shaped bay, as viewed from Punta Diamante. It features a charming zocalo and malecón. The newest version of Acapulco can be found around the bend, towards the airport starting at Punta Diamante towards Puerto Marqués and all the way to the "La Barra Vieja" where the Papagayo River meets the Pacific Ocean. This is the more glamorous of the two but a complete visit of Acapulco truly entails experiencing both.
To Mexico City – 405 km – 251.65 mi – 4:10 hrs
To Ixtapa – Zihuatanejo – 245 km – 152.23 mi – 4:45 hrs
To Huatulco – 512 km – 318.14 mi – 7:30 hrs
To Puerto Escondido – 402 km – 249.79 mi – 6:00 hrs.
How to get to Acapulco
Acapulco´s Alvarez International Airport is a busy hub, particularly for flights to and from the United States but also from Europe and Canada. Many flights connect through Mexico City or Guadalajara, both short hops from Acapulco. The airport is 23 km (14mi) southeast of the city centre. Acapulco is served by a 1st-class bus company. It offers frequent services, with various levels of luxury, to Mexico City and other major cities in the country. Acapulco is one of Mexico´s busiest ports, and visitors also arrive by cruise ship.
How to get around in Acapulco
Getting around in Acapulco is quite simple. You can walk to many places, and the bus is very inexpensive. Taxis are plentiful but we recommend you always agree on the fare beforehand.
What should you taste?
Acapulco is home to some of the best restaurants in Mexico and because of its size, has perhaps more dining venues than any other Mexican resort destination. Many specialized cuisines are available and you can find an assortment of quality restaurants. Several of the better restaurants are located on the hills and cliffs around the bay, making for incredibly romantic settings.
Acapulco is best known for its adaptation of the Ceviche. This fresh fish platter is best enjoyed with tostadas and is a must-have while one is visiting this destination.
What should you buy?
For shopping, Acapulco may surprise you. You can find everything from original items for your home to designer dresses. Acapulco features open air markets, air-conditioned malls and specialty shops of every shape and size. The Costera Miguel Aleman is home to the finer shops, but don´t leave without looking for some specialty shops selling unique items that are produced locally.
Acapulco´s proximity to Taxco makes silver a serious commodity with many stores featuring the work of local artists.
What's the weather like in Acapulco
The weather in Acapulco is privileged, with a wonderful climate almost 365 days a year. Temperatures fluctuate from 75° to 95°F (24° to 35°). Rain may fall between June and September.
Keeping busy
WATERSPORTS:
Wave runners • Peddle boats • Banana Rides • Parasailing • Windsurfs • Small Sail Boats • Glass bottom boats • Scuba • Snorkeling • Sportfishing • Beach front Water Park.
Tennis • Go Karts • Bull Fights • Bungee Jumping
If you do get tired of the sea and sun there is still plenty to do in and around Acapulco.
MOVIE THEATERS:
Air conditioned and most open during the day.
GOLF:
Four championship and another 9 hole course that is located right in the tourist zone. The four championship courses are all located to the south of town, near the airport, closer to Punta Diamante.
COYUCA LAGOON:
Located on the other side of the peninsula, is a natural fresh water lagoon that covers 28 square miles. Coyuca Lagoon is both a haven for water skiers, with it´s constantly glassy waters and an eco-tourism paradise for birds (over 250 varieties) and nature lovers. It´s tropical landscape and exotic islands have been the backdrop for numerous adventure movies. Go fishing, water-skiing, sailing, take a sightseeing cruise or just relax along the shore.
NIGHTLIFE:
Acapulco´s entertainment is varied, with wild discos, piano bars, tropical extravaganzas, live shows and concerts.
Family Fun
The CICI Aquatic Park, located in Playa Icacos, features slides, dolphin encounters, a seal show, a wave pool and a Sky coaster.
The Mundo Marino at Caleta and Caletilla beach presents marine exhibitions and also has slides, water sports, restaurants and gift shops.
The Papagayo is a large park that is located in front of Playa Hornos. It has rides, go-karts, a roller-skating rink and a skatepark.
Isla Roqueta has a small zoo that children can enjoy. Visitors take a glass-bottom boat over to the island and can see a special underwater statue of the Virgen de Guadalupe along the way.
Great tours and excursions
Rowboat tours on the Papagayo river.
Boat tour to Isla Roqueta and lunch at Palao.
Coyuca lagoon tour (includes meals)
Jungle Tour... La Gran Aventura.
Fiesta & Bonanza...Luxury yachts - Day and sunset cruising.
Shotover Jet...The most exhillerating boat ride in the world!
Taxco: The unique city of Taxco is known around the world as THE Silver city.ÊAt little over four hours from Acapulco, the drive to Taxco takes you through quaint little villages and beautiful scenery.
The first thing that comes to mind, for many people, when they think of Acapulco is the incredible bravado and the daring feats performed by the La Quebrada cliff divers. These divers are famous the world over and are definitely a "must see" when visiting Acapulco. Exciting exhibitions are presented on a daily basis. The last show at night is enhanced with the addition of torches, that are held by the divers, adding yet another touch of drama to an already highly dramatic show.
Who would Acapulco appeal to?
Sun worshippers, watersport aficionados or night owls. Life in dowtown Acapulco is very lively during the late evening.