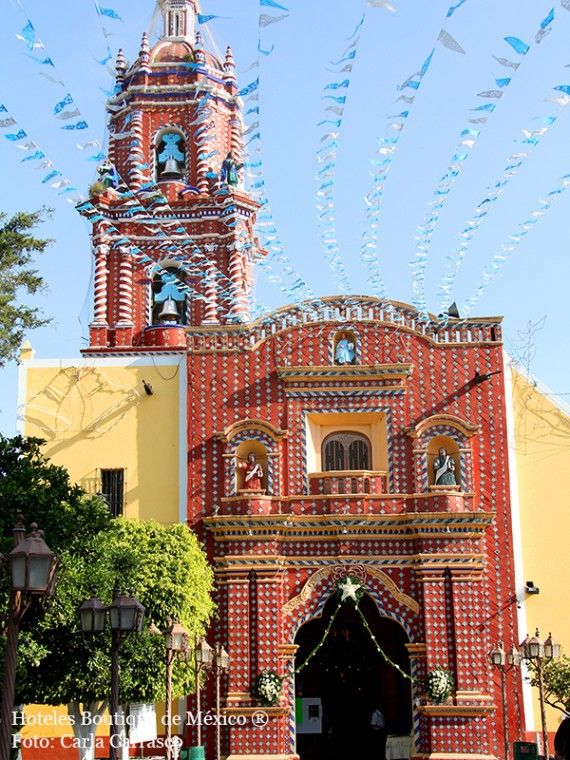 One of the most important religious and educational centers in ancient Mesoamerica, Cholula, which means "place of those who fled", is the oldest continually inhabited city in the northern hemisphere.
Cholula´s history
Cholula, or in Nahuatl Achol ll n, was an important city of pre-Columbian Mesoamerica, dating back to at least the 2nd century BC, with settlement as a village going back at least some thousand years earlier.
Cholula was a major center contemporary with Teotihuacan and seems to have avoided, at least partially, that city´s fate of violent destruction at the end of the Mesoamerican Classic period. Cholula thus remained a regional center of importance, enough so that, at the time of the fall of the Aztec empire, Aztec princes were still formally anointed by a Cholulan priest in a manner reminiscent, and perhaps even analogous, to the way some Mayan princes appear to have come to Teotihuacan in search of some sort of formalization of their rulership.
At the time of the arrival of Hernán Cortés Cholula was second only to the Aztec capital Tenochtitlan (modern Mexico City) as the largest city in central Mexico, possibly with a population of up to 100,000 people. In addition to the great temple of Quetzalcoatl and various palaces, it is said that the city had 365 temples.
During the Spanish Colonial period, however, Cholula was overtaken in importance by the nearby city of Puebla.
Where is Cholula
To Puebla – 20 km – 12.42 mi – 20 minutes
To Mexico City – 125 km – 77.67 mi – 2:00 hrs
To Oaxaca – 363 km – 225.55 mi – 4:45 hrs
How to get to Cholula
You can fly to Puebla from the U.S. and other points in Mexico like Mexico City, Guadalajara, Leon and Tijuana on airlines that include Aeromexico, Alma de Mexico, Aerocalifornia and Aeromar. At the airport you can take a taxi to Cholula, which is about 28 km (17 miles) away.
From Mexico City, you can get on a luxury bus at that airport´s international terminal or at the Southern Bus Terminal, departing every 30 minutes to Puebla and taking just over two hours. From there, buses run frequently to Cholula, you can choose to take a taxi or you may coordinate pick-up through your hotel.
How to get around in Cholula
Taxis, buses and rental cars are available, but unless you´re heading to Puebla 15 minutes away, you´ll probably find you can comfortably get everywhere you need to by foot.
What should you taste?
Considered the world´s cradle of corn – the oldest kernels ever discovered were found in this area – the state of Puebla has produced many of the country´s most classic dishes including mole poblano, made with over 30 ingredients including spices, seeds, nuts and even chocolate!
Other traditional and popular dishes originating here are tinga – pork or chicken stewed in chiles, mixiotes – spiced rabbit, lamb or chicken wrapped and steamed in a sauce, and chiles en nogada – seasoned ground meat combined with fruit, raisins and pine nuts stuffed in a roasted, battered and fried poblano pepper topped with a creamy walnut sauce and pomegranate seeds. Be sure to try the blue tortillas, made from the local corn of that color. As well as traditional and nouvelle Mexican cuisine. Some local restaurants specialize in French and Italian.
What should you buy?
Hand-woven textiles and glazed pottery are sought after here. And mere minutes away in Puebla are its renowned Talavera shops, this strong, hand-decorated ceramic used primarily for wall and floor tiles made and sold here at good prices.
What´s the weather like in Cholula
Cholula enjoys year-round, spring-like weather, the climate ideal for getting involved in outdoor activities and for taking in the local culture, architecture and scenery. Daytime temperatures average in the 70s Fahrenheit (early 20s Celsius) and drop enough at night that a sweater may be appreciated then and in the early mornings. Summers are a bit hotter, but not humid, the rainy season June through September.
Keeping busy
Cholula and the neighboring city of Puebla offer numerous cultural activities. La Casa del Caballero Aguila is a fine museum that presents the religious and cultural history of Cholula, from its pre-hispanic beginnings to today.
Great tours and excursions
The Great Pyramid of Cholula, the world´s largest monument and largest Pre-Columbian pyramid by volume, is a huge complex located in Cholula, Puebla, Mexico. The temple-pyramid complex was built over many dozens of generations, from the 2nd century BC to the early 16th century, and was dedicated to the deity Quetzalcoatl. According to the Guinness Book of Records, it is in fact the largest pyramid as well as the largest monument ever constructed anywhere in the world, almost one third larger than that of the Great Pyramid of Giza in Egypt. Today the pyramid at first appears to be a natural hill surmounted by a church. This is the Iglesia de Nuestra Señora de los Remedios (Church of Our Lady of the Remedies), also known as the Santuario de la Virgen de los Remedios (Sanctuary of the Virgin of the Remedies), which was built by the Spanish in colonial times (1594) on the site of a pre-Hispanic temple. The church is a major Catholic pilgrimage destination, and the site is also used for the celebration of indigenous rites. Many ancient sites in Latin America are found under modern Catholic holy sites, due to the practice of the Catholic Church repurposing local religious sites.
Because of the historic and religious significance of the church, which is a designated colonial monument, the pyramid as a whole has not been excavated and restored, as have the smaller but better-known pyramids at Teotihuacan. Inside the pyramid are some five miles (8 km) of tunnels excavated by archaeologists.
UNESCO World Heritage Sites in or around Cholula
HISTORIC CENTER OF PUEBLA - 20 minutes away
The city of Puebla, founded in 1531, has preserved its great religious structures such as the 16th - 17th century cathedral and fine buildings like the old archbishop´s palace, as well as a host of houses with walls covered in tiles. The new aesthetic concepts resulting from the fusion of European and American styles were adopted locally and are peculiar to the Baroque district of Puebla.
If you´d like to see the most of Puebla´s historic downtown we suggest the following options:
- Request a private guide at your hotel. Bilingual guides may be hired to tailor your visit and make sure you discover the very best Puebla has to offer.
- Experience the Tranvía or Turibus (with translations available in several languages), both available daily starting at 9am and running throughout the day. Tours leave from the Zocalo.
EARLIEST 16TH-CENTURY MONASTARIES ON THE SLOPES OF POPOCATEPETL – 90 minutes from Puebla.
These 14 monasteries stand on the slopes of Popocatepetl, to the southeast of Mexico City. They are in an excellent state of conservation and are good examples of the architectural style adopted by the first missionaries - Franciscans, Dominicans and Augustinians - who converted the indigenous populations to Christianity in the early 16th century.
The ideal option for you to visit all these Monasteries, located in different villages around the same district, is to hire a certified-bilingual tour guide, who can comfortably give you a very detailed tour of the entire region.
ARCHEOLOGICAL MONUMENTS ZONE OF XOCHICALCO –One hour and forty minutes from Puebla
Xochicalco is an exceptionally well-preserved example of a fortified political, religious and commercial center from the troubled period of 650 - 900 A.D. that followed the break-up of the great Mesoamerican states such as Teotihuacan, Monte Albán, Palenque and Tikal.
The best way to visit this zone is through a certified tour guide, which you can request at your hotel.
HISTORIC CENTER OF MEXICO CITY AND XOCHIMILCO – two hours from Puebla.
Built in the 16th Century by the Spanish on the ruins of Tenochtitlan, the old Aztec capital, Mexico city is now one of the world´s largest and most densely populated cities. It has five Aztec temples - the ruins of which have been identified -a cathedral (the largest on the continent) and some fine 19th and 20th century public buildings such as the Palacio de las Bellas Artes. Xochimilco lies 28 km south of Mexico City. With its network of canals and artificial islands, it is testimony to the efforts of the Aztec people to build a habitat in the midst of an unfavorable environment. Its characteristic urban and rural structures, built since the 16th century and during the colonial period, have been preserved in an exceptional manner.
The best way to visit the Historic Center and Xochimilco is via a guided tour, to avoid the hassle of driving in Mexico City, plus the guide will orient you on the best places to shop and have a snack or a meal.
Special Events
Annual Festivals
Religious celebrations take place all year round, including on the March 21 Spring Equinox, when people flock to the pyramids. There´s a carnival on the Sunday after Ash Wednesday in March, and on the last Friday of November, most of the churches here participate in a melodious bell pealing concert. The annual Cholula Fair, a folksy, down-to-earth celebration that´s very representative of how people live in this area, including the food they eat and the music they play, runs the first two weeks of September, culminating on Mexico´s Independence Day. Some of the best places to sample the local food and drink are at these fairs and festivals. At the annual Bread Fair for example, a huge brick oven is constructed in the main plaza and bakers from Cholula and neighboring towns give demonstrations of traditional Mexican bread making – over 150 kinds of it sampled and sold.
Who would Cholula appeal to?
Anyone into history, architecture and education. And anyone wanting to see some of Latin America´s most amazing sights.
Filter
Get specific results
Download here our complete hotel directory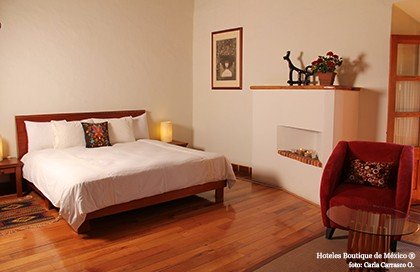 La Quinta Luna
Cholula, Puebla
Ensconced in a beautiful 17th-century home, La Quinta Luna´s enviable location in Cholula, the American continent´s oldest city, allows you to discover a different...
ver mas
Descargar aqui el directorio completo de nuestros hoteles