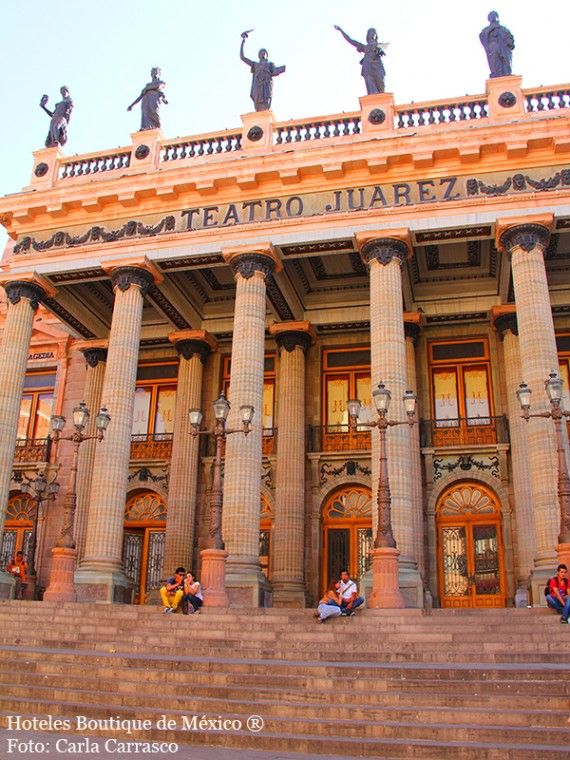 Guanajuato
Guanajuato, Guanajuato
Guanajuato, certain features set this small city (pop. 80,000) apart from all others: an underground road, steep crooked streets, Medieval appearance, silver mines, the Cervantes Festival and mummies. Nestled among arid mountains at 6,700 ft (2,000 mt) Guanajuato is undisturbed by traffic–cars flow along a 2-mile underground road–this town, with its arched bridges and overhanging balconies, old-fashioned lanterns for street lighting, has an almost Medieval feel. Built in a narrow valley and climbing the surrounding hillsides, Guanajuato has not one street that runs in a straight line. Numerous tiny plazas dot the old colonial center of town (a national historic monument) and one street, Kissing Lane (Callejón del Beso), got its name for being so narrow that lovers on opposite sides could just lean over their balconies to share a kiss. For 250 years, Guanajuato´s silver mines such as La Valenciana, produced a quarter of Mexico´s silver, and some still produce a little today.
Where is Guanajuato
To Leon – 54 km – 33.55 mi – 45 minutes
To San Miguel de Allende – 70 km – 43.49 mi – 1:17 hrs
To Queretaro – 150 km – 93.2 mi – 2:00 hrs
To Guadalajara – 277 km – 172.11 mi – 3:05 hrs
To Zacatecas – 312 km – 193.86 mi – 3:55 hrs
To Lagos de Moreno – 466 km – 289.54 mi – 5:15 hrs
What should you taste?
While not distinguished for its cuisine, Guanajuato has many restaurants that are more than adequate.
Keeping busy
The two-week October Cervantes Festival is the town´s most famous annual event; and visiting mummies the most popular, if somewhat ghoulish, tourist activity.
Museo del Panteón (Museo de las Momias) has a bizarre display of "mummies"-actually the desiccated corpses of former occupants of the municipal cemetery. More than 50 "mummies" of all ages, some in glass cases, with clothing and hair partially intact, are on display for visitors to marvel at.
Great tours and excursions
One guidebook says the best way to see the town is to get lost in it; and the twisting streets are such a maze, that it´s pretty hard to do otherwise.
As you hike around, you will come across many stunning buildings, impressive churches and delightful small plazas. A map from the tourism office will help you seek out some of the best. Among them are sure to be the following:
The 18th-century grain elevator, Alhóndiga de Granaditas, was once a Spanish fortress, now the State Museum.
Casa Rul y Valenciana, which now houses the Superior Court of Justice, is a neoclassic 18th-century mansion of a wealthy mine owner.
The Basílica de Nuestra Señora de Guananjuato, finished in 1671, contains a 7th- century Spanish wooden image of Our Lady of Guanajuato, said to be the oldest piece of Catholic art in México. Teatro Juárez (Juarez Theater), with its Doric exterior, French foyer, Moorish interior and a few touches of art nouveau, displays the taste of the prosperous 19th century.
Hacienda de San Gabriel de Barrera is the former hacienda and beautiful gardens of the Count of Valenciana, owner of the rich silver mine.
La Valencia Church, one of Mexico´s most ornate churches, was completed in 1788 commissioned by the same man who built the hacienda above. Two beautiful parks, Presa de Olla and Presa de San Renovato, are set beside a small reservoir. Rent rowboats at Presa de Olla.
UNESCO World Heritage Sites in or around Guanajuato
HISTORIC TOWN OF GUANAJUATO AND ADJACENT MINES
Founded by the Spanish in the early 16th century, Guanajuato became the world´s leading silver-extraction center in the 18th century. This past can be seen in its "subterranean streets" and the "Boca del Inferno" a mineshaft that plunges a breathtaking 600m. The town´s fine Baroque and neoclassical buildings, resulting from the prosperity of the mines, have influenced buildings throughout central Mexico. The churches of La Compañia and La Valenciana are considered to be among the most beautiful examples of baroque architecture in Central and South America. Guanajuato was also witness to events which changed the history of the country.
Request a certified bilingual tour guide at your hotel in order to comfortably discover this mesmerizing city.
HISTORIC MONUMENTS - ZONE OF QUERETARO - Located just one hour and a half from Guanajuato.
The old colonial town of Querétaro is unusual in its having retained the geometric street plan of the Spanish conquerors side by side with the twisting alleys of the Indian quarters. The Otomi, the Tarasco, the Chichimeca and the Spanish lived together peacefully in the town, which is notable for the many ornate civil and religious Baroque monuments from its golden age in the 17th and 18th centuries.
You can visit Queretaro by:
- Requesting a certified tour guide at your hotel, who will take you from the hotel and will provide you information not only about Queretaro but Guanajuato as well and its surrounding areas.
- Taking the Tranvia or Turibus, which are available daily starting at 9 am. Departure point: the Zocalo.