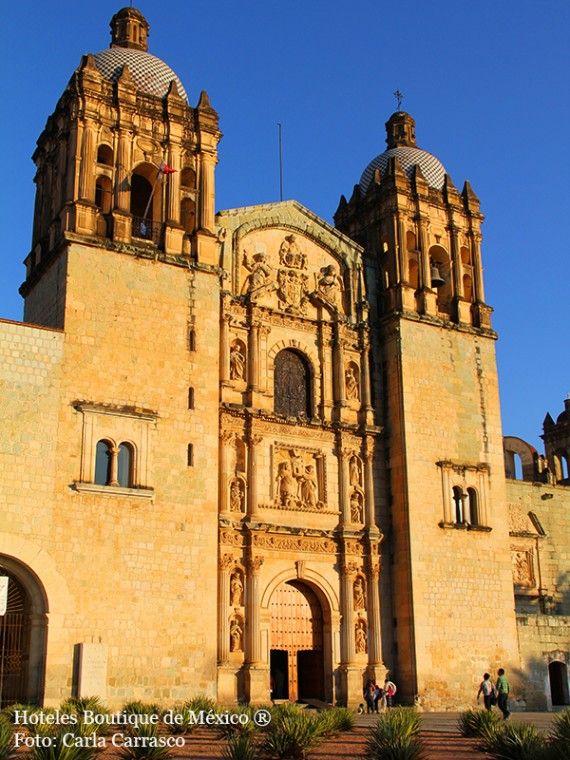 Oaxaca. In a valley at the foot of the Sierra Madre del Sur, under a magnificent sky and enveloped in the warmth of a perennial spring, Oaxaca displays its wonders among smiles, gold filigree, mezcal, pyramids and stone mosaics, embroideries, cupolas, squares, markets and moles. A few haciendas and mansions have been converted in Oaxaca to small boutique, luxury hotels. Oaxaca delights the senses with imagination producing such marvels as chocolate, alebrijes or sculptures carved in radishes!
Oaxaca´s history
Founded in 1529 this clean and neatly planned city (it was designed by one of the best town planners of his time) can be explored on foot. Lining its streets and squares shaded by luxuriant Indian laurel trees, 16th-century buildings display their green quarry stone facades. Among the most beautiful religious edifices in Mexico are the Cathedral and the temple of Santo Domingo with its gold-covered altar and its convent, now converted into the regional museum. And this is only one of a myriad of museums. For 3,000 years the Oaxacans´ craftsmanship and artistic sensitivity have been a source of wonder and delight. Between the fine gold pieces of Tomb #7 in Monte Albán and the works by painters like Rufino Tamayo, Francisco Toledo and Rodolfo Morales lies a landscape of artistic expressions as varied as they are beautiful. Luckily for us we can still take full delight in them.
Where is Oaxaca
To Puebla – 363 km – 225.55 mi – 4:45 hrs
To Cholula – 363 km – 225.55 mi – 4:45 hrs
To Huatulco – 295 km – 183.3 mi – 6:00 hrs
To Mexico City – 470 km – 292.04 mi – 6:00 hrs
What should you taste?
We can only guess the reason behind Oaxaca´s incredibly varied and delightful cuisine. It could be its long history, the inventiveness of its people or even its climate, but whatever the reason, the fact is that eating is one of the pleasures to be enjoyed in Oaxaca. While restaurants in the city offer from the ubiquitous pizza to traditional or contemporary Oaxacan dishes, in many markets you´ll find from grilled cecina (salted beef strips) and the delicious quesillo cheese to fried crickets or ant roe escamoles wrapped in oversized tortillas. Mezcal, a spirit from an agave plant, is the regional drink par excellence; and the one produced by home distilleries can be as good as the best tequila.
What should you buy?
Shopping is part of the adventure involved in a trip to Oaxaca, especially for those who appreciate first-class indigenous handicrafts. Visit the city markets or the traditional tianguis (marketplaces) installed since prehispanic times on different days of the week in the small villages surrounding the city. In San Bartolo Coyotepec you´ll find the famous black clay pieces; in Teotilán del Valle, hand-woven rugs, and whimsical wood-carved animals (alebrijes) in Arrazola. Along the main street connecting Santo Domingo and the main square are the finest jewelry and handicrafts shops and art galleries.
Great tours and excursions
Monte Albán - Built by the Zapotecan Indians in different phases starting over 2,500 years ago, Monte Albán is located on top of a flattened hill only six miles south of Oaxaca. Beautifully preserved, this prehispanic complex comprising ball courts, temples, palaces and an observatory is best explored with the help of a guide.
Mitla - Intricate inlaid masonry patterns decorate the walls of this enigmatic pre-Hispanic city´s buildings. Located 20 miles from Oaxaca, it is considered one of the magic centers of the world. A smaller pre-Hispanic fortress, Yagul, is 15 miles east of the city on the way to Mitla.
El Tule - What has been dubbed the oldest living thing on Earth, the tule tree is a 2,000-year-old cypress whose perimeter at the base is over 160 ft. making it the largest in the world. Located to the east and only 4 miles from Oaxaca.
Other sites worth visiting: The monastery of Cuilapan (1580), the markets at Zaachila (Thursday), Santo Tomás Jalietza (Friday); Ocotlán (Friday); Tlacolula (Sunday).
UNESCO World Heritage Sites in or around Oaxaca
HISTORIC CENTER OF OAXACA AND ARCHAEOLOGICAL SITE OF MONTE ALBAN
Inhabited over a period of 1,500 years by a succession of people - Olmecs, Zapotecs and Mixtecs - the terraces, dams, canals, pyramids and artificial mounds of Monte Albán were literally carved out of the mountain and are the symbols of a sacred topography. The nearby city of Oaxaca, which is built on a grid pattern, is a good example of Spanish colonial town planning. The solidity and volume of the city´s building show that they were adapted to the earthquake-prone region in which these architectural gems were constructed.
Special Events
Guelaguetza - An ancient fertility rite has evolved into a colorful display of traditional dances from the eight regions of Oaxaca taking place in a huge amphitheater the last two weeks of July.
Night of the Radishes - December 23. A unique contest and exhibit of sculptures done in radishes! The event is over 100 years old.
Day of the Dead - November 1-2. An opportunity to see one of Mexico´s most poignant celebrations when children and adults pay a visit to their non-living relatives and "share" with them their favorite foods and drinks.
Food of the Gods Festival - Taste the best of Oaxacan cuisine through the ages during the first week in October.
Filter
Get specific results
Download here our complete hotel directory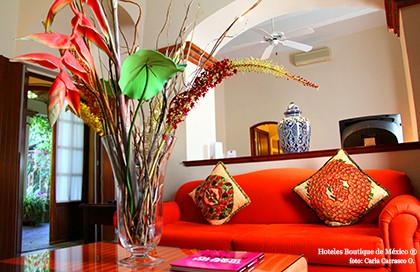 Hacienda los Laureles
Oaxaca, Oaxaca
Surrounded by forested mountains, this hacienda offers the true flavor of grand Mexican style. Gourmet cuisine, lush gardens, a complete spa, a mystical Temascal...
ver mas
Descargar aqui el directorio completo de nuestros hoteles