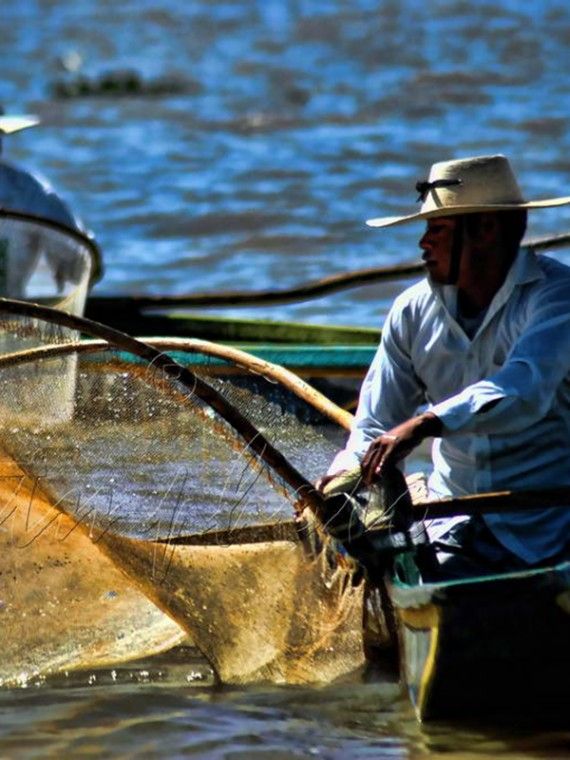 Pátzcuaro
Pátzcuaro, Michoacán
The spiritual capital of the state of Michoacan, Pátzcuaro is a charming indigenous town with a colonial feel is the most popular place in Mexico to celebrate The Day of the Dead, one of the country´s most culturally important traditions. Untainted by mass tourism, and so beautiful and spectacularly situated on a lake of the same name that it´s a World Heritage Site, Patzcuaro is also known for its charming colonial architecture and exceptionally friendly people.
Patzcuaro´s history
Once the bustling capital of the Purepecha Indians, who had the most advanced pre-Columbian society in western Mexico, this laid-back, lakeside town of 45,000 was founded by the Spanish in 1534.
The most revered historical figure in the state of Michoacan has his statue in Patzcuaro´s main square and is buried in the church dedicated to it´s patron saint. Bishop Vasco de Quiroga did his best to ameliorate the suffering of the peaceful Purepechas after the Spanish conquered them in the 16th century, promoting education and self sufficiency. He encouraged every village around the lake to establish and develop its own craft specialty, and the result was a culture of proud craftsmanship that has continued to this day.
A fishing culture long before crafts were focused on, you can still see fishermen in their small canoes casting their distinctive butterfly-shaped nets for the white fish specific to the lake here.
On the alter of the Basilica of our Virgin of Health, built in 1544 and where Vasco de Quiroga is buried, is a figure of the Madonna molded over 500 years ago from corn paste and wild orchids. According to legend, it was discovered floating on a canoe in the lake and now grants miracles to those passing beneath her.
Splendid colonial buildings have today found renewed purpose in this charming city, the former San Agustin monastic church, founded in 1576, now the library with its distinctive Moorish-style belfry. The Museum of Regional Popular Arts, providing an excellent overview of indigenous Michoacan handicrafts, is on the site of the first university founded on the American continent in 1540. And The House of the Eleven Courtyards, built as a hospital in 1742, also displays regional handicrafts and you can witness art being created in its workshops.
Where is Patzcuaro
Location
On the southeast shore of Lake Patzcuaro 56 km (35 miles) southwest of state capital Morelia at an altitude of 2,200 m (7,130 feet), Patzcuaro overlooks one of the loveliest valleys in Mexico, with rolling pastures and pine forests on the soft-coned slopes of volcanoes. Mexico City is 327 km (204 miles) away and Guadalajara 284 km (177 miles).
How to get to Patzcuaro
The nearest airport is in Morelia an hour drive away. You can fly into it from the U.S. and other points in Mexico including Mexico City, Guadalajara and Leon on Mexicana, Aeromexico, Aeromar and other airlines.
There are regular local buses from Morelia to Patzcuaro, leaving from the bus station about 1.6 km (a mile) outside the city just about every hour. And driving from Morelia is easy, on either the fast toll road or the original one that offers interesting scenery.
There is also a first-class, direct bus from Mexico City´s western bus terminus to Patzcuaro.
How to get around in Patzcuaro
Communal vans and buses ply between town, the railway station and the ferry landing. And taxis are widely available. Most of Patzcuaro is accessible by foot, however, and even the 3-km (2-mile) walk to the lake is pleasant if you´re reasonably fit.
The most flexible way to see the surrounding area is by renting a car. But riding the frequent, local buses connecting Patzcuaro, Morelia and the surrounding villages gives you a deeper appreciation of day-to-day life here.
What should you taste?
Patzcuaro has a good selection of restaurants, cafés and bars, meals traditionally beginning with a glass of the local rum served with an appetizer of local cheese and fried fish. The cuisine here a hybrid of Purepechan, Spanish and modern Mexican, typical dishes include the white fish that´s unique to Lake Patzcuaro, a tomato-based soup with cream, dried chile and crispy tortillas, and triangular-shaped tamales made with sweet corn, the area also famous for its ice cream. Happily, candies are food too, and some delectable confectionery is made in this state. Try chongos, made from milk, honey and cinnamon, and ates, made from fruit paste, these sweets and others available at market stalls and shops.
What should you buy?
Collectors of fine art, folk art and handicrafts will be delighted with the variety and quality of what is available, this region particularly noted for lacquered items, copperware, wood carvings, fine Mexican masks and pottery.
A covered market brings villagers from surrounding towns, the busiest days Sunday, Monday and Friday. Herbal medicines, handmade tablecloths and other woven goods, and hand-painted and hand-carved items are available at reasonable prices.
Twice a year there are special markets, one the week leading up to The Day of the Dead, when the best of Michoacan´s handicrafts are on display, and the other an annual folk art market held the week preceding Palm Sunday.
You´ll find several folk art galleries and shops selling silver, antiques, and hand-carved and hand-painted furniture with Mexican motifs. A state-run arts and crafts shop in what used to be a Dominican convent encourages you to watch the artisans at work, as well as browse their showrooms.
What´s the weather like in Patzcuaro
Enjoying a warm, spring-like climate, the altitude means it never gets too hot during the day, but mornings and nights can be cold October through April, so bring warm clothing with you then. Day temperatures rarely drop below 18 degrees Celsius (65 degrees Fahrenheit) during the winter and 24 degrees Celsius (75 degrees Fahrenheit) in spring and summer. The rainy season is late June through September.
Keeping busy
Strolling the town´s two stately central plazas and small squares is a pleasant pastime – as is fishing, sailing, rowing, cycling, hiking, climbing volcanoes and horseback riding, all naturals to engage in around the lake.
Great tours and excursions
There´s an abundance of interesting day trips from here to picturesque villages with some of the oldest churches and monasteries in the country and the characteristic handicrafts of each community. There are tours of the lake and its islands, to archaeological sites – one containing round structures believed to have been burial centers – and a town renowned for exquisite hammered copper objects made exactly the way they were half a millennium ago.
You may want to know...
Not only are neon signs non-existent, but so are noisy discos. Evenings revolve around a pleasant strolls in good clean air and delicious meals in peaceful environments.
Banks with ATM machines can be found downtown here, and during business hours you can cash travelers checks and change US currency into pesos.