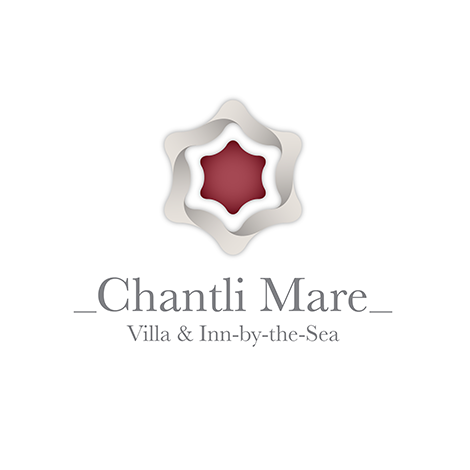 The Mexican Costalegre (an area that spans between Puerto Vallarta and Manzanillo) has long been known for its multimillion dollar homes and few exclusive resorts. When one of its stars, the famed El Tamarindo, closed its doors a few years ago, the southern part of the 'Happy Coast' was suddenly resort-less in terms of private retreats. In comes Chantli Mare. A casual hideaway that is sure to please many.
Originally built in the 70s as a privileged, private home, Chantli Mare has 6 uniquely appointed, themed suites. Simple with touches of vibrant colors, they provide a quiet setting for those that truly just want to spend some down time at the beach.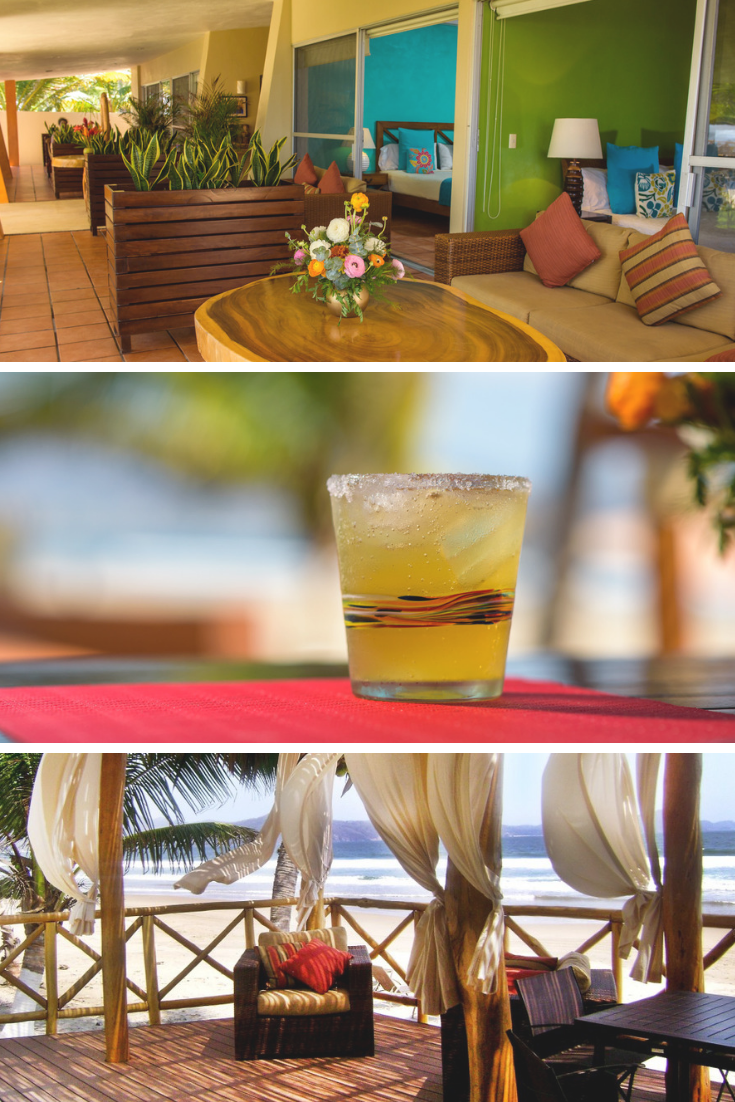 CONSIDER THIS…
Though most will appreciate—and seek—the tranquility of the resort, it is also close enough to the small town of La Manzanilla for you to visit, try local activities such as horseback riding, paddle boarding, golfing or even visiting the crocodile preservation camp.
YOU´LL ESPECIALLY LOVE

The long beach, the sunsets and the availability of hammocks to soak it all in. Open waters mean occasional swells that add a little adventure for those that like to indulge in surfing.
WHAT´S FABULOUS HERE

The hosts: A hotel with only 6 suites means hands-on service and hospitality and the family at Chantli Mare do not disappoint.
The food: Canadian Chef Greg Couillard has designed a flavorful regional menu that attracts outside diners—with previous reservations—and keeps guests happy.
Patios with ocean views (in some rooms). In-room massages and bike rides.
YOU MAY WANT TO KNOW

WiFi is not readily available, yet.
WHO WOULD IT APPEAL TO
Wonderful for couples, and even small weddings, groups and family reunions.
WHAT OTHERS HAVE SAID (Links to related articles)
Mexico Boutique Hotels Adds Six Properties to Portfolio
---
Rates
All the suites have mexican amenities, Flat screen TV, satellite TV and Air Conditioned.
Note: Rates are quoted in Mexican pesos and are subject to change without notice. Please note that hotels will charge in Mexican pesos at current exchange rate when payment is processed. We invite you to contact us if you need rates for the following year and do not see them on our site.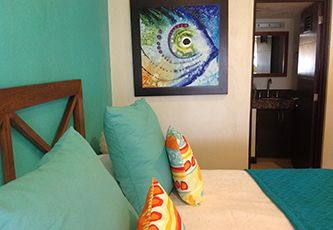 Deluxe Room
Comfortable room with king bed, full bathroom with shower, terrace with sitting area, with pool and ocean view.
Terms and Conditions
Deposit Policy:
To confirm your reservation, you must prepay 50% of your total stay when booking. The remaining 50% is due three day before arrival, or 7 working days before the arrival if the payment is made with American Express.
If your reservation is made 7 days prior to your arrival date, full payment is required for your whole stay.
For reservations with arrival dates between December 20th and January 6th, 100% payment for the total stay is required.
Cancellation Policy:
All Year no penalty will be charged for cancellations received 60 days or more prior to arrival date (except for multiple room reservations, 3 nights plus taxes).Cancellations received less than 60 days prior to arrival date will be charged 50% of the entire stay. Less than 30 days prior will be charged 100%. Every attempt will be made to re-sell your reservation and any success will be credited to your cancellation charge.
Holidays: All deposits and payments for Holiday reservations are non-refundable. Every attempt will be made to re-sell your reservation and any success will be credited to your cancellation charge. Please note that multiple room (3+) reservations (is considered a group and would be designated as such at the time of reservation) cannot be cancelled, they are only re-sellable. This applies whether one person is paying for the whole group or even in the case that one person puts rooms on hold for each guest to then make their own formal booking.
Credit Cards:
MasterCard / Visa
Includes
Continental Breakfast
Notes
Minimum stay of  2 nights. Cost for additional person $40 USD. Does not include 19% taxes.
Check - In: 2:00 p.m. | Check - Out: 12:00 p.m.
Transportation
The hotel offers transportation service with previous notice.
El Tamarindo

Este asombroso campo de 18 hoyos diseñado por David Fleming es uno de los más reconocidos a nivel mundial por la abundancia de características naturales que posee. El mar se puede apreciar desde 9 de sus 18 hoyos con playas y acantilados que sorprenden.
El Tamarindo se encuentra en Costa Alegre (entre Puerto Vallarta y Manzanillo), a dos horas y media al sur de Puerto Vallarta y a 45 minutos del Aeropuerto Internacional de Manzanillo.
Chantli Mare ofrece la oportunidad a sus clientes de acceder a este campo.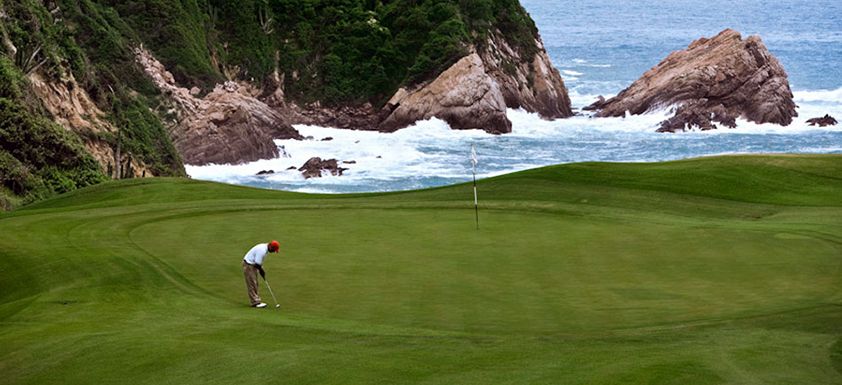 book now
Services
6 Suites
Pool
Cable TV
Access to El Tamarindo Golf Club
Bicycles
Tours ($)
Wine & Food
Chantli Mare has created an enchanting dining experience with local produce and the talent and creativity of noted Chef Greg Couillard. Dishes are based on client preferences and prepared with fresh ingredients. Ocean views enhance every meal.
Receive information about this hotel