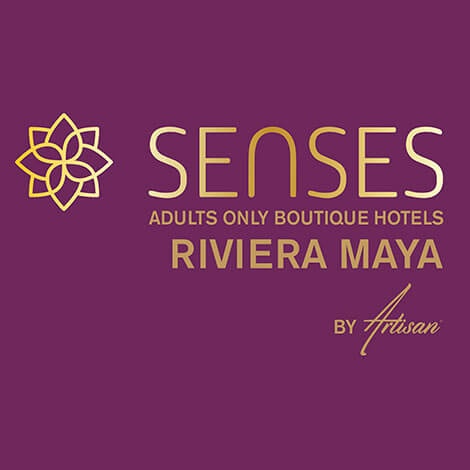 Senses Riviera Maya by Artisan
If you are looking for a few days of romance and relaxation by the sea, Senses Riviera Maya by Artisan is the ideal hotel, where luxury and attention to detail merge to create unforgettable moments throughout your stay.
In a prime location on the Riviera Maya coastline and opposite the Cirque du Soleil Riviera Maya, within the Playa Paraíso gated complex, this is a place that lends itself to tranquility, rest and contemplation.
CONSIDER THIS...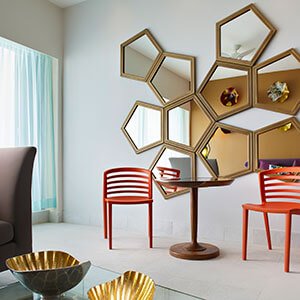 Being an adults only hotel, the whole atmosphere of the resort invites you to totally relax. Both Playa del Carmen and Cancun are just 30 minutes away, so if you wish to take advantage of the many activities offered in those destinations, it is possible to do so with ease.
YOU'LL LOVE
Its infinity pool overlooking the sea that is perfect for cooling down and relaxing, which is surrounded by comfortable lounge chairs and beach beds for your enjoyment. You can also order your drinks from the pool service. An additional shaded lounge deck is available where you can cool off for a while, read or hang out with friends.
The hotel staff is very friendly and can give recommendations both about the menu and activities available in or near the hotel.
WHAT'S FABULOUS HERE 
Its spacious rooms (100 m2 /1076 sq.ft) have all the elements to enhance your stay and make it all the more pleasant, such as the amazing rainfall showers and jacuzzis. In addition, all rooms feature a private sea view terrace, loungers and plunge pool, making these rooms a really competitive option.
With only 38 rooms all of which enjoy a chic cutting-edge style and pleasant open spaces, from the moment you arrive to this hotel, you will be impressed by the large palapa that shelters the lobby where its fountain creates an atmosphere of serenity.
Without a doubt, this is a sanctuary for privacy and a paradise for the senses.

WHO DOES IT ATTRACT? 
For honeymooners and couples celebrating their anniversary or looking to enjoy a few days to reconnect. For young adults who want to get away from the hustle and bustle and enjoy nature.
---
Rates
All rooms feature 60" televisions showing premium channels, Wi-Fi, a coffee maker, refrigerator, microwave, air conditioning, fan, remote control black out blinds, a safe, iron and ironing board.
Note: Rates are quoted in US dollars and are subject to change without notice. Please note that hotels will charge in Mexican pesos at current exchange rate when payment is processed. We invite you to contact us if you need rates for the following year and do not see them on our site.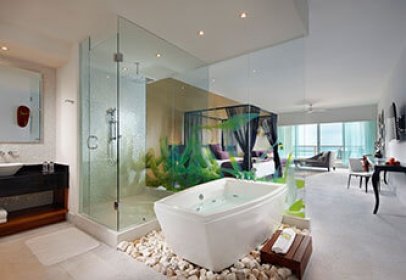 Deluxe King Suite
A spacious room with king-size bed, private terrace overlooking the sea, loungers and a plunge pool. The bathroom features a rain shower and Jacuzzi.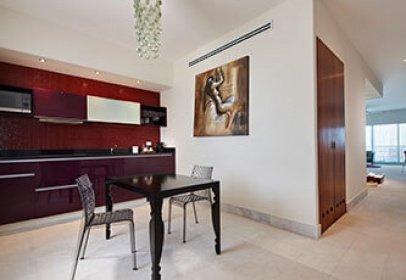 Master Suite King
A spacious room with king-size bed, private terrace overlooking the sea, loungers and plunge pool.The bathroom features a rain shower and Jacuzzi. It also has a dining area.
Terms and Conditions
Deposit Policy:
To confirm your reservation, you must prepay 50% of your total stay when booking. The remaining 50% is due three day before arrival, or 7 working days before the arrival if the payment is made with American Express.
If your reservation is made 7 days prior to your arrival date, full payment is required for your whole stay.
For reservations with arrival dates between December 20th and January 6th, 100% payment for the total stay is required.
Cancellation Policies:
In low season, there is no charge for cancellations made with at least 72 hours notice prior to arrival, otherwise, the cost of one night's stay plus taxes will be charged.
In high season, no charge is made when cancellations are made at least 30 days prior to arrival, otherwise, 2 night's stay will be charged.
For New Year, your entire stay will be charged.
No Show Policy:
In low season, one night's stay will be charged, in high season the penalty will be for the entire stay.
Credit Cards:
Visa, MasterCard & American Express
Includes
American gourmet breakfast, welcome mini bar.
Notes
Rates do not include taxes.
Check - In: 3:00 p.m. | Check - Out: 12:00 p.m.
Transportation
The hotel do not offer transfer service.
book now
Services
38 suites
Restaurant
Parking
Infinity pool
Lift
Wi-Fi
Wine & Food
Cavamar restaurant enjoys an excellent location beside the pool with an incredible view of the Caribbean Sea. Its breakfast menu offers a variety of dishes for you to enjoy, from dried fruit to chilaquiles; we recommend you try the signature Eggs Benedict.
On the lunch and dinner menu you will find a range of dishes, where the specialty is seafood.
Receive information about this hotel