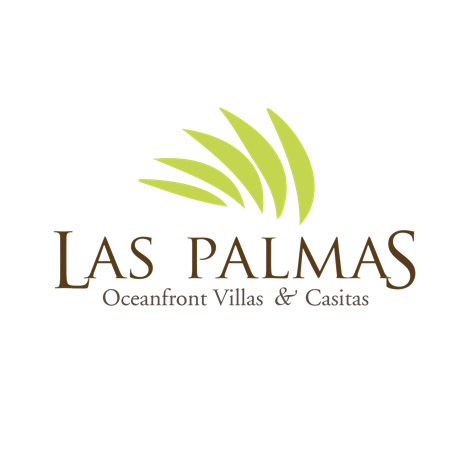 Huatulco
Las Palmas Villas & Casitas
Amplio, Exquisito, Lujoso
Las Palmas Villas y Casitas
Some places seem to have been designed with so much love that they not only blend in with their surroundings, they enhance one's appreciation of place and moment. A recent write-up of Las Palmas Villas & Casitas says it all "no matter how you imagined it, it's better." Perched on a cliff with incomparable views of Violin Bay on one side and Santa Cruz Bay on the other, this stunning resort is one of the Mexican Pacific's finest.
Mexican charm meets luxe outdoor living. The subtle, refined, and perfectly done Las Palmas offers uniquely appointed villas with charming, traditional touches such as talavera tiles, 'repujado' framed mirrors and comfortable 'equipal' furniture.
CONSIDER THIS
To enjoy the beach on Violin Bay, it's a short, and not particularly steep, hike down to the usually deserted shore. The snorkeling is great and you'll feel as though you have the ocean all to yourself. There is another fantastic swimming and snorkeling beach, La Entrega, that is also an easy walk from the property and kayaks are available by asking your very efficient onsite concierge.There are a number of little restaurants there so bring some pesos. Avid snorkelers can also take a bay tour that brings you into some remote beaches by boat.
YOU'LL ESPECIALLY LOVE
The fresh, Caribbean feel and the numerous Mexican details in the decor. The overall construction uses natural, regional materials that enhance your connection with its surrounding, natural beauty.
The views! From all spaces on the property; balcony, pools, patios and even showers offer inspiring views. And as you can imagine, sunsets are perfect. Each villa has its own spacious pool—with unique, bottom-of-the-pool art—and a private hot tub.

WHAT'S FABULOUS HERE
Mexico Premiere says "There is just enough development here to give you anything and everything you want in a beach resort, and just enough off-the-beaten-path remoteness to keep it off most tourists' radar." and this is certainly true.
Also, the spaciousness is delightful. The resort is open, wide and created with many comfortable spaces in mind. So you can experience seclusion while still spending time with family or friends.
The aforementioned onsite concierge is well connected and well informed when it comes to offsite activities. Dining, tours, unique activities... they are experts at making sure your Huatulco experience—away from the resort—enhances the work they put in to make your stay with them spotless, yet colorful at the same time.
WHO WOULD THIS APPEAL TO
Las Palmas is already known as a spectacular wedding venue but the set-up is also ideal for families, friends, incentive travel and even couples that want a quiet escape. It's versatility is surprising.
---
Description
The three villas have full kitchens, living and dining space, outdoor patio, private pool and hot tub,  cable TV and A/C.
Note: Rates are quoted in US dollars and are subject to change without notice. Please note that hotels will charge in Mexican pesos at current exchange rate when payment is processed. We invite you to contact us if you need rates for the following year and do not see them on our site.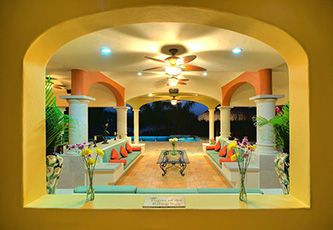 Raising Sun Villa
Beautiful villa located to appreciate the sun raising , with a spectacular view to the Santa Maria Bahia. This villa offer 4 comfortable suite, 5 bathrooms with capacity for 8 adults and 4 children.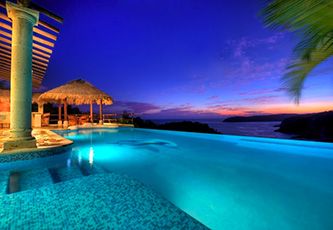 Dolphin Villa
Located on the El Violin Beach, with a beautiful view. This Villa offer 4 suites, 6 bathrooms, private pool, and have capacity for 8 adult and 2 children.
Turtle Villa
With a privileged position with El Violin beach overlooking. This villa offers 4 suites, 5 bathrooms and comfortably accommodates 8 adults and 2 children.
Terms and Conditions
Deposit Policy:
To confirm a reservation, a 50% deposit is required. One day prior to arrival the other 50% will be charged to your card.
If the reservation is made 7 days prior to arrival, 100% deposit is required to confirm.
For reservations December 20th. to January 6th. 100% deposit is required to confirm.
Cancellation Policy:
Cancellations should be made at least 180 days before the arrival date for a full refund of the deposit (less a $200 USD fee), cancellations should be done at least 30 day before the arrival date to receive a 50% refund ot the total deposit reservation. If cancellations are made with less that 30 days prior to the arrival the deposit is non refundable. Please notice that in case of emergency you will receive a refund credit for a future sta at Las Palmas.
Política de No Show:
For No Shows, there will be a charge of one night stay of each room booked.
Credit Cards:
MasterCard / Visa
Notes
Rates do not include taxes of 19% or service. Service is at your discretion.
Check - In: 3:00 p.m. | Check - Out: 12:00 p.m.
Transportation
The hotel provides transportation service under request and with an additional cost.
Services
3 villas
Acceso a playa
TV por cable
Kayaks
Bicicletas
Servicio de cocinero bajo solicitud ($)
Estacionamiento
Receive information of this villa