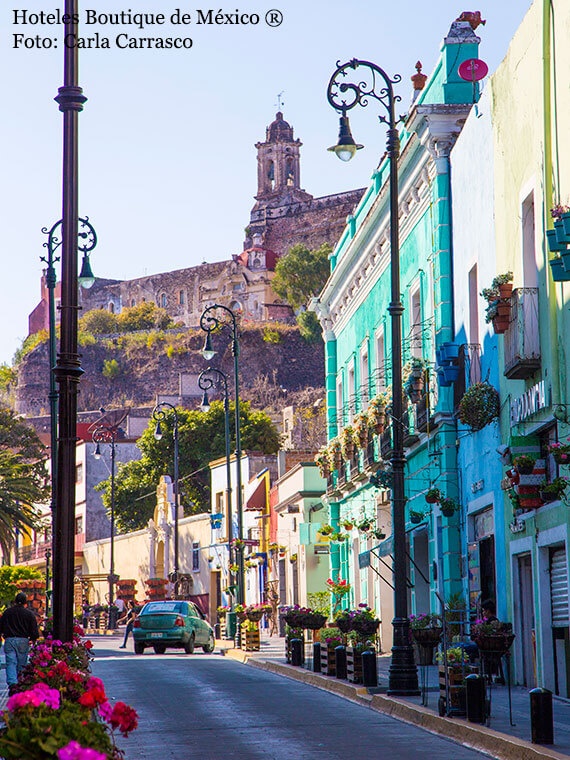 WHERE IS IT?
Also known as Atlixco de las Flores, it is one of the 217 municipalities within the Mexican state of Puebla, located southwest of the state capital, Puebla, classified in September 2015 as a   "Pueblo Mágico" (Magical Town).
From Puebla City – 31.8 km – 41 min.
From Mexico City – 156 km – 2 hrs 21 min.
From Queretaro – 356 km – 2hrs. 52 min.
HOW TO GET THERE?
By air: You can arrive to Atlixco landing in Puebla International Airport, which serves a variety of national and international airlines. From the airport, Atlixco is around 58 km away and you can take a direct taxi.
By land: There are two main roads leading to Atlixco from areas near the center of the Mexico: Federal Highway 190 and the modern highway passing Atlixcáyotl.
WHAT TO EAT?
For some time now, Atlixco has been renowned for a dish that has become iconic of the destination, the exquisite "cecina atlixquense" (Altixcan Jerky), which can found among the stalls in the market and in some restaurants in town. The delicacy is prepared by local dried meat artisans who use traditional methods. This dish is a staple of local cuisine, often garnished with cheese, avocado and nopal (prickly pear cactus).
Other highlights of local cuisine include:
Taco Placero - Tacos overflowing with a variety of fillings, usually combined with a portion of Mexican rice. Choices include, pork crackling, tinga (shredded meat with red and green tomatoes, chipotle chili and onion), boiled eggs, nopales with egg, sausage and potatoes, pork crackling soaked in green or red sauce, steak with nopales, marinated pork ribs, among other fillings.
Enchiladas - A variety of fillings rolled in corn tortilla and covered in chili pepper sauce.
Barbecues
Local marinades and pipian moles (a type of mole sauce native to Puebla)
Chilies in walnut sauce
Cemitas - A traditional crusty bread roll prepared with fillings of your choice
Chalupas - Similar to fried pita bread and topped with a variety of taco fillings
Pambazos - A soft bread roll prepared with fillings of your choice
Molotes - Deep fried corn tortillas which have an oval shape. They are prepared with the filling of your choice such as cheese, mushrooms or meat.
Tostadas - Fried tortilla with toppings
Sweet dishes are worth mentioning in their own section. You can try delicacies such as "tamales de canario" (canary tamales) made with rice flour, butter, sugar and egg yolks, which is different from the traditional tamales recipe. You can indulge in peanut and jeripa atole, which is a traditional dessert that originated in Atlixco, made from rice flour, milk, egg yolks and pinion. The result is a creamy rice pudding garnished with sesame seeds and raisins prepared for the feast of Corpus Christi and Easter. Last but not least, there are delicious varieties of sorbets and ice cream.
WHAT TO BUY?
Being a thriving region for floriculture, you will find a wide variety of plants, flowers and bonsai trees for sale in the various nurseries in the Cabrera Colonia; as well as along the Puebla-Atlixco federal highway and the bypass toward Izúcar de Matamoros. In summer and autumn you can visit large flower expos which exhibit and sell a wide variety of plants and flowers in Atlixco's main exhibition site (Recinto Ferial).
For arts and crafts, Atlixco is the place for natural clay and polychrome items, embroidered clothing and candles; excellent options to take home.
WHAT TO DO?
Being a "Magical Town,"  Atlixco offers endless things to do and places to visit to soak up the culture and tradition that embrace its visitors, who are left eager to return.
Some "must-see" places include:
Mirador Cerro de San Miguel - Those who have an adventurous spirit are encouraged to climb the Cerro de San Miguel to see the city from its viewing posts.
Calle de las Flores (the Street of Flowers), on Avenida Hidalgo - This iconic street is named thus because here you can appreciate renovated facades decorated with flowers from the region.
Historic Downtown - For a fulfilling tranquil experience, spend some time in the historic center while enjoying a delicious ice cream or sorbet.
MAIN FESTIVALS:
Fiesta de Reyes (Feast of the Kings). This is a significant and emblematic nighttime parade held on January 5 each year to celebrate the religious festival of the "Three Kings" from the Bible's nativity story; a time where there are collections for the needy.
Easter: The streets are adorned with flowers, pine fronds and sawdust in preparation for the passing of the image of Jesus of Nazareth.
Flowers and Plants Expo: Held in July in Atlixco's main exhibition site (Recinto Ferial), producers from the region exhibit a wide range of flowers and plants.
Feria de la Cecina (Jerky Fair): During the last week of July and the first week of August,  Atlixco celebrates one of its typical dishes, "dried meat,"  with a warm atmosphere for all the family enlivened with artistic events, held in the Recinto Ferial.
Atlixcayotontli: This festival takes place in the Cerro de San Miguel two weekends before the Huey Atlixcáyotl; that is, the second Sunday of September.  Dancers from the three regions of the Sierra Nevada come together: La Valle, Tierra Caliente and Volcanes regions.
Independence Festivities: Throughout the month of September, known as el mes del patrio (Month of the Homeland), various civic activities, sports events and cultural exhibitions are held. One of the most popular is the parade held on September 14th with over 300 horsemen riding through the streets of the city.
Atlixcáyotl Huey (The Great Fiesta of Atlixco): A tradition that spans more than 48 years, this fiesta combines music, dance and art from the 11 ethnographic regions of the State of Puebla held on the last Sunday of September in the Cerro de San Miguel.. It was declared a protected Cultural Heritage of the state of Puebla on July 29, 1996. Today it is the great feast of Puebla.