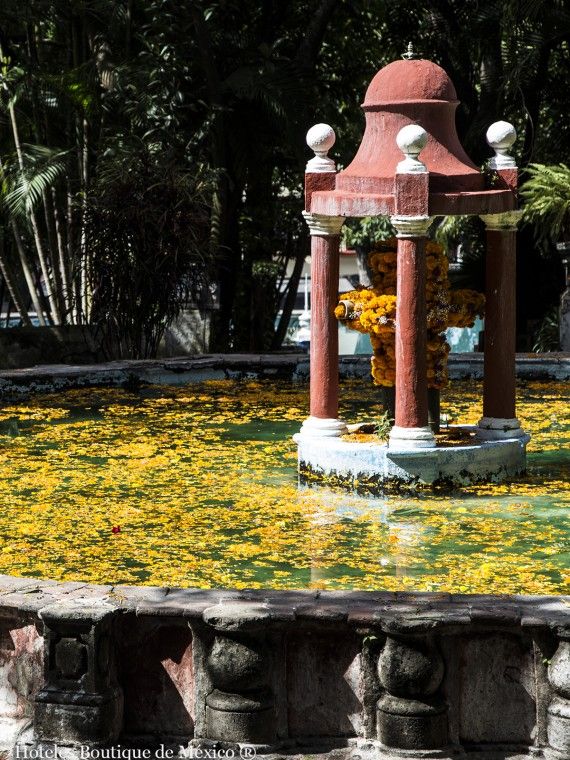 Cuernavaca
Cuernavaca, Morelos
WHERE IS LOCATED?

Cuernavaca is known for many as the "City of the Eternal Spring" due to the amazing climante that it has all year round, it is located at the northeast of Morelo's state, and it is just 50 miles south from Mexico City.
A– 50 mile –  1:06 hrs from Mexico City
A – 16 miles –  26 minutos from Tepoztlán
A – 96 miles –  2:16 hrs from Puebla
A – 350 miles –  6:25 hrs from Guadalajara
HOW TO GET THERE?

The International airport of Cuernavaca, General Mariano Matamoros, receiving daily flight Cuernavaca cuenta con el Aeropuerto Internacional General Mariano Matamoros.
The principal arrival method to this beautiful city is by bus with the company Pullman de Morelos  that offers their service to the entire state of Morelos and Mexico City. It is a very comfrotable service at a fair price. There are to main places where you can take them either at Mexico City airport or in Taxqueña terminal.
WHAT SHOULD YOU TASTE?

Cuernavaca, is rich it is gastronomy heritage, a variety of dishes such as green pepita mole, red mole with turkey, cecina (meat that has been salted and dried) with cheese, cream and sauces; lamb barbacoa, cabriote, fish mixiotes, tamales, clemole (a type of mole) with wild plums, and enchiladas Cuernavaca style.
You can also find an important diversity of dishes originary of the Morelos state as the flower pancakes, beans, jumiles (bugs) sauce with blue tortillas among others.
WHAT SHOULD YOU BUY?

The contemporary style of Cuernavaca can be notice in the gastronomy and enterteining, but on top of that the options that has for its visitors to take back home a little of the scense through items and artcrafts that you could find all arround the city.
Just next to the Cuauhnáhuac museum there is located an artcraft market where you can buy pottery, wax figures; amate paper, colorfoul paintings, masks and wood figures.
WHAT TO DO?

Cuernavaca has options for every type of visitor, for those who wish to admire its beauty and charming through a calm walk or for those who want to adventure the experience:
Recreational...
Robert Brady Museum: Located in the famous "Casa de la Torre", where paintings, arheological pieces, popular art ad decorative pieces from all the world are exhibited, as well as works from Rufino Tamayo, Frida Kahlo and Miguel Covarrubias, all of them part of the private collection of the American traveler Robert Brady.
touristic Train: This traditional tour takes place everyday in front ofthe Cortes palace every 45 minutes, it has routes, the first one is to the Teopanzolco archeological zone, other to the Cathedral and finally there is a tour in downtown adn in the Amanalco rift. All with a duretion of almost 1 hr.
For the explorers...
Beraka Adventure Park: Offers a variety of extreme games: parachuting simulator, scalade, skateboard trail, gotcha, go karts and much more. The Berakanazo, is a giant catapult that will elevate up to 50 people.
Xochicalco: Which means in náhuatl "Place of the flowers". It is an acient ceremonial place, frotress and one of the priciple places of power. Th emost known of its buildings is the Piramind of the feathered snake with the sophisticated reliefs of the ancient Mesoamérica. It is just 24 miles from Cuernavaca.
National Park of the Zempoala Lagoons: Sus siete lagunas están custodiadas por varios cerros, entre ellos el volcán Ajusco. Se puede caminar en el bosque, observar aves, comer los antojitos (quesadillas, sopa de hongos y barbacoa), pasear a caballo y acampar.
Campestre Xochitepec (hot springs): Ii has two pools, pool for the kids, gardens, sports courts and access to the river Tetlama. You can camp there and enjoy a firebomb in the evenings.
Sport...
Golf: The Cuernavaca Golf club is ne of the indicated places to practice this sport, with a variety of facilities such as restaurant, bar, events area, steam room, poll and 9 holes in an extension of 17 hectares, it is one of the indicate places for this sport.
Mountain cyking: Very close from Cuernavaca, to the northeast taking the hoghway to Mexico, the landscapes of the National Lagoons are an excellent option to view the natural settings, riding a bike.