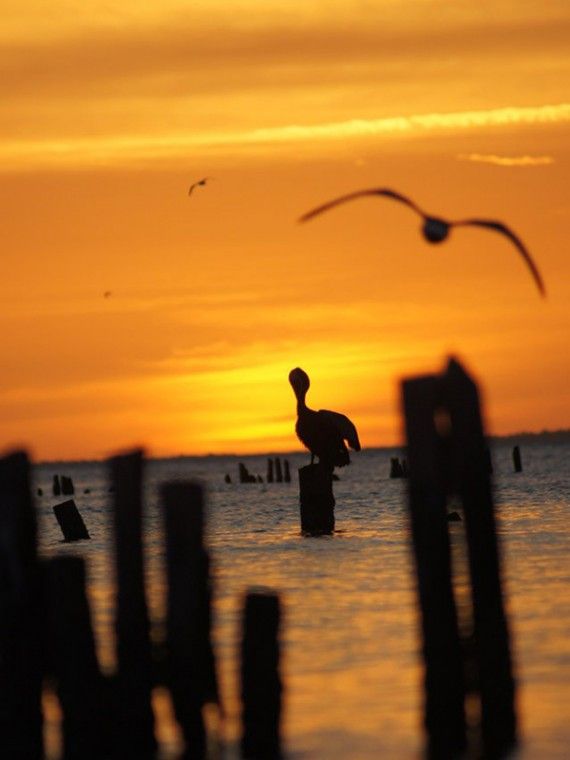 Isla Holbox
Isla Holbox, Quintana Roo
If you´re debating between the Mexico and the Caribbean for a holiday, it´s nice to know that Holbox Island gives you the best of both – a truly intimate island experience enlivened by the mood and flavor of this colorfully joyful country.
Isla Holbox´s history
The ancient Mayans considered a sheltered lagoon here their sacred Fountain of Youth, Holbox meaning "black hole" in their language, perhaps referring to the cenotes or subterranean springs that open into underwater caves.
Abandoned long ago, it remained a popular crossroads for pirates because of its strategic location. In 1873 Holbox was founded by European buccaneers who became enamored of the island´s natural beauty and settled here.
While fishing is still the principal economic generator and a way of life, the island has only recently and very slowly opened up to tourism thanks to its abundant natural attractions. This is supported by government programs to promote sustainable tourism and help protect its unique flora and fauna.
Where is Isla Holbox
World´s away from the hustle bustle, yet not even 165 km (100 miles) from Mexico´s most popular tourist resort. Just 32 square kilometers in area (12 square miles), it measures 40 km (25 miles) long, and just half a kilometer (a quarter mile) from one shore to the other at its narrowest point. This oasis of peace and quiet is just north of Cancun at the tip of the Yucatan Peninsula, where the Gulf of Mexico meets the Caribbean Sea.
Only a small portion of Isla Holbox is inhabited, its population about 1,800. The town covers only about a dozen square blocks in a narrow part of the island, so can be walked from one side to the other in short order.
Holbox is an important part of the 154,000 square kilometer (59,459 square mile) Yum Balam national eco-reserve, where many species still thrive which are endangered or extinct in other parts of the world. Located at the point where the Caribbean Sea merges with the Gulf of Mexico and flanked on the south side by the Yalahau Lagoon, the geography combines tropical forests, wild intact beaches that stretch as far as the eye can see, lagoons, cenotes (underwater caves), and rivers that meander through four classifications of mangrove, all of which are protected under international law.
To Cancun – 2:50 hrs (Add 20 minutes by boat from Isla Holbox to Chiquila no matter where you want to go)
To Isla Mujeres – 3:10 hrs (plus 15 minutes by boat from Puerto Juarez to Isla Mujeres)
To Merida – 3:30 hrs
To Tulum – 3:30 hrs
To Playa del Carmen – 3:40 hrs
To Campeche – 4:30 hrs
How to get to Isla Holbox
From Cancun airport you can take a taxi – or a bus from the downtown Cancun bus station – to Chiquila about two hours away, the driving easy on flat, straight routes. This is the mainland launch point where you catch the scheduled ferry or hire a water taxi on the spot to take you to Isla Holbox 14 km (9 miles) away, the trip across the Yalahau Lagoon taking about 20 minutes. Total travel time from Cancun is about three hours.
A rustic airport on Holbox with a shell bordered runway receives small airplanes, air excursions over its miles of white sand beach impressive. Flight time from Cancun is about 30 minutes.
While the ferry is most economical, it operates on a set schedule and we recommend pre-arranging a private launch with the hotel owners, which is also very reasonable and will land you directly at their beach. They will meet you in Chiquila and help you store your car with a reliable service if you are driving. All these land and water transfer services can be arranged with Mexico Boutique Hotels in advance.
How to get around in Isla Holbox
There are no paved roads and just a handful of cars, so getting from point A to B is in itself an adventure, motor scooters, bicycles, electric golf carts, kayaks and horses making it fun!
What should you taste?
You´ll never have fresher seafood, most of the islanders are wonderful cooks. Small restaurants serve well prepared delicacies from the sea including lobster, snapper, grouper, tuna and conch as well as regional Yucatecan dishes. On the menus you´ll find ceviche (seafood cocktail marinated in lime juice), freshly caught grilled fish or tikin-xic (grilled fish with original Mayan spices), as well as irresistible empanadas filled with baby shark or other fish. Fresh fruit such as papaya, mango and pineapple is grown on the island and brought in from the nearby towns on the mainland. Coconut palms flourish everywhere and the coconut milk is used in drinks. There´s even Italian cuisine capped by a full-bodied espresso or cappuccino.
What should you buy?
What you can buy here is limited, but fun. This is a major hammock producing area, and good quality nylon and cotton hammocks are made right here. The multitude of intact shells washed up by currents on the sugary, white-sand beaches make great, free souvenirs, as well as fun collectibles crafted by the locals. And the island has its own guitar maker!
What´s the weather like in Isla Holbox
With a tropical climate, the temperature averages 27 degrees Celsius (80 degrees Fahrenheit) with almost-constant afternoon breezes. September through November is the rainy season, although the island gets just half as much rainfall as the other parts of the Yucatan.
While the many migratory species that sojourn here are most active during the hottest part of the year, May and June are very pleasant months and during that time you can see the pink flamingos, turtles, and quite possibly the first arrivals of the whale shark.
Keeping busy
A diversity of exotic flora and fauna await discovery on and around the island. Ringed by pristine deserted beaches with placid waters, most self-motivated activities or organized excursions are shore or water-based.
This is one of the very few places in the world that you can observe and actually swim with the extraordinary whale shark, described as a very large spotted shark actually considered to be the largest fish in the world. Their arrival commences out at sea off Cabo Catoche in May and the experience is practically guaranteed at Isla Holbox from mid-June through September. This particular shark is a filter feeder (plankton and small fish) as opposed to feeding on large prey. They are normally at the surface, so you can easily see them from the boat and snorkel with them. These tours leave the beach in front of Xaloc very early in the morning, about 6 a.m., and you are back to the hotel at mid-day.
It is said that Holbox is best experienced through the fishermen who have plied these waters for generations. And these are the folks who run the many boats you´ll see at the pier, always ready to take visitors deep-sea fishing, fly fishing, searching for crocodiles, bird watching and more. Several organized tours are available, one even teaching you to fish like an islander, with just a hook, line and bait.
While the open ocean and Yalahau lagoon are fertile fishing grounds, the island´s rivers are also very popular for fly-fishing for tarpon. Exceptional all year round, the biggest "Silver Kings" are caught May through September.
Year-round, Bottlenose dolphins play just offshore and in the lagoon, always amusing to watch from your hammock or while cruising around.
Holbox is a bird-lover´s paradise with over 150 species. Year-round, Bird Island (Isla Pajaros) is outstanding for viewing the nesting cormorants, grey and white pelicans, frigate birds and more from an observation deck.
The most spectacular sight is the annual visit of over 40,000 flamingos (late April or early May through October). They wade in the lagoon as well as on the open ocean side of the island, feeding on organisms that give them their brilliant plumage – a rare spectacle of bright pink that is very photogenic!
Snorkeling is excellent, and because of the island´s unique geographical position, you get to see both Gulf and Caribbean marine life. This is not a reef area, although the beginning of the Caribbean reef that reaches as far as Belize commences further offshore at Cabo Catoche, and can be reached by avid divers who have the time.
Tortoiseshell, White, Caguama and Barge spawn here May to September, and there is a local organization that arranges visits to the turtle nesting sites to assist with tagging and documenting. A donation is expected to assist in this conservation program.
Kite surfing in ideal conditions, lessons are available.
A visit to the cenote Ojo de Agua takes you back across the lagoon to the mainland, where a short walk brings you to a refreshing pool fed by a subterranean river. This is one of the many cenotes in the area, often a popular part of an island excursion that might include Bird Island, flamingo and dolphin watching, and maybe some diving for conch, which your skipper might transform into a lunchtime ceviche.
UNESCO World Heritage Sites in or around Isla Holbox
PRE HISPANIC CITY OF CHICHEN - Located 3 and a half hours from Isla Holbox.
This sacred site was one of the greatest Mayan Centers of the Yucatán Península. Throughout its nearly 1000 year history, different people have left their mark on the city. The Maya, Toltec and Aztec vision of the world and the universe is revealed in their stone monuments and artistic works. The fusion of Mayan construction techniques with new elements from central Mexico make Chichen-Itza one of the most important examples of the Mayan-Toltec civilization in Yucatán. Several buildings have survived, such as the Warriors´ Temple, El Castillo and the circular observatory known as El Caracol.
The best option to visit Cichen-Itza is hiring a certified tour guide who will take you from the hotel to the ruins, and share with you interesting information about the area.
You may want to know...
Nightlife
A visit here will appeal to those wanting to experience abundant nature up close and personal. And that happens in the daylight hours. So if it´s not tranquility in a friendly, crime-free tropical environment that you´re looking for, Holbox probably isn´t for you
Things you should know
Electricity is 110 volts (the same as in Canada and the U.S.)
There are public telephones and most hotels have phones.
The island has Internet cafés.
You can get basic medical attention, but anything else is treated in Cancun or Merida.
There is a pharmacy, but it just stocks the basics. So bring whatever you really need with you.
The sun is strong, so be prepared with proper protection such as hats, glasses, cover ups and sun screens.
Filter
Get specific results
Download here our complete hotel directory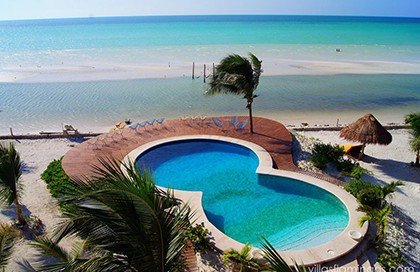 Villas Flamingos
Isla Holbox, Quintana Roo
As Holbox Island, Villa Flamingos maintains an architectural and decoration concept that is ecological, rustic and bohemian. Thatched roofs cover gaily-painted buildings, all with...
ver mas
Descargar aqui el directorio completo de nuestros hoteles