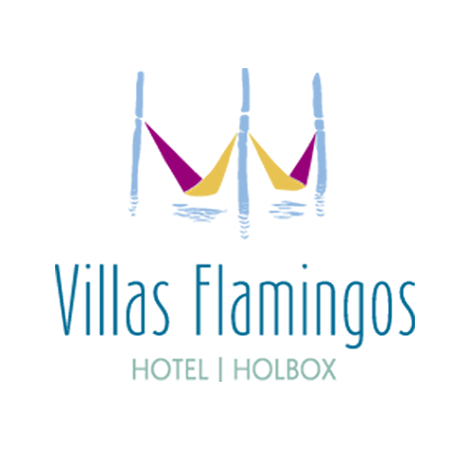 As Holbox Island, Villa Flamingos maintains an architectural and decoration concept that is ecological, rustic and bohemian. Thatched roofs cover gaily-painted buildings, all with balconies and hammocks hung just so to steal the breeze off the turquoise blue ocean.
Villa Flamingos is just at the beach with 40 rooms all of them with partial or full Ocean View, it also has an extension of 591 feet of coastline. Simply but tastefully furnished, it takes its cues from island living: vivid colors, beach motifs, the showerheads are made out of seashells and, because it´s very eco-conscious, the run-off goes to water the little garden behind every room. Wonderful side-note: if you happen to arrive late and are exhausted from the trip, you´ll be given a cool drink and led to your room—the check-in can wait until morning! The hotel also has a Bar "Arena Lounge" that is located downtown Holbox, from where you will be able to enjoy an incredible view of the Island, the bar also has a Jacuzzi in where you can refresh yourself, with a perfect location.  There is also a boutique and wine store, so take advantage and visit them while you are there.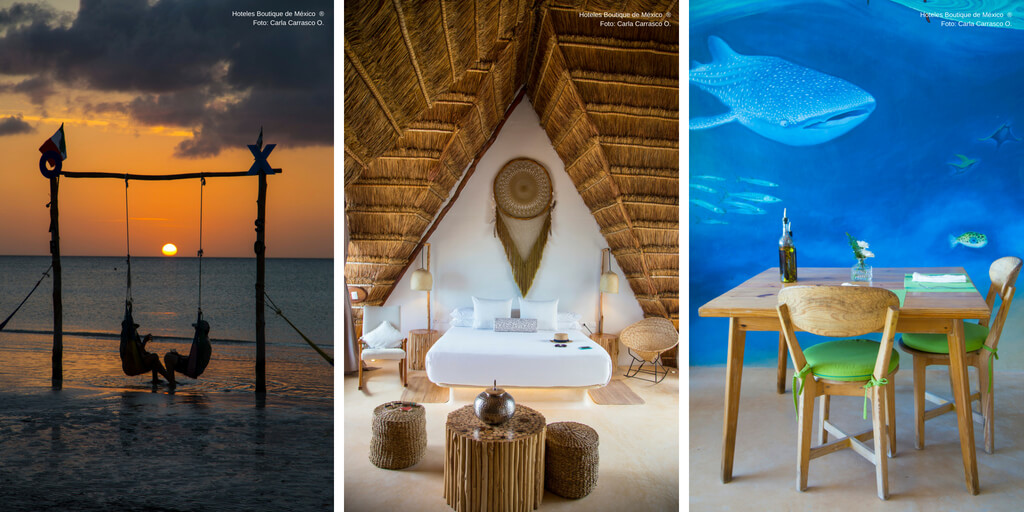 CONSIDER THIS…
Mix visits to Merida and Holbox and you have the perfect beach/colonial experience. Chichen Itza is conveniently located between both destinations so you can throw in a little archeological magic along the way. In the case you decide to take a Family trip or group of friends, Villa Flamingos has the perfect option as it offers bautiful and wide beach front bungalows to accomodate families or small groups of friends, these bungalows have its own privated pool.
YOU'LL SPECIALLY LOVE
We love how well they do casual and tropical. We love the big, beautiful pool with a view and its giant, fluffy pool towels. We love the Superior class suites—they´re actually bungalows with no neighbors on top, on the bottom or on the sides. They´re very Caribbean in design, with the thatched roofs and huge windows with a view of the ocean just steps away.
WHAT'S FABULOUS HERE
If you consider that Holbox is the ideal place to lose yourself for a while, then Villas Flamingos is the epitomy of this. It´s location at the far end of the beach and town make it perfect to enjoy complete quiet while still being a short walk from the island action. You will feel like at home, the staff will always be pending on any need you have. The romantic dinners that they can arrange for you are fantastic, they are unique as the set up of the table is on the sea.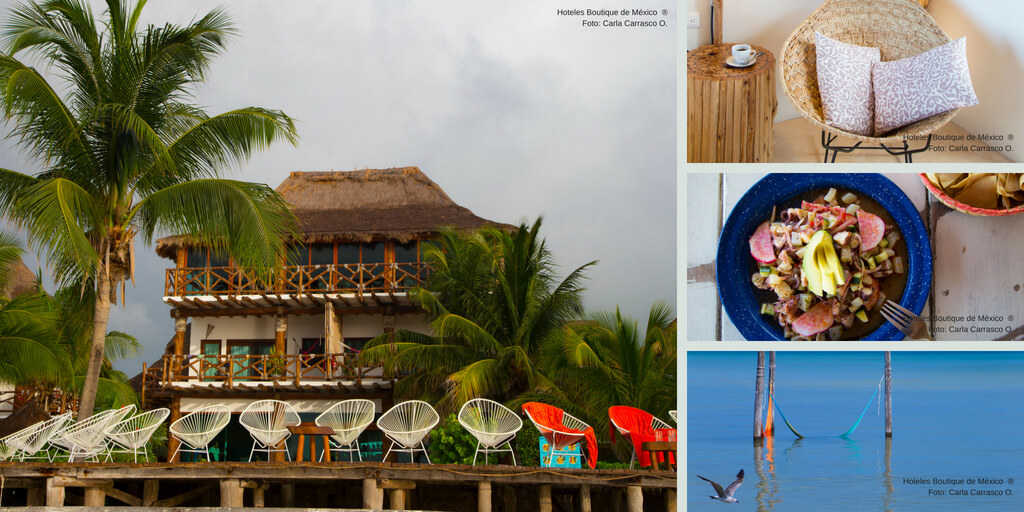 WHO IT WOULD APPEAL TO
Couples that want to spend quiet, uninterrupted time together in a natural, peaceful setting. For families that enjoy places where they can be in touch with the nature and for the adventurous.
WHAT OTHERS HAVE SAID (RELATED LINKS)
April 2013. Huffington Post: Isla Holbox, Paradise Found
Boutique hotels at reasonable rates in Mexico
A weekend at Villas Flamingos in Holbox island
---
Rates
All accommodations are close to the beach. Roofs are thatched and furniture is crafted by Mexican artisans. All rooms include ceiling fans, a/c, safe, hair dryer, iron, desk, terrace and/or balcony and a hammock.
Note: Rates are quoted in US dollars and are subject to change without notice. Please note that hotels will charge in Mexican pesos at current exchange rate when payment is processed. We invite you to contact us if you need rates for the following year and do not see them on our site.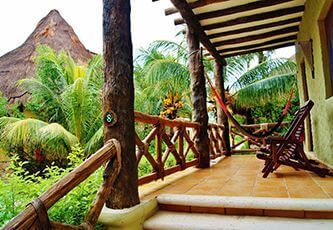 Garden View
Spacious room with 2 Queen beds for the ones on the ground floor and one King bed for the ones on the second floor. All have private terrace with hammock, air conditioned, mini fridge, safety deposit box, reading table, suitcase stand, partial ocean view. Bathroom with shower.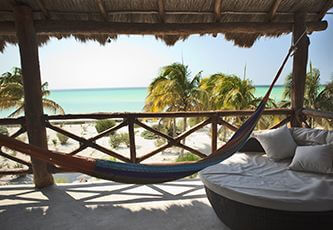 Ocean View Room
Located in three different buildings within the property, these rooms have 2 Queen beds or 1 King and coul be on ground or second floor. Air conditioned, mini fridge, safety deposit box, suitcase stand and Ocean view. Bathroom with shower.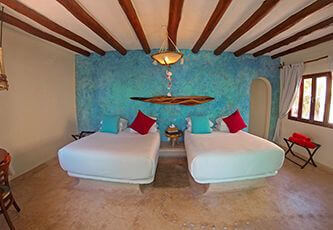 Bungalow Garden View
Located on the ground floor, these rooms have 2 Queen beds with a wide terrace and its own little swimming pool, small garden patio with shower. Air conditioned, mini fridge, safety deposit box, reading table, partial Ocean View.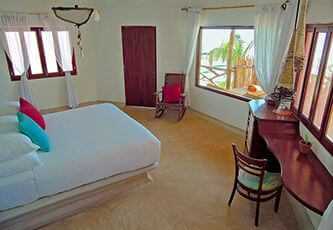 Bungalow Mangle
Two levels Bungalow. First floor with king size bed, exterior bathroom with rain shower, A/C, minibar, safety box. Second floor with jacuzzi and sitting area.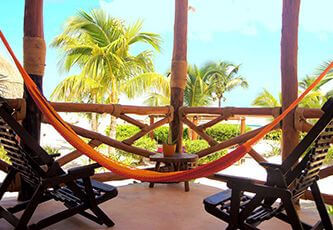 Bungalow Arena
Located in lower level Localizada en planta baja con dos camas queen size, amplia terraza con alberca privada, pequeño patio con regadera. Aire acondicionado, caja de seguridad, mesa de lectura y vista frontal al mar.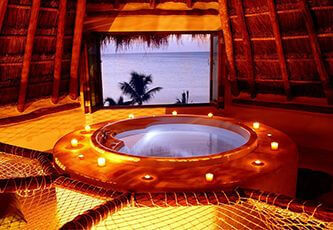 Bungalow Cielo
Two levels Bungalow. First floor with king size bed, exterior bathroom with rain shower, A/C, minibar, safety box. Second floor with jacuzzi and sitting area.
Terms and Conditions
Deposit Policy:
To confirm your reservation, you must prepay 50% of your total stay when booking. The remaining 50% is due three day before arrival, or 7 working days before the arrival if the payment is made with American Express.
If your reservation is made 7 days prior to your arrival date, full payment is required for your whole stay.
For reservations with arrival dates between December 20th and January 6th, 100% payment for the total stay is required.
Cancellation Policy:
There is a two-night non-refundable deposit for cancellations made14 days or less prior to arrival. During holidays (Easter, Christmas and New Year), there is a non-refundable two-night deposit and if cancellation is made less than 14 days prior to arrival, 50% of the total stay will be charged.
Credit Cards:
MasterCard/ Visa  /American Express
Includes
Rates include  buffet breakfast  for two and  taxes
Notes
Maximum occupancy per room is 3 adults or 2 adults and 2 children. (Children under 12 years old no charge). Additional person $64 USD per night plus tax Minimum stay 2 nights during low season Jan. 7 to Apr. 8, Apr. 25 to Jun. 30 and Aug. 29 to Dec. 21, 2012. Minimum stay 4 nights during high season Apr. 9 to 24, Jul. 1 to Aug. 28 and Dec. 22, 2012 to Jan. 9, 2013. Pets are not permitted.
Check - In: 3:00 p.m. | Check - Out: 12:00 p.m.
Transportation
Airport transfers can be arranged with prior notice. Land transfer rate for two passengers with an adittional cost.
SPA
Honor is given to the traditions of the area at this place, is for this reason that they offered Mayan massages. The Mayan massage is a traditional method of healing that mixes deep tissue massage and lymphatic. It is relaxing and at the same time works the four bodies (physical, chemical, emotional and spiritual), the column is adjusted, the neck and the hip, they work through energies or emotions. The energy is vital part of the treatment as it comes from the believes of the Mayan ancestress who consider that sicknesses are produced by emotions that are not release from the body and they are accumulated in the organs. You can take this treatment in the comfort of your room or in the splendid beach front palapa.
ADDITIONAL MASSAGES
REFLEXOLOGY
Reflexology is an ancient technique that promotes energy balance and overall well-being. This therapy is based on the principle that reflex points on the feet correspond to body organs; stimulating these points helps promote healthy function of the organs.
BACK & NECK MASSAGE
A shorter version of the Swedish massage, applied on the back, shoulders and neck areas
ANTI-STRESS
Anti-stress massage oil relieves stress and fatigue, relaxes the body. Improves skin texture and keeps it health
book now
Services
40 rooms
Beach
2 Pool
Wireless Internet (under request)
TV in the Lobby
Complimentary Bikes & Kayaks
Spa services and massage at the Beach ($)
Tours under request ($)
Wine & Food
"El mangle" has a beautiful roof palapa style and a lovely view to the sea. Here you will be able to enjoy delicious dishes base on sea products as fish and seafood; with some clasiccal options. All meals are prepared with fresh ingredients and Caribbean recipes, you cannot miss to try the dishes prepared in "salsa de noche" the chef's specialty.
With an unique decoration of small swings "Bar los Pedales" have an excellent location close to the pool and the beach. You cannot miss the chance to enjoy a Coconut with Rhum.
Receive information about this hotel