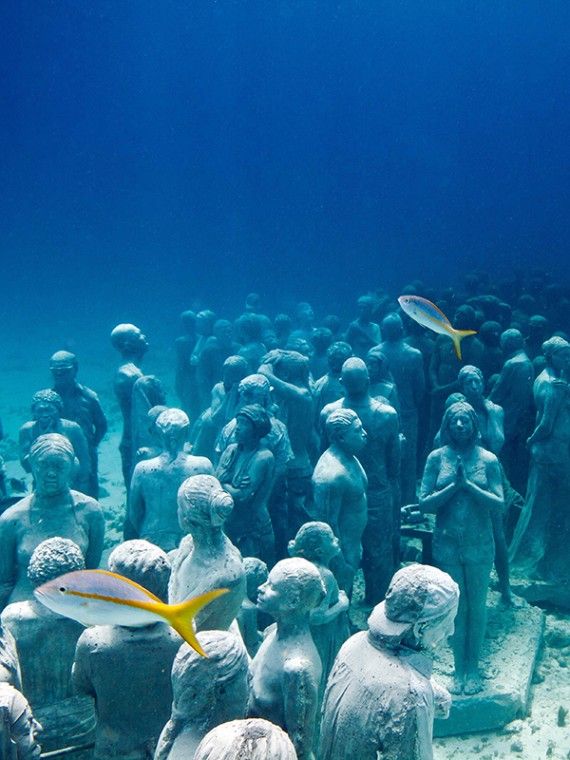 Isla Mujeres
Isla Mujeres, Quintana Roo
Isla Mujeres, although it is not even four miles (6 km) from Cancun, it might as well be on another continent. In contrast to the flashy glamor of Mexico´s most popular tourist destination, it is relaxed, compact and a perfect spot for getting away from big-city stress. This little island of Isla Mujeres is only five miles long and less than half a mile wide and you can walk the length of it in a couple of hours. Yet it offers good beaches for swimming, coral reefs for diving and snorkeling, a tranquil lagoon, the ruins of a pirate´s hacienda, and ample tourist facilities.
Where is Isla Mujeres
To Cancun – 45 minutes
To Playa del Carmen – 1:35 hrs
To Tulum – 130 km – 80.77 mi -2:15 hrs
To Merida – 4:52 hrs
How to get to Isla Mujeres
There is a passenger ferry that takes about half an hour to cross from Puerto Juárez (If you have a car, you can leave it in the parking lot.) The usually less-crowded Punta Sam ferry takes both automobiles and passengers. The tours from Cancun include music, open bar, food and snorquel equipment.
What should you taste?
There are several good dining spots in town, casual restaurants on the beach, and others at the resorts.
What should you buy?
Shops feature fine coral jewelry and the latest in resort wear.
Keeping busy
The sandy beaches on the west side of the island are good places for swimming; but the strong currents of the east coast are hazardous.
Playa Cocos, on the north end of the island, is the prettiest beach and has translucent, calm waters. Playa Lancheros, at the south end, is more secluded. You can visit the sea turtle pens and enjoy the sheltered water for swimming.
Dolphin Discovery offers a chance to swim with the dolphins.
Diving
The best diving spots are Banderas, Manchones and Cuervones reefs. An undersea coral garden, El Garrafon National Park and Marine Life Refuge, with its hundreds of varieties of colorful tropical fish, offers superb snorkeling, especially early in the morning before the tour boats come over from Cancun.
El Dormitorio is a sunken pirate ship lying under 40 feet (12 m) of transparent water.
Boating/Fishing
Hire a boat to go fishing or yachting, to visit the turtle pens or for visiting the unspoiled ecosystems on nearby Contoy Island, a Special Biosphere Reserve and National Bird Sanctuary.
Makar Lagoon. The Puerto Isla Mujeres Resort and Yacht Club is located on this long, thin body of water and has its own 60-slip dock.
Biking/motorcycling
You can rent a couple of wheels and go exploring on your own.