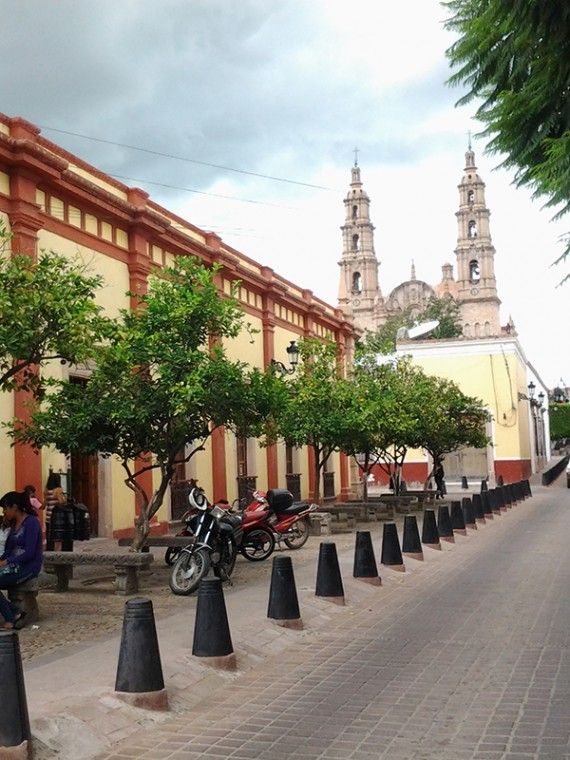 Lagos de Moreno
Lagos de Moreno, Jalisco
Lagos de Moreno is a charming provincial Colonial town in northeastern Jalisco filled with flower-filled parks and plazas and Colonial buildings from silver-mining days and a fascinating baroque church.
Lagos de Moreno´s history
Founded in 1563, the pre-Hispanic indigenous village occupying the area was called Pechtitan. With the discovery of silver near the city of Zacatecas in 1546, the "silver roads" leading from the mining camps to Mexico City, passing nearby Lagos de Moreno, became strategic routes and La Villa de Santa Maria de los Lagos was founded in 1563. In 1829 the National Congress authorized the name of the city and it became "Lagos de Moreno".
Where is Lagos de Moreno
Set beside the San Juan River in the Los Altos region of the state of Jalisco about an hour south of Aguascalientes and just 35 minutes north of Leon in the neighboring state of Guanajuato. Guadalajara, capital of Jalisco, is about 2 1/2 hours northeast.
To Leon – 29 km – 18 mi – 35 min
To Guanajuato – 95 km – 59.3 mi – 1:05 hrs
To Guadalajara – 189 km – 117.43 mi – 2:00 hrs
To Zacatecas – 195 km – 121.05 mi – 2:10 hrs
To San Miguel de Allende – 215 km – 133.59 mi – 2:30 hrs
How to get to Lagos de Moreno
You can fly to the International Airport in Leon and rent a car or arrange for private transportation. The city is also served by a number of national bus lines such as the First Class Primera Plus as well as Omnibus de Mexico and Flecha Amarilla.
How to get around in Lagos de Moreno
You can get easily around in taxi. In town Lagos de Moreno everything is into walking distance. Also you can use public buses to drive from one to another village.
What should you taste?
The town is filled with many small restaurants and bars, particularly surrounding the Zócalo, or main square. There is also the nearby Capuchinos Mall where there are restaurants. A favorite dish of the area is freshly picked strawberries with cream for which the region is known.
What should you buy?
In addition to the Capuchinos Mall, there are local markets in which to shop. The area has also become one of the principal dairy production regions in Mexico and many types of dairy products, such as cheeses, "cajeta" and other milk-based candies, and cream are available for purchase.
What´s the weather like in Lagos de Moreno
The climate of this area is semi-arid with a rainy summer season and a mild, dry winter.
Great tours and excursions
Side Trip from Lagos de Moreno
There are several nearby interesting cities, the most interesting of which is Guadalajara, also in the state of Jalisco. With its museums, restored historical district, theatres, numerous restaurants and fabulous shopping, Guadalajara is well worth a visit.
UNESCO World Heritage Sites in or around Lagos de Moreno
HISTORIC TOWN OF GUANAJUATO AND ADJACENT MINES - Located one hour and 15 minutes from Lagos de Moreno.
Founded by the Spanish in the early 16th century, Guanajuato became the world´s leading silver-extraction center in the 18th century. This past can be seen in its "subterranean streets" and the "Boca del Inferno" a mineshaft that plunges a breathtaking 600m. The town´s fine Baroque and neoclassical buildings, resulting from the prosperity of the mines, have influenced buildings throughout central Mexico. The churches of La Compañia and La Valenciana are considered to be among the most beautiful examples of baroque architecture in Central and South America. Guanajuato was also witness to events which changed the history of the country.
Request a certified bilingual tour guide at your hotel in order to comfortably discover this mesmerizing city.
AGAVE LANDSCAPE AND ANCIENT INDUSTRIAL FACILITIES OF TEQUILA – two and a half hours from Lagos de Moreno.
This 34,658-hectar site, located between the foothills of the Tequila Volcano and the deep valley of the Rio Grande River, is part of an expansive landscape of blue agave, shaped by the culture of the plant which has been used since the 16th century to produce tequila spirit and over at least 2,000 years to make fermented drinks and cloth. Within the landscape are working distilleries reflecting the growth in the international consumption of tequila in the 19th and 20th centuries. Today, the agave culture is seen as part of national identity. The area encloses a living, working landscape of blue agave fields and the urban settlements of Tequila, Arenal, and Amatitan with large distilleries where the agave Ôpineapple´ is fermented and distilled. The listed property includes fields, distilleries and factories (both active and not), tabernas (distilleries that were illegal under Spanish rule), towns and Teuchitlan archaeological sites. The property numbers numerous haciendas, or estates, some of which date back to the 18th century. The architecture of both factories and haciendas is characterized by brick and adobe construction, plastered walls with ochre lime-wash, stone arches, quoins and window dressings, and formal, neo-classical or baroque ornamentation. It reflects both the fusion of pre-Hispanic traditions of fermenting mescal juice with the European distillation processes and of local technologies and those imported from Europe and the U.S.A. The property also covers archaeological sites which bear testimony to the Teuchitlan culture which shaped the Tequila area from 200 to 900 A.D., notably through the creation of terraces for agriculture, housing, temples, ceremonial mounds and ball courts.
Definitely the best way to visit Tequila is with a certified tour guide who will share with you the wonders of Tequila and Guadalajara.
Special Events
La Feria – The Fair – takes place from late July to early August each year. There are animal expositions, sheep auctions, Mariachis, and a mini-rodei with the famous "Charros" of Jalisco.
Who would Lagos de Moreno appeal to?
Anyone looking for a quiet, but charming, taste of Mexican life in an historic setting will enjoy Lagos de Moreno. The town is filled with pazas, gardens, colonial structures and hacienda-like homes. There are nearby lakes, including Lake Sauceda only 15 minutes away, where there is fishing and picnicking and golf is available. It´s also a good place to learn and practice Spanish as there is a large language school in the city.