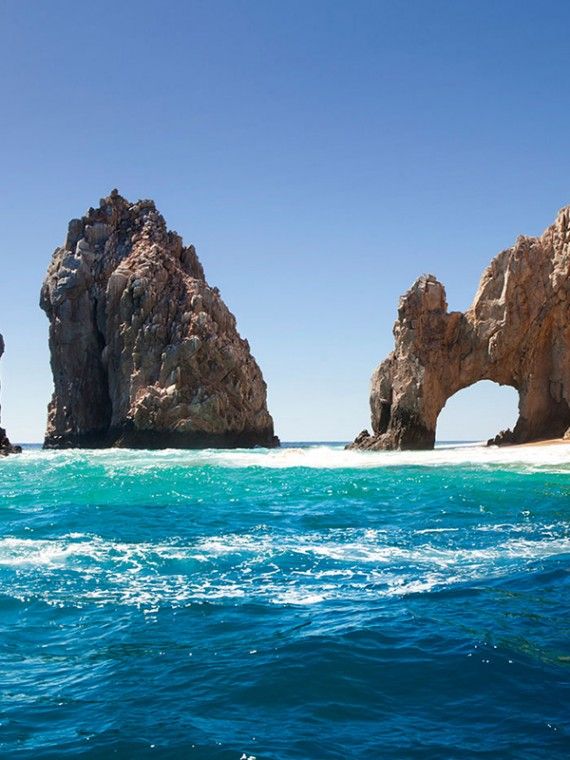 Los Cabos
Los Cabos, Baja California Sur
The fast-growing resort area of Baja California, near the US and a sea away from mainland Mexico, is one of a kind. Not only for its cultural duality, but for having two towns with contrasting personalities and two major bodies of water that merge serendipitously right here. Los Cabos has a number of small boutique, luxury hotels to choose from and MBH represents a few of them.
Los Cabos´s history
Multi-million dollar yachts and fishing charter boats have replaced the wooden galleons that once anchored here in Los Cabos when Spain plied the lucrative galley route between Manila and Acapulco. Calling the rocky cathedral-like formations at the tip of the Cape Land´s End or Finnistera, Spanish crews replenished their fresh water supplies at the San José del Cabo estuary – which still supplies all of Los Cabos to this day.
The during World War II, pilots flying over the Baja Peninsula spotted lots of huge game fish in the waters and spread the word. By the Ô60s Los Cabos had become a hideout for Hollywood celebrities and a paradise for wealthy yachtsmen.
Today, the rest of the world has caught on to the rich, natural bounty here and Los Cabos is a diversified, world-class playground with every conceivable service and amenity. Over the past decade its evolution has been especially dramatic, due to improved road and air access and heavy investment by the government and the private sector. So even if you were here years ago, you might want to check it out now.
Where is Los Cabos
Located at the southernmost tip of the Baja Peninsula about 400 km (249 miles) west of Mazatlan, Los Cabos offers the variety of a naturally gorgeous 31 km (19-mile) tourist corridor bookended by the hip and hopping Cabo San Lucas and the enchanting and traditional San Jose del Cabo.
The peninsula begins about a 100 km (62 miles) south of the U.S. border, the 150-km- (93-mile) wide Baja dividing two main bodies of water, the Pacific Ocean and the Sea of Cortez (also known as the Gulf of California) – a real plus for the destination because of the resulting spectacular fishing and weather.
San Jose represents a quieter, more traditional side with its century-old adobe buildings, shady plaza and squares anchored by a church built on the site of the original mission on the Cape. San Lucas, on the other hand, is slick and fast-paced round the clock. Yet here too, just a few blocks in from the waterfront you´ll find lanes lined with homes and shops typical of any small coastal Mexican town. The corridor running between them, with its surreal-looking, arid, tropical forest landscape and 20-plus beaches, offers a wide choice of activities to engage in.
To Mexicali – 1651 km – 1025. 88 mi – 16:51 hrs
To Tijuana – 1656 km – 1028.99 mi – 16:56 hrs
How to get to Los Cabos
Easily accessible to the US, Los Cabos is an ideal vacation choice – especially if you don´t have a lot of time and want to make the most of it or you´re a first-time visitor to Mexico and want to ease into this intriguing country.
By road it´s a 26-hour trip down the sparsely populated Baja Peninsula with its gorgeous desert landscapes, first-class buses frequently plying this route.
Direct flights are available from many US gateways. Los Cabos International Airport is 11 km (seven miles) north of San José del Cabo and 48 km (30 miles) northeast of Cabo San Lucas. Van transfers, taxis and rental cars are available at the airport. Recently, flights to and from the Mexican resort towns of Mazatlan and Puerto Vallarta were introduced.
Boaters, some of whom are on their way to and from other Pacific ports, can dock at a first-class, 330-slip marina.
What should you taste?
Trendy restaurants and bars line the streets of Cabo San Lucas, as do lots of taco stands. Many of the restaurants are generous with servings of everything from American fast food to refined international cuisines including Swiss and Japanese to traditional and nouvelle Mexican. Fresh seafood appears on just about every menu, with the local scallops, shrimp, clams, oysters, mussels and spiny lobster predominating. San José del Cabo eateries are varied as well, but in general, tend to be more intimate.
What should you buy?
Imported goods are more commonly available here than in other Mexican resorts, particularly in the supermarket. In San José del Cabo, many of the shops are in old colonial buildings a short walk from the main square. Jewelry, especially black coral and resort wear are good buys. In Cabo San Lucas, you´ll find just about everything from souvenir shops to open air markets to fine designer boutiques, as well as handicrafts from around the nation and Mexican home furnishings. Visit the glass factory and the arts and crafts stalls near the docks.
What´s the weather like in Los Cabos
The year-round mean temperature is 28 degrees Celsius (80 degrees Fahrenheit), the January average 18 degrees Celsius (64 degrees Fahrenheit) and August 29 degrees Celsius (84 degrees Fahrenheit) with refreshing breezes off the water.
Los Cabos doesn´t get much rain. In fact it gets more sunny days in winter than either Hawaii or Florida, 95% of the time it´s nothing but blue skies here.
Keeping busy
More than 800 kinds of fish are caught in these waters, including blue, black and striped marlin as big as four meters (13 feet) and 227 kilos (500 pounds). Fishermen strike payday in this undisputed billfish capital of the world, several international tournaments held each fall. Most of the more than 40,000 marlin and sailfish hooked each year are released. This fertile fishing area also breeds sailfish, yellowfin tuna, grouper, dorado, amberjack, wahoo, yellowtail and roosterfish, as well as monster-sized Humboldt squid and whale shark, weighing as much as 150 kilos (330 pounds) and 3,631 kilos (8,000 pounds) respectively. Fishing charters from basic to luxurious will arrange to have your catch frozen, smoked or mounted. Alternately, you can opt to rent a long, low-riding craft modeled on a dugout canoe called a panga and head where the spirit takes you. Whatever your transportation, keep your eyes open and you just may spot whales, both blue and grey, sea lions, dolphins and flying fish.
The crystal-clear waters and spectacular pristine beaches are ideal for water sports enthusiasts. Scuba divers have an underwater preserve and a wreck to explore, with cave and canyon dives popular. Not to be missed is the undersea drop-off at the tip of land´s end, visibility sometimes reaching 120 feet. The gentle waters of El Medano Beach are ideal for banana boat rides and kayaking. Acapulquito Beach and Playa Azul are excellent for surfing. And Palmilla, Los Barriles, and Buenavista are great windsurfing spots, international windsurfing competitions held in this area every year.
Additional diversions are off-road desert jeep tours, whale-watching and snorkeling trips, parasailing, horseback riding and tennis. One of Los Cabos´ most distinctive landmarks, a rocky point at the southern tip of the peninsula called El Arco (The Arch), is particularly noteworthy when viewed from the water and the beach underneath it, Playa de Amor, can be strolled at low tide.
And last, but certainly not least if you´re an avid golfer, eight championship golf courses designed by Jack Nicklaus, Roy Dye, Robert Trent II and others of their ilk make Los Cabos a highly popular destination for the international golfing community.
Nightlife
Although there are certainly exceptions, Cabo San Lucas has more of a party scene and San José del Cabo is about quiet, candlelit evenings and fiesta nights.
You may want to know...
Electrical voltage is 110;
There´s a U.S. Consular Agency in Cabo San Lucas;
There are clinics in Cabo San Lucas and La Paz a two-hour drive away, which also has specialized hospitals and English-speaking doctors;
Los Cabos has schools where you can study Spanish ;
Normally, banks only do money exchanges in the mornings, from 8:30 a.m. to 1 p.m. They close for the day anywhere between 2:30 p.m. and 7 p.m. After that, money can be exchanged in hotels, restaurants and at the many money exchange counters.