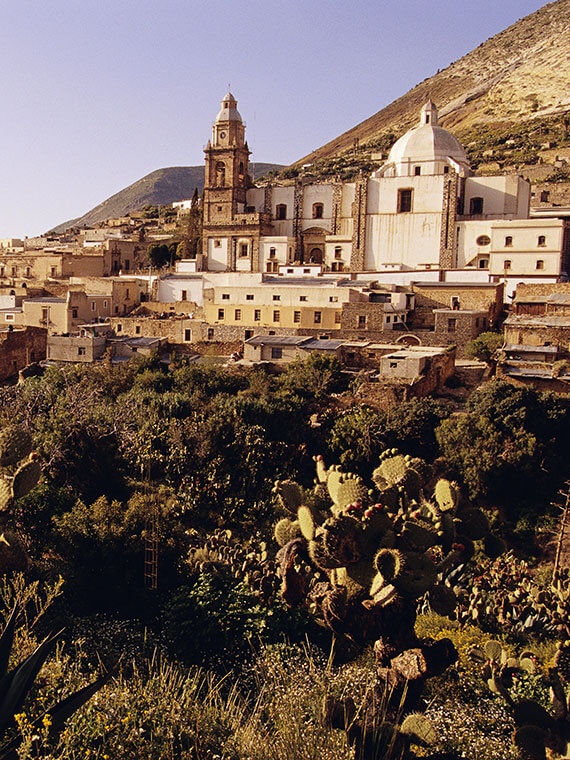 Real de catorce
Acapulco, GuerreroSan Luis Potosí, San Luis Potosí
WHERE IS IT?
Located in the state of San Luis Potosi in northern Mexico, Real de Catorce is an old mining town that is currently dedicated to tourism.
254 km (158 miles) – 3 hours, 20 minutes from San Luis Potosi
312 km (194 miles) – 3 hours, 48 minutes from Zacatecas
652 km (405 miles) – 7 hours, 24 minutes from Mexico City
HOW TO GET THERE
To arrive by bus you will need to head for the municipality of Matehuala, which can be reached from various parts of the country. Some of the bus lines you can choose from include ETN and Transportes del Norte. From Matehuala, take another bus headed for "Real." When arriving by private transport, there are various routes that you can take, depending on your departure point. One of the most frequently asked questions is whether the road to Real Catorce is in good enough condition for all types of vehicles, and the answer is "yes," all kinds of vehicles can use the road.
If you are traveling from Mexico City, or a location in the center of the country, you should choose the best route towards the city of San Luis Potosi, and from there take Highway 57 towards Saltillo and Monterrey. After Matehuala, head towards the west taking the left hand side of the highway towards the Cedral, Real de Catorce and San Tiburcio.
When traveling from Zapopan or any part of Jalisco, choose the best route towards Zacatecas and then go on to Saltillo on Highway 54. More than hundred kilometers (62 miles) ahead you will reach the junction for San Tiburcio, where you will turn right heading east, continuing for approximately 60 kilometers (37 miles) to the junction leading to Real de Catorce.
WHAT TO EAT
Real de Catorce's cuisine is characterized by a delicious combination of indigenous and Spanish recipes where maize is the basic ingredient, as it is in most of the country. Some of the dishes that stand out include: cabuches (cactus buds), wedding roast, cactus flower, pork with ancho chile; zacahuil (consisting of a corn tamal with pork pieces); chicken or cheese potosino tacos, served with potatoes and grated cheese, green beans and carrots.
For the sweet toothed, you can enjoy delicious desserts and sweets made from goat milk, as in the case of the local fudge and custard. A special mention goes to the famous "aguamiel" (honey water), which is a drink of pre-Hispanic origin that is basically the juice from the maguey cactus.
In the following restaurants you can sample local cuisine at its best: El Cactus Restaurant, El Minero and El Tolentino, as well as the highly recommended places on Lanzagorta Street
WHAT TO BUY 
As in every tourist destination in Mexico, there are certain products that deserve to be purchase as they represent a way to turn your travel experiences into tangible memories. In Real de Catorce tourists mainly choose to buy crafts, colorful objects, furnishings and ornaments made by the Huichol Indians including dazzling multicoloured beadwork and other exotic handicrafts.
On the main street in Real de Catorce, you can find earrings, bracelets, belts, and different kinds of charms and talismans whose value often lies more in the artistic talent and craftwork involved than the actual materials used.
WHAT TO DO 
Some of the most popular activities to enjoy in Real de Catorce are those related to relaxation and recovering from the stress of everyday life. The landscapes you will see are truly magnificent here and guided walking tours are an excellent choice to get to know the area and take in panoramic views of the mountains and lowlands. Likewise, you can have fun getting lost in its streets, enveloped by the magical atmosphere.
Iconic places to visit:
CHURCH OF THE IMMACULATE CONCEPTION
Without a doubt, this is a place full of history. Its construction began in 1781 although its progress was thwarted on several occasions. In 1800, when it was almost complete, one of its domes collapsed causing a tragic accident; later in 1817, a fire halted construction, until in 1820 the church was officially opened to the public.
THE MINT
This place was founded to protect the interests of the early inhabitants by minting their coins without having to export the silver and exposing it to unsafe routes where attacks often occurred. Several coins were minted here, but only for a short time until Emperor Maximilian ordered its closure, leaving behind the remains of a place that had once represented so much for the people of that time.
PLAZA HIDALGO
One of the most popular places to visit in Real de Catorce, this plaza once served as the destination's social and economic center in the past. Around the plaza you can find many restaurants with typical cuisine.
THE PALENQUE (ARENA)
One block north from Plaza Hidalgo, the Palenque is an arena for cockfighting which was built in the style of a Roman amphitheater. The place provides excellent acoustics, so you will often find cultural, musical or political events held here.