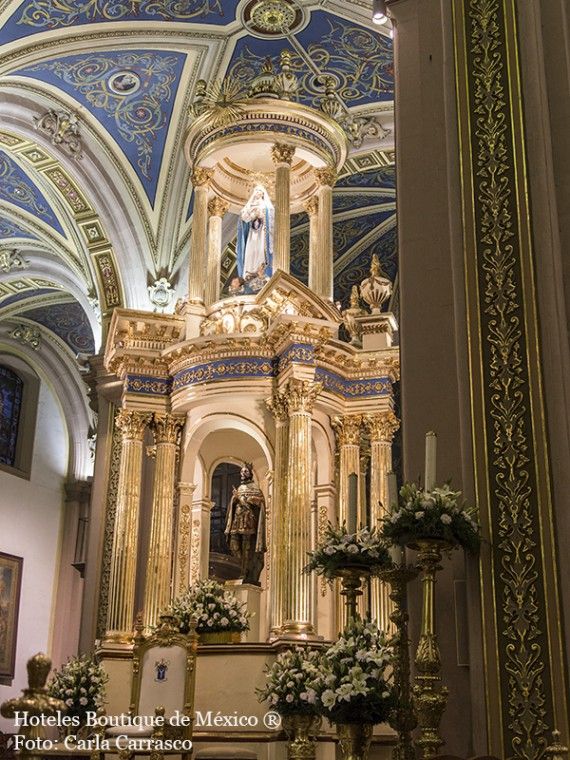 San Luis Potosí
San Luis Potosí, San Luis Potosí
WHERE IS LOCATED?
San Luis Potosí is located in the center-north area of the country and it cover a wide area of the center of Mexico. It has 9 different states at their border which are at the north Nuevo León and Coahuila, at the northeast with Tamaulipas, at the east with Veracruz, at the southeast with Hidalgo, at the south with Querétaro, Guanajuato and Jalisco, at the west with Zacatecas.
At – 259 miles – 4 hours 30 minutes from Mexico City
At –  205 miles –  4 hours from Guadalajara
At –  131 miles – 2 hours 24 minutes from Querétaro
At – 127 miles –  2 hours 52 minutes from Guanajuato
At – 320 miles – 5 hours 52 minutes from Monterrey
HOW TO GET THERE?
San Luis Potosí is located in the center, just between  the 3 major cities of the country: Mexico City, Guadalajara and Monterrey, tehrefore it has a great conectivity.
By  land there are many bus lines that have routes to theis city. (Omnibus de México, Grupo Estrella Blanca, Autobuses La Piedad, Autobuses Americanos, Transpaís, among others.)
The International Airport Ponciano Arriaga, receives national flights with Aeromexico, Volaris, Interjet and international with American Airlines and United Airlines.
WHAT SHOULD YOU TASTE?
The gastronomy of San Luis Potosí is one of the richest in the country, creating the perfect blend between native and spanish, which is base in corn and beef.
The famous "enchiladas potosinas" are a definitive symbol of the state, they are a type of taco with beef and cover with chili sauce, acompanied with aguacate and beans, a complete delight for the palates and fans of the mexican cuisine.
From the highlighted dishes that are found: cabuches (an aperative made with cactus flowers; wedding roasted, pork meat seasoned with chili; zacahuil, a great tamal filled with pork meat; Potosin dish made with meat and vegetables cooked with a regional sauce; revoltijo gorditas filled corn and beans but with a bigger size.
One of the main dishes and flavors of San Luis Potosí is the "Bocolito", it offers authentic regional dishes as the typical potosin enchiladas and red tacos, The Huastecan Corner a classic coffee shop offers the more representative dishes of the area like the enchiladas an the zacahuil.
WHAT SHOULD YOU BUY?
San Luis Potosí has a wide variety of places to shop, from modern malls to traditional markets, here you will find the main ones:
Historic downtown: In the streets you will find a great comercial area with local artcrafts, sou you will easily find souvenirs for firneds and family, also arround you will have coffee shops, restaurants and hotels.
The artisan house: A house in the Colón garden where artcrafts form the 4 regions of the state are distributed. Form different materials such as textiles, wood, onix and stones are exhibited and be able to discover more of the culture of the state.
Constanzo chocolate and candy factory: Has been for over 80 years a mandatory stop in your trip, located downtown you can buy the seasonal chocolates, caramels, and candies made of nuts, turron and peanut.
Tangamanga Market: Ideal to try mexican dishes but it is also wel known by locals for their fruits, flowers and being very accesible in their prices.
WHAT TO DO?
San Luis Potosí worships in its buildings its history, which can be apreciated with a simple walk downtown, its neoclasic constructions, baroque and churrigueresco. The art is present also in the museums and galleires strategically located in the main areas of the city.
For those who look to known San Luis Potosí in a more adventurous way we suggest to visit the magical towns of Real de Catorce and the beautiful Xilitla.
To experience San Luis Potosi also implies to visit the beautiful waterfalls of blue and deep waters. The Tamul waterfall with its 15o meters is a gift to the eyes ad is difficult to erase from the memory.
Some other waterfalls are El Salto y El Meco, waterfalls of blue waters; Minas viejas, two waterfalls in one fall that creates the Salto river; Micos, a convination of 7 waterfalls like in stairs, perfect to jump form one to another.