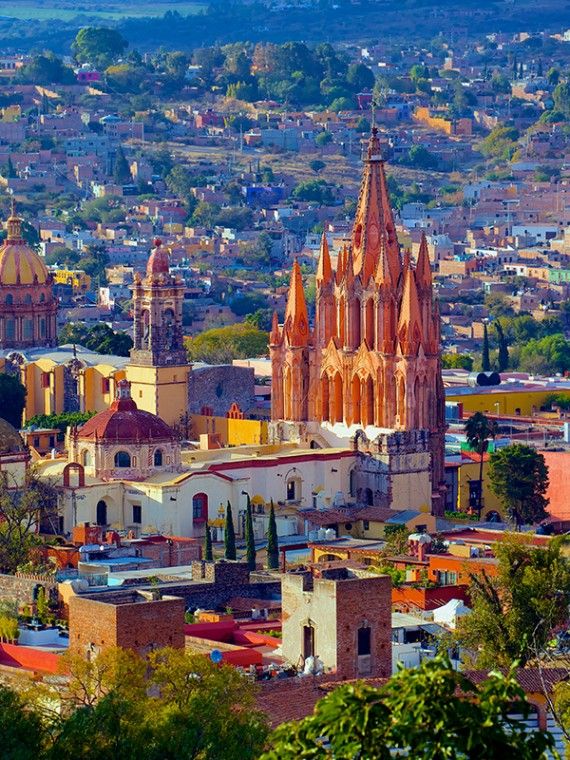 San Miguel de Allende
San Miguel de Allende, Guanajuato
San Miguel de Allende is a gem of a village nestled on a hillside and facing a river with a view to the Guanajuato Mountains. This national monument is one of the loveliest of Mexico´s Colonial cities. Some of the old mansions have been converted into small, boutique, luxury hotels and flower-filled patios make strolling along the meandering cobblestone streets of San Miguel a delightful activity in itself. Guided tours are available or you can adventure off on your own with a map from the tourism office.
San Miguel de Allende´s history
Founded in 1542 by a Franciscan monk, Fray Juan de San Miguel, on the road connecting Mexico City with Zacatecas, the town quickly became an important commercial center that prospered from farming and ranching. It was a center of rebel activity during the independence revolt.
With its many churches and museums it is in some ways similar to Guanajuato, but differs from that town of crooked streets in having a significant population of foreigners, many of whom are artists. (About 3,000 of its 70,000 inhabitants are from the USA and Canada as well as other countries)
Where is San Miguel de Allende
To Queretaro – 63 km – 39.14 mi – 1:10 hrs
To Guanajuato – 97 km – 52.37 mi – 1:17 hrs
To Lagos de Moreno – 215 km – 133.59 mi – 2:30 hrs
To Guadalajara – 347 km – 215.61 mi – 4:22 hrs
What should you taste?
One result of having a large foreign population is the cosmopolitan variety of sophisticated cuisine served in the town´s many fine restaurants. San Miguel has a reputation for having the best "small town" dining in all of Mexico.
What should you buy?
Shopping opportunities are extraordinary here and the handicrafts for sale are distinctive, not only for their variety but also for the quality of their workmanship.
Keeping busy
There are more than 22 architecturally interesting buildings dating from the 16th to the 18th centuries. For example, the soaring pink spires of La Parroquia Church on the main plaza, said to have been designed by a self-taught Indian mason inspired by postcards of European cathedrals, is considered one of Mexico´s greatest treasures.
Wandering through town, you will come across parks of varying sizes with shady benches in gardens with ponds and fountains. Just outside of town, on a hill southeast of the city center, El Mirador offers a spectacular view of the city and the mountains.
Great tours and excursions
Outdoor activities include hiking along the Laja River and a visit to the Ignacio Allende Reservoir for water sports, sailing, camping and bird watching.
Spas such as La Gruta take advantage of thermal mineral springs and La Ca-ada de los Pajaritos, a 90-acre protected forest, is a nice excursion and a chance to go mountain biking and to observe abundant wildlife and flora.
UNESCO World Heritage Sites in or around San Miguel de Allende
HISTORIC MONUMENTS - ZONE OF QUERETARO - Located just one hour from San Miguel de Allende.
The old colonial town of Querétaro is unusual in its having retained the geometric street plan of the Spanish conquerors side by side with the twisting alleys of the Indian quarters. The Otomi, the Tarasco, the Chichimeca and the Spanish lived together peacefully in the town, which is notable for the many ornate civil and religious Baroque monuments from its golden age in the 17th and 18th centuries.
You can visit Queretaro by:
- Requesting a certified tour guide at your hotel, who will take you from the hotel and will provide you information not only about Queretaro but Guanajuato as well and its surrounding areas.
HISTORIC TOWN OF GUANAJUATO AND ADJACENT MINES - Located one hour and 15 minutes from San Miguel de Allende.
Founded by the Spanish in the early 16th century, Guanajuato became the world´s leading silver-extraction center in the 18th century. This past can be seen in its "subterranean streets" and the "Boca del Inferno" a mineshaft that plunges a breathtaking 600m. The town´s fine Baroque and neoclassical buildings, resulting from the prosperity of the mines, have influenced buildings throughout central Mexico. The churches of La Compañia and La Valenciana are considered to be among the most beautiful examples of baroque architecture in Central and South America. Guanajuato was also witness to events which changed the history of the country.
Request a certified bilingual tour guide at your hotel in order to comfortably discover this mesmerizing city.
Special Events
With 6 patron saints and dozens of churches, San Miguel has colorful religious festivals all year. The major celebration is for San Miguel Archangel, the chief patron saint. Held the last Saturday of every September, it includes the running of the bulls Pamplona style through town and traditional dancers, foods and music.
Another major event, the annual San Miguel Music Festival takes place in December with Mexican and international artists.