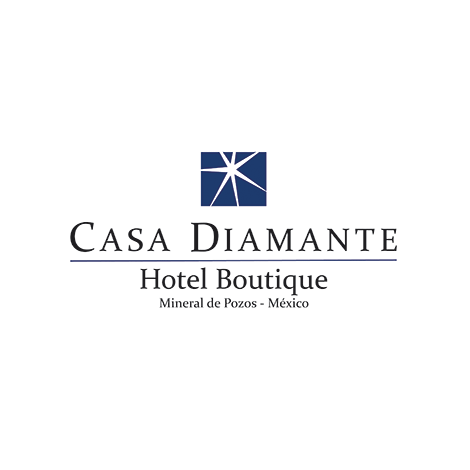 Located in the enigmatic Mineral de Pozos, a classified Pueblo Mágico (magical town), Casa Diamante opens its doors offering comfort and warmth to all its guests.
As soon as you arrive, you will encounter an experience that speaks to all the senses within the tranquility and old mining splendor of the place, while green areas and colorful flowers brighten your way to the lobby.
The swimming pool, with its own bar, forms the epicenter of the hotel's activities, and is ideal for cooling off on hot days.
CONSIDER THIS…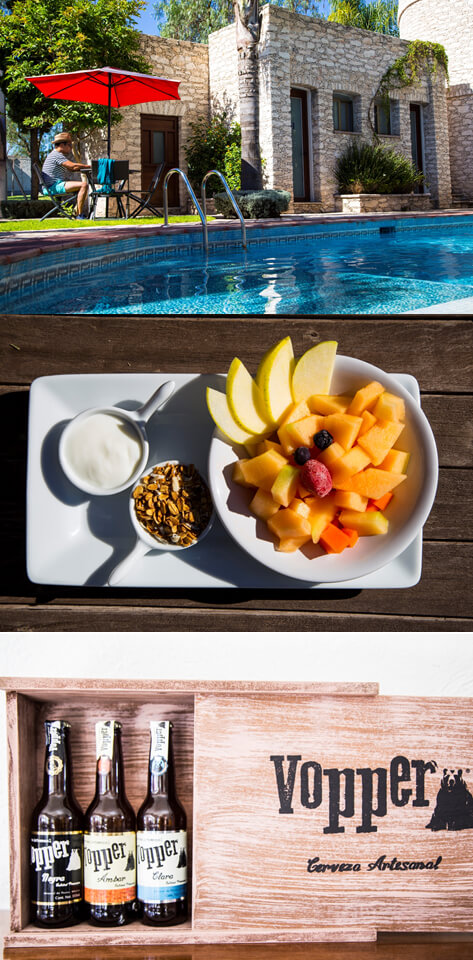 In Mineral de Pozos you can do and see everything on foot. We suggest you bring appropriate shoes for walking as this is the best way to get from the hotel to the sights of the town. You can even choose some eco tourism activities or tours, which can be coordinated through the hotel.
YOU'LL SPECIALLY LOVE

The hotel has several spaces for entertainment, including a movie room located on the top floor of the hotel where you can find a large selection of movies for all tastes, accompanied by popcorn.
Opposite the hotel, there is a games room with a pool table, television and bar that attracts both the young and young at heart.
Next to the lobby area you will find a video bar where you can try the house artisan beer: Vopper. This beer is micro-brewed by Casa Diamante and soon you will be able to visit its new factory in Mineral de Pozos. Another notable feature of this area is the Jacuzzi that connects to the hotel pool.
For those who enjoy the outdoors, there is an area for playing volleyball, and you can rent quad bikes from the hotel to explore the magical town.
YOU MAY WANT TO KNOW

Casa Diamante's spacious gardens and a small pond with swans could be the perfect setting for your wedding, or for any outdoor event; from intimate ceremonies to events of up to 200 people, Casa Diamante can create something truly unique.
However, if you are looking for a place to hold a business meeting or presentation, you may wish to take advantage of the meeting room that can seat up to 60 people.
WHAT'S FABULOUS HERE

Spacious and with different accommodation options, every room at the hotel is named after an important feature from the region; and you will find specific details within each room's decor to reference its name.
The minibar in the room is refilled daily and there is a wide variety of bathroom amenities from L'Occitane, a shaving kit, vanity kit, dental kit and more.
WHO IT WILL APPEAL TO

For families and couples wishing to escape the hustle and bustle. For those seeking privacy. For weddings and groups.
---
Tarifas
All rooms have minibar, safety deposit box, Fflat screen TV, Sky, I Dock, iron, ironing board and hairdryer.
Note: Rates are quoted in US dollars and are subject to change without notice. Please note that hotels will charge in Mexican pesos at current exchange rate when payment is processed. We invite you to contact us if you need rates for the following year and do not see them on our site.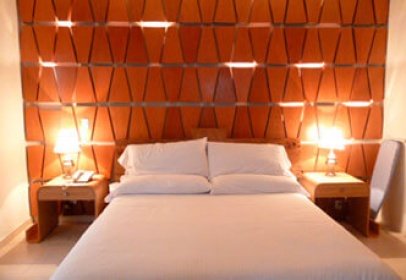 Suite Maderas
A cutting-edge room, which offer peace and a decoration inspired in nature offering a comfort atmosphere. Featuring a King bed, full bathroom with rainfall shower, sitting area and a reading table.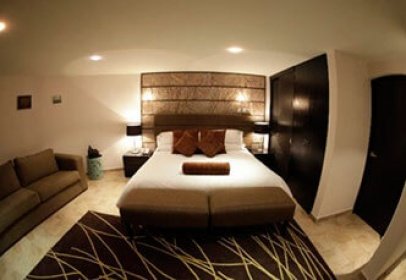 Suite Aires
This room evokes many sensations, and not just for its interior characteristics, also for its location and landscapes, sunrises and sunsets can be appreciated from the balcony.King bed, bathroom with rainfall shower, sitting area and a reading table.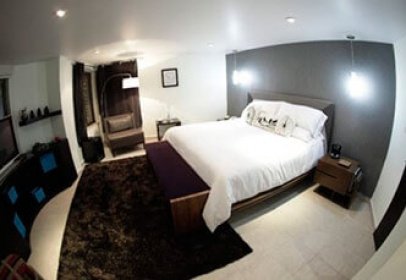 Suite Árbol de la Vida
Room with a romantic atmosphere because its lightening and decoration, that allows you to feel comfort in an atmosphere of serenity and tranquility. King size bed, full bathroom with rainfall shower, sitting area and a reading table.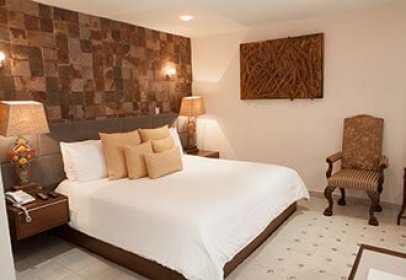 Suite Tabachines
This room conveys the culture and tradition of the region, as part of the decoration this room features local handicrafts, offering rest and relaxation to the guest. King bed, full bathroom with rainfall shower, sitting area and a reading table.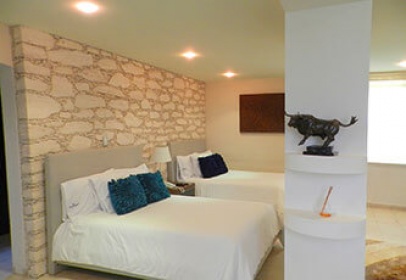 Suite Piñas
Spacious room with a privileged view of the pool, gardens, and the magestic Sierra Gorda of Guanajuato. Features two double beds, full bathroom with rainfall shower, sitting area and a working table. This room offer two plasma TV.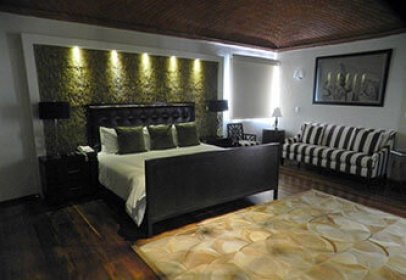 Master Suite Cortezas
Spacious room a with modern and fresh concept, inviting to enjoy a warm and relaxing ambiance. King bed, cozy bathroom with rainfall shower, separate jacuzzi and plasma TV, double sink area and workin table.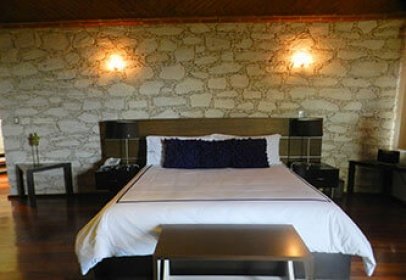 Master Suite Arcángel
Comfortable room where you can enjoy of privacy and romance. Features an independient room with king bed, large closet. Full bathroom with rainfall shower, sitting area, living room, working table, terrace wth jacuzzi and sitting area.
Terminos y condiciones
Deposit Policy:
To confirm your reservation, you must prepay 50% of your total stay when booking. The remaining 50% is due three day before arrival, or 7 working days before the arrival if the payment is made with American Express.
If your reservation is made 7 days prior to your arrival date, full payment is required for your whole stay.
For reservations with arrival dates between December 20th and January 6th, 100% payment for the total stay is required.
Cancellation Policy:
The reservations cancel at least 15 days prior to arrival dtae will have a 15% charge of the total amount of the reservation.
Reservations cancel 14 to 3 days prior to the arrival date are subject to a 40% charge of the total stay.
Reservations cancel 2 to 1 days before the arrival date will be subject to an 80% charge of the total stay. With 24hr before the arrival or in case of No Show, 100% charge will apply. Anticipated check-outs does not apply for reinbursment.
No Show Penalty:
One night stay is charged. For bookings between December 20th through January 6th, 100% of the stay will be charged.
Notas
Rates do not include taxes of 19%

Check - In: 3:00 p.m. | Check - Out: 1:00 p.m.
Transporte
Transportation service under request and with additional cost.
SPA VOPPER
Casa Diamante Boutique Hotel houses in its premises the all new Vopper Spa, with a truly unique and original concept that has called the attention of its visitors thanks to the ample variety of services it features. However, there is a special therapy that has awaken a great interest in the public because of its originality. The Real Beer Baths. Yes! You read correctly!
Besides muscle relaxation, the benefits of the real beer bath are B vitamins for skin, proteins and saccharin to soften and regenerate it and open and clean pores.
Those who dare to live the experience will enjoy being submerged in a beer barrel, complemented with the experience of tasting the home-made beer. Once you are inside the barrel, you will delight in a neck, shoulders and scalp massage by the hands of expert therapists to leave daily stress and worries aside.
El REAL BEER BATHS has a cost of $115USD per couple, It lasts about an hour and includes tasting of two beers.
The service is available from Monday to Sunday at 11:00am, 1:00pm, 3:00pm, 5:00pm, and 7:00pm.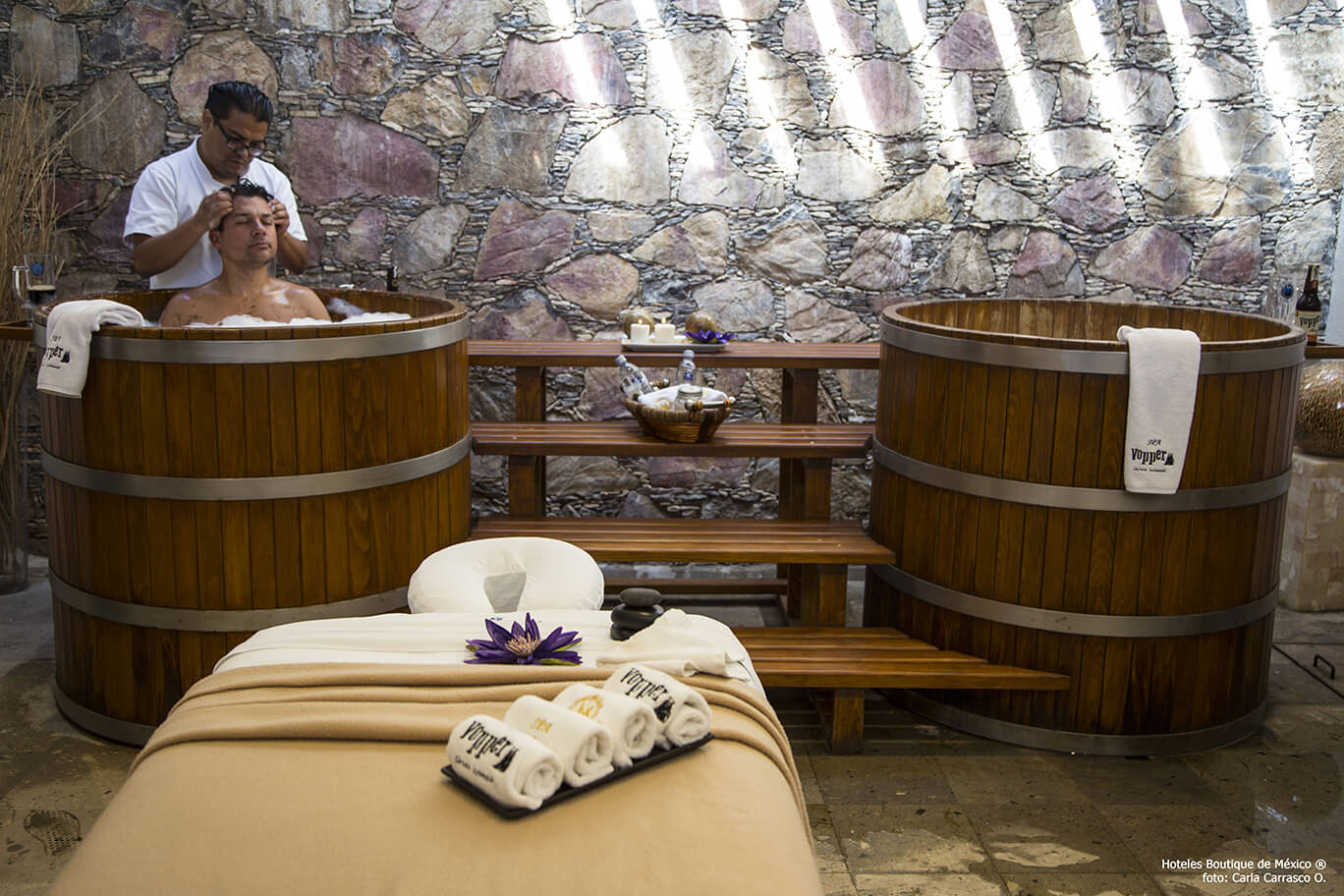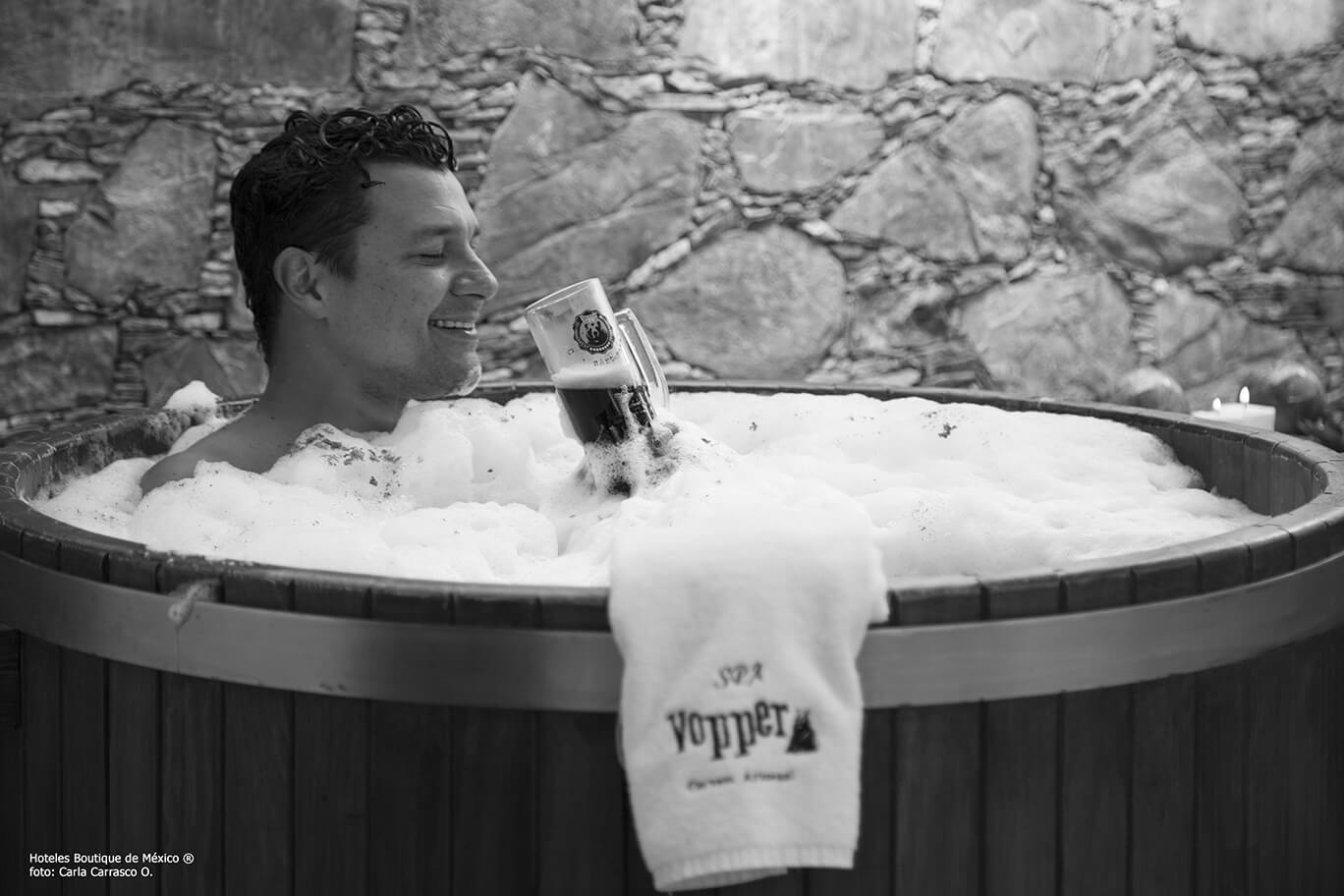 reserva ahora
Servicios
7 rooms
Pool
Parking Lot
Garden for Events
Play Room
Sauna
Library
Meeting Room
Art Gallery
Movie Theater
Vino & Comida
The Contemporary Mexican Cuisine restaurant at Casa Diamante offers a varied menu which features select products from the region. Whether you choose to eat inside the restaurant or on the terrace overlooking the garden and pool, the combination of flavors, textures and colors reflect the chef's creativity.  To start, we suggest a mixture of cheese and mushrooms wrapped in hoja santa (sacred leaf - an aromatic herb) served on three pepper sauce. As for the main course, we recommend the Casa Diamante Chicken, which is the house specialty.