Hoteles Boutique de México ®
Foto: Carla Carrasco

Hoteles Boutique de México ®
Foto: Carla Carrasco


Hoteles Boutique de México ®
Foto: Carla Carrasco
This hideaway lies near La Paz, Baja California, where the arid desert meets the vibrant Sea of Cortez. This area is rife with history that extends back to the conquest of New Spain, to fortunes made of pearls, and visits from Hollywood royalty in the 50s… This place has been a true well-kept secret for over 60 years, creating a private community that just now opens its doors exclusively to Mexico Boutique hotels. It's an opportunity that's not to be missed…
Rancho Las Cruces is set on over 12,300 acres of land in the desert landscape of Baja California Sur, with 36 rooms and spectacular views of the water. It's an ideal retreat for rest, relaxation and offers a variety of activities to suit every taste, from lazy days on the private beaches to tours of nearby Cerralvo Island and more.
The hotel is owned by a family who has dedicated itself heart and soul to the hotel industry; at Rancho Las Cruces they have elevated service to new heights, offering their guests a personalized experience.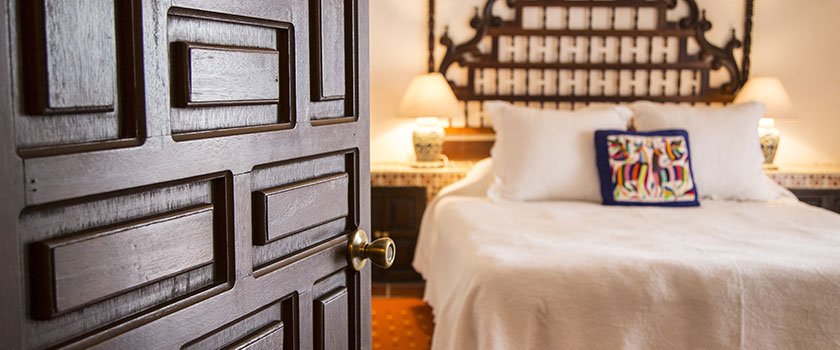 CONSIDER THIS…
The closest airport is at La Paz, however you can also fly to Cabo San Lucas or San José del Cabo and the hotel can help you coordinate transportation from any of these locations.
You might want to bring along a change of clothes for some active pursuits: the grounds are crisscrossed with 13 interpretative hiking paths (every room has a map with directions) and the resort also has a fitness track.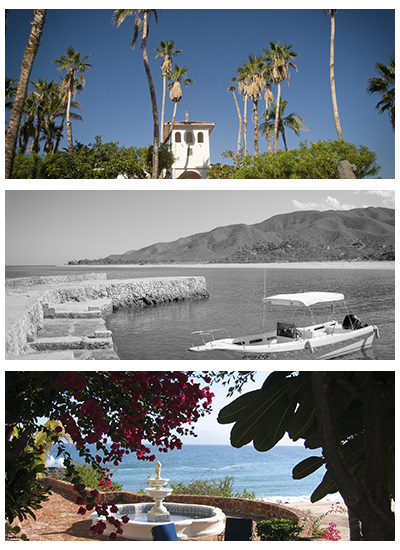 YOU'LL ESPECIALLY LOVE
The surrounding nature is swoon-worthy: the desert is absolutely gorgeous and the sunsets are magnificent. This is a fantastic place to bring your family on an unforgettable holiday where they can coexist with nature and leave the daily routine far behind.
WHAT'S FABULOUS HERE
There's an amazing array of activities for everyone at every age; those who simply want to relax will find plenty of places where they can kick back and dedicate themselves to… nothing at all.
The staff at Rancho Las Cruces is also one of their highlights: they make guests feel completely at home and are attentive without being intrusive. While you're there, ask your favorite staff member for an anecdote about the hotel–the stories are plentiful!
WHO IT WILL APPEAL TO
It's ideal for families, nature lovers and, especially, those who love to fish. It's great for family celebrations, particularly weddings, and couples will find it an excellent venue for a honeymoon or an anniversary celebration.
What Others Have Said (Links To Related Articles)
Mexico Boutique Hotels exclusively adds members-only Rancho Las Cruces to its curated collection
Mexico Boutique Hotels adds Baja property
---
Rates
The rooms are decorated in a traditional Mexican style evoking the Old World. With handmade furniture, hand painted talavera tiles, wood fireplaces, sealing vents and air conditioned.
Note: Rates are quoted in US dollars and are subject to change without notice. Please note that hotels will charge in Mexican pesos at current exchange rate when payment is processed. We invite you to contact us if you need rates for the following year and do not see them on our site.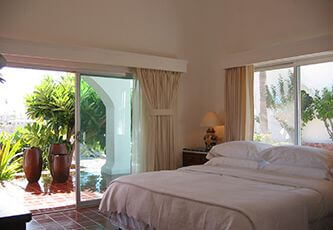 King Size Room
With king size bed, full bathroom with shower, private terrace with sitting area and pool view & partial ocean view.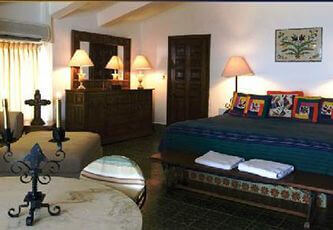 Queen Size Room
Queen size bed, full bathroom with shower, small living area, terrace with sitting area and pool view & partial ocean view.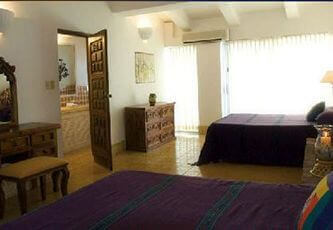 Two Single Room
Two single beds, full bathroom, living area, terrace with pool view & partial ocean view.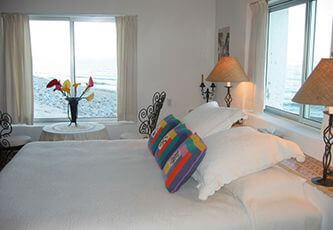 Suite King
King size bed, full bathroom, living area, terrace with sitting area and ocean view.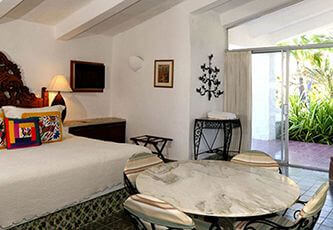 Suite Queen
Queen size bed, full bathroom, living area, terrace with sitting area and ocean view.
Terms and Conditions
Deposit Policy:
To confirm your reservation, you must prepay 50% of your total stay when booking. The remaining 50% is due three day before arrival, or 7 working days before the arrival if the payment is made with American Express.
If your reservation is made 7 days prior to your arrival date, full payment is required for your whole stay.
For reservations with arrival dates between December 20th and January 6th, 100% payment for the total stay is required.
Cancellation Policy:
Cancellations received more than 30 days prior to arrival date  will not have a penalty charge.
Cancellations received less of 30 days and more of 7days, the hotel will keep the deposit for  a period of one year for a new confirmation.
Cancellations received less than 7 days prior to arrival date the deposit is not refundable.
Credit Cards:
Visa / Mastercard
Includes
Welcome cocktail, full meal plan (breakfast, lunch and dinner), wireless.
Notes
19% tax and 15% services charge not included. Extraperson with adittional cost.  Pets are welcome
Check - In: 1:00 p.m. | Check - Out: 12:00 p.m.
Transportation
Transportation from La Paz  International Airport via Suburban with adittional cost. The trip is for approximately 45 minutes.
The hotel can also coordinate airport transfers from San Jose del Cabo airport, via Suburban. The trip is for approximately 3 hours .
book now
Services
36 rooms
Fishing boats and Equipment ($)
TV room
Tennis courts
Cricket and Minigolf
Shooting practice field ($)
Pool table and Board games
Interpretative paths
Fitness tracks
Kayaks
Picnics and Private beaches ($)
Wireless internet at the Lobby
Chapel
Wine & Food
At Rancho las Cruces you can have a la carte breakfast, with a variety of eggs, cereals and fruits. You cannot missed the coffee which is Colombian.
The dishes change constantly and they do not have a particular type of cuisine, for lunch and dinner they have a fix menu that changes every day. We suggest notifying beforehand if you have any dietary restriction. They have a wide variety of wines and liquors.
Receive information about this hotel