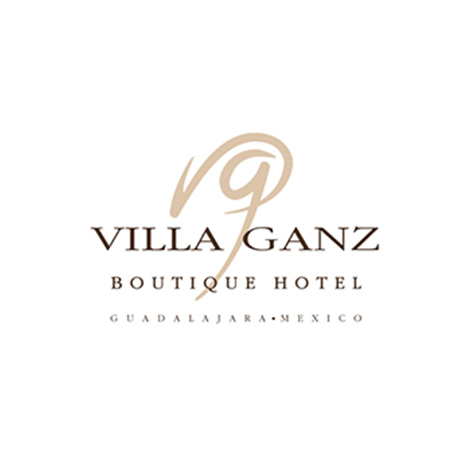 Villa Ganz Boutique Hotel
Admire the locally collected antiques throughout this haven in an exclusive neighborhood of Guadalajara and you´ll know why this part of Mexico is an interior decorator´s mecca. With world-class shopping, dining and cultural events at your doorstep in this exciting city, the villa´s earthy tones, comfy common areas and statue-studded garden are rejuvenating counterpoints.
Villa Ganz is a a wonderfully restored charming mansion on one of the main boulevards leading into downtown Guadalajara, Mexico´s second largest city. After spending the day exploring its historical downtown area, put your feet up in front of a roaring fire, grab a magazine and help yourself to complimentary chilled Chardonnay and snacks. Providing all the comforts you´re used to, and then some, is what the informally elegant Villa Ganz, just 10 minutes from Guadalajara´s historic heart, is all about. Lovingly converting this 20th-century mansion into an intimate inn combining the best traditional features with life-simplifying amenities, the hospitable owner made each of the 10 spacious and beautifully detailed guest accommodations as unique and interesting as the people who stay here. Check out the locally collected antiques and fine craftsmanship throughout and you´ll know why this part of Mexico is an interior decorator´s mecca. With world-class shopping, dining and cultural events at your doorstep in this exciting, high-energy city, the villa´s earthy tones, comfy common areas and fragrant, statue-studded garden are rejuvenating counterpoints. Continental breakfast served in the courtyard or garden is included, and a well-stocked bar ensures you´ll never get thirsty. Restaurants of note are nearby, but if you´re too relaxed to bother venturing out, Villa Ganz´s chef will gladly set up an informal luncheon or candlelit dinner, which is the specialty of the house.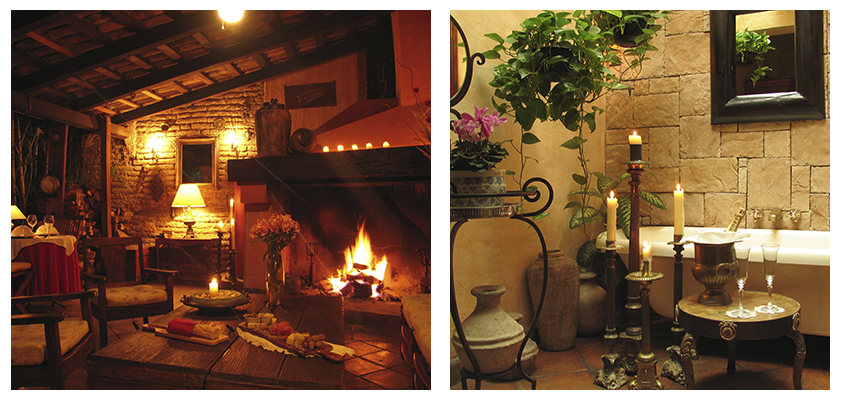 CONSIDER THIS...
Spending a few exciting nights in Guadalajara and then heading off to one of two great choices: Puerto Vallarta and the beach or at Gran Casa Sayula.
YOU'LL ESPECIALLY LOVE
The decor. This hotel truly has the feel of a mansion, with exquisite details and impeccable attention to its guests.

YOU MAY WANT TO KNOW
This hotel has earned the AAA Four Diamond award for 4 consecutive years and has just been named a Fodor´s choice establishment for 2008.
WHAT'S FABULOUS HERE
Beds with the softest duvets and seven pillows! Honorable mention goes to the garden terrace with its roaring fireplace (during the winter months) and the cozy library.
WHO IT WOULD APPEAL TO
Travelers that enjoy warm, beautiful surroundings with attention to the smallest details, both in terms of decor and services. This hotel exudes simple elegance.
WHAT OTHERS HAVE SAID (LINKS TO RELATED ARTICLES)
Recommend March, 2013 Villa Ganz pág. 46-47
---
Rates
With decorative appeal similar to the rest of the hotel, guest rooms blend sophistication with the comfortable feeling of a summerhouse. All the rooms include air conditioning, safety deposit box, bathrobes, cable Internet service, hairdryer, iron.
Note: Rates are quoted in US dollars and are subject to change without notice. Please note that hotels will charge in Mexican pesos at current exchange rate when payment is processed. We invite you to contact us if you need rates for the following year and do not see them on our site.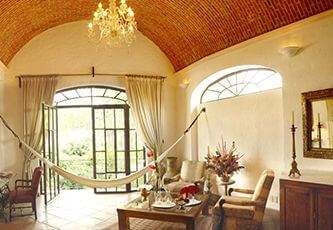 Grand Master Suite
King bed, bathroom with bathtub, pressure shower and lounge with views of the gardens.
Terms and Conditions
Deposit Policy:
To confirm your reservation, you must prepay 50% of your total stay when booking. The remaining 50% is due three day before arrival, or 7 working days before the arrival if the payment is made with American Express.
If your reservation is made 7 days prior to your arrival date, full payment is required for your whole stay.
For reservations with arrival dates between December 20th and January 6th, 100% payment for the total stay is required.
Cancellation Policy:
Low Season (Apr. to Aug): Cancellations received less than 3 days prior to arrival date will be charged 50% of the entire stay plus taxes. Same day of arrival cancellations will be charged 100% plus taxes. High Season (Jan to March and Sept. to December): Cancellations received less than 7 days prior to arrival date will be charged 100% of the entire stay plus taxes. No-shows and early departures will be charged for the complete stay plus taxes. All the above charges will be applied to credit card left in guarantee at time of booking.
Credit Cards:
MasterCard / Visa / American Express
Includes
Welcome cocktail. Continental breakfast, Snacks and house wine from 6 to 8 every afternoon, unlimited local phone calls, wireless internet, and use of gym (near by).
Notes
Rates do not include 19% tax and 5% service charge. Maximum room occupancy: two, except for the Grand Master Suite #14 which will accept 3 people as it features a sofa-bed, and additional person on this accommodation will have and extra cost of $35 dollars. Extra beds unavailable. Children under 12 years old may be accepted depending on the hotels occupancy.
Check - In: 3:00 p.m. | Check - Out: 12:00 p.m.
Transportation
The hotel can arrange transportation from the airport prior notice and an extra cost. Transportation takes aprox. 30 minutes.
book now
Services
10 accommodations
Business center
Meeting facilities
Wireless Internet
Secure parking
Local tours on request ($)
Transportation services on request ($)
Spa services on request ($)
Complimentary Gym access
Wine & Food
A quaint little garden and charming outdoor living area are perfect backdrops for enjoying your breakfast. Should you wish to stay in, a creative lunch or dinner can also be prepared for you by the hotel´s chef on request.
An honor bar provides excellent selections and allows you to enjoy the living area or the enchanting garden and fireplace.
Receive information about this hotel