Bougainvillea Fest at Hacienda San Angel

Share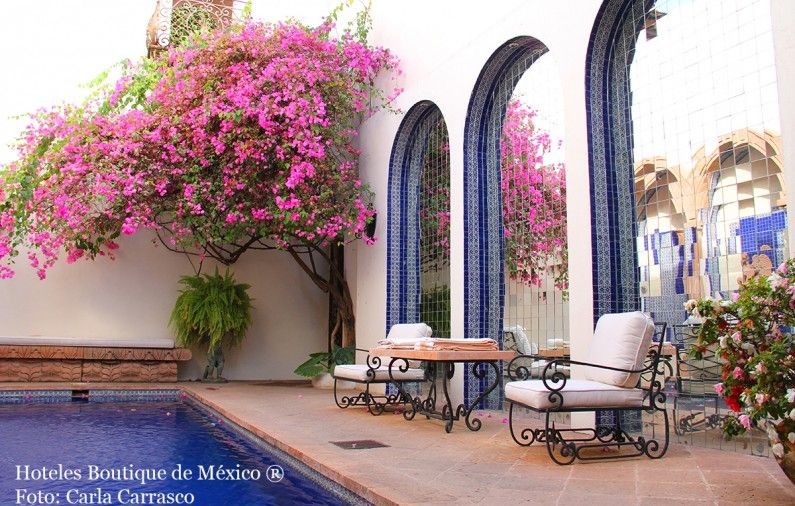 Hacienda San Angel Celebrates Puerto Vallarta's First Annual Bougainvillea Festival with Tea Party and Hotel Package.
Bougainvillea abounds in warm climates; but, despite the ubiquity, the colorful blossoms are a consistently brilliant sight to the eye. Pink, purple, white, orange – bougainvillea's bright blossoms are nature's way of enchanting and entrancing. Prevalent in vacation destinations, the vibrant floral varietal is a representation of a relaxing retreat. And, in Puerto Vallarta the bougainvillea's flower power is tangible.
So, this May the Puerto Vallarta community is coming together for the first annual Bougainvillea Festival, running from May 17-24. The festival celebrates the multiple species of bougainvillea that adorn the city's streets, shining a light on Puerto Vallarta's striking horticulture.
As part of this inaugural festivity,  Hacienda San Angel, the luxury boutique hotel tucked between the Banderas Bay and Sierra Madre Mountains, will host an English tea party to showcase its beautiful on-property Bougainvillea. The party will be held on May 22 from 2-4pm.
In conjunction with the tea party, Hacienda will also be offering a package during the festival, the "Bougainvillea Bliss" package. It includes:
Three-night stay in one of Hacienda's beautifully appointed Junior Suites
Entrance to Hacienda's Bougainvillea Festival English tea party
Inclusion at Hacienda's owner's table during the tea party
  One Restaurant Week Chef's Menu dinner for two (wine/alcohol and gratuity not included) at the acclaimed Hacienda San Angel Gourmet restaurant

 Daily deluxe continental breakfast delivered in-suite or in restaurant
Gourmet locally made chocolates at turndown
Personal concierge service 
The "Bougainvillea Bliss" package is valid May 20-26, 2013 and starts at $730 usd excluding taxes.
The Bougainvillea Festival is a much-anticipated event that will attract visitors from around the world. While the stunning bracts of Bougainvilleas are in full color most of the year, they are especially brilliant in May. Festivity events include a candlelight procession and a "Salute to Mexico" Street Party, a block party on the Basilio Badillo art gallery zone, a children's day of fun and learning, a guided bus tour to the Vallarta Botanical Gardens, daily downtown guided walking tours, and Mexican Folkloric Dancing.
To book call 1.855.223.6061 (US and Canada) , 01.800.508.7923 (Mexico) or +52.322.221.2277 (direct line) or email us at:

Sylvie Laitre
Comunicologa y Licenciada en Ciencias del Ocio y del Desarrollo Turistico. Vinculada al sector hotelero por varios años en diferentes países de Norte y Latinoamérica. Relacionista Pública, políglota, docente universitaria en múltiples disciplinas tales como filosofía, Ocio como herramienta de desarrollo social, investigación, etc. Experta en calidad de servicio. Consultora y conferencista en diferentes foros internacionales como experta en la industria turística boutique y viajes de lujo. Directora Hoteles Boutique de México entre 2002 y 2014 lo que gustas poner.