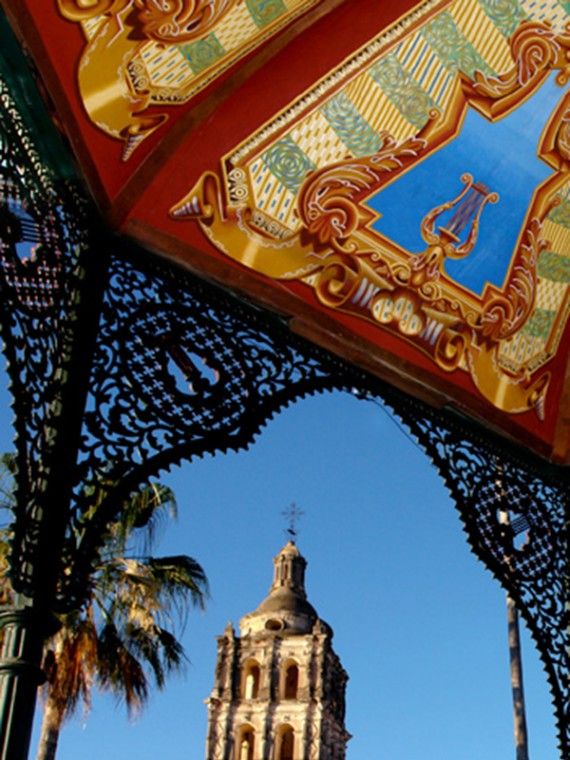 Situated in the state of Sonora, north of Los Mochis, south of Guaymas and 75 kilometers from the Sea of Cortés, the quaint town of Álamos reached its splendor during the height of the silver rush in the 1800s. Many of the mansions built during this time still exist, now as private homes, inns or luxury hotels situated in the town center. Registered today as an historic monument, Álamos is exceptionally well preserved and very pleasant for exploring on foot. Its many architectural treasures include the municipal palace, built in 1899 and above all, the Purísima Concepción church, a magnificent example of Baroque art.
Alamos's history
Located in the foothills of the Sierra Madre mountains, Alamos was once the most important colonial city of northern Mexico. Silver was discovered by the Spaniards during the 1600´s and over the next 250 years Alamos became the center of government, commerce and culture in this part of the world. As the mines played out in the early 20th century, Alamos nearly became a ghost town.
Discovered again in the 1950´s by Americans and Canadians, Alamos began to come back to life as many of its formerly resplendent adobe mansions were restored. Today it is a town of about 9000 inhabitants, with an expatriate community of about 200 households. This colonial, magical setting nestled in the mountains has made the place irresistible to many.
Where is Alamos
Alamos is located in the southern part of Sonora in northwestern Mexico, midway between the beautiful beaches of San Carlos and the incredible Copper Canyon, north of Los Mochis, south of Guaymas and 75 kilometers from the Sea of Cortés. It is easily accessible from both Mexico and the rest of the world by automobile, bus, or air at one of Sonora´s major cities.
50 km East of Navojoa, Sonora on Highway 15.
A 2 1/2 hour drive from the Train station to Copper Canyon
To Ciudad Obregon – 120 km – 75 mi – 1:40 hrs
To Los Mochis – 120 km – 74.56 mi – 3:00 hrs
To Hermosillo – 386 km – 239.84 mi – 4:52 hrs
To Tuczon, Arizona – 760 km – 475 mi – 8:00 hrs
How to get to Alamos
Alamos can easily be reached by car from the border in 7 hours, by bus (air conditioned coaches from Tucson or Nogales – direct), by commercial flights at Ciudad Obregon (just over an hour from Alamos) or Los Mochis (2.5 hours from Alamos), or by private aircraft which can land in Alamos.
Automobile: Take Mexico´s International Highway 15 south from Nogales, Arizona or north from Mazatlan, Sinaloa to Navojoa. This is a well-maintained toll road with 4-lanes, regular gas stations, and vending machines and fairly clean restrooms at all toll booths. In Navojoa, at the well-marked highway sign to Alamos next to the VH market & Pizza Hut, turn east and drive 35 miles. This highway (2-lane) will lead right to the center of Alamos. Hacienda de Los Santos is two blocks beyond the Plaza and church.
Bus: You may opt for this traditional mode of transportation in Mexico (and by far most economical). The TBC line now has service direct to Tucson where it is located on 6th Avenue. To save a little time many people choose to use a shuttle service to Nogales, AZ, cross the border by foot, then catch a cab to the TBC station in Nogales, Sonora. This will cost a little more, but can potentially take 2 or 3 hours off what is already a long trip.
Commercial Airlines: The closest commercial airport to Alamos is located in Ciudad Obregon, Sonora. There are regular flights from Tucson and Phoenix, and many points in Mexico. Rental cars and taxis are available should you wish to rent/hire one.
From NY/East Coast & Chicago/Mid-west, travel through Mexico City to Ciudad Obregon.
From West Coast, travel through Hermosillo, Guadalaraja or Cabo to Ciudad Obregon. For direct flights from the west coast, fly to Los Mochis and hotel is 2 1/2 hrs. from airport.
Private Aircraft: Alamos has a recently paved and resurfaced 3,900-ft paved runway; its elevation is 1,356 feet. We suggest that you join the Baja Bush Pilot club if you plan to visit Mexico often. Multiple entry information is available on their website at: www.bajabush.com, this will save you money if you plan more than one trip per calendar year.
Charter Service:
Jaax Flying Service, Calexico, California (800)544-3449
Link: http://www.jaaxsflyingservice.com
How to get around in Alamos
Practically everything in Alamos is walking distance. Taxis are inexpensive if you require a short ride and you can also travel horseback from one place to the next.
What should you taste?
Although there is no typical dish per say that one can identify as being from Alamos, many of the traditional Mexican dishes can be enjoyed. The beef from Sonora is very reputable and should be sampled while you are in this area.
The gourmet restaurant at Hacienda de los Santos is noted for its nouvelle Sonoran cuisine as well as for its international dishes. Nightly serenades by "Los Hacendados" complete the experience.
What should you buy?
Artists make Alamos their home. Painters, sculptors, photographers and crafts people find inspiration in the architecture, the colorful vines and the greens of the surrounding hills. Groups join to share techniques, paint and sketch.
Uvalluma Pottery
Just outside Alamos on the way to Navojoa is the village of Uvalluma where a family of potters follows the tradition of hand coiled pottery. They often sell in town at Obregon and Guerrero. Most pieces are large, all are beautifully done.
What´s the weather like in Alamos
Alamos has ideal weather conditions with 360 days of sunshine. The winters are dry and temperate and summers bring exciting monsoon type systems. Temperatures range from 75 to 80 degrees day and 55 to 65 degrees nights during the winter; and 85-95 degrees days and 60 to 70 degrees nights during the summer. July brings monsoon systems that deluge the afternoons. These rains last until late September. During December and January, there may be gentle soaking rains. On either side of the rainy season, there are long dry spells.
Keeping busy
There are a dozen things or so that you will enjoy. From airplane rides, horseback riding, cross mountain bike rides, historical tours and tours by the river.
BIRDWATCHING:
Many species are unique to the area because Alamos lies between the Sonoran desert and the tropical Sinaloan forest.
COPPER CANYON:
Take a trip to the largest canyon in the word (2 1/2 hours driving one way).
SEA OF CORTÉS:
Go on a outing to the Sea of Cortés and spend a day at the beach (1 1/2 hours driving, one way)
Special Events
BOB RINK DIGITAL PHOTOGRAPHY WORKSHOP
(January 10th,11th,12th & 13th, departure on the 14th - 2008)
Hacienda de los Santos is very proud to present this icon among photographers. Add to your Hacienda visit by taking home skills that you will use the rest of your life. Plan to do a photography journal on yourself, family and travels for generations to come.
Bob Rink´s photography has appeared in numerous publications, including Arizona Highways, Arizona Republic, Boston Globe, Mesa Tribune, New Times, Sunset Magazine, The Oregonian, USA Today, and Washington Post. His work has currently been appearing in the Phoenix Business Journal.
Rink is an associate photographer with Through Each Others Eyes (www.teoe.org). Since 1988, he has completed exchanges with Himeji, Japan; Havana, Cuba; and Hermosillo, Mexico and is currently working towards one with Baguio, Philippines in early 2008. He has photographed extensively in the Grand Canyon and the Southwest during backpack and rafting trips, as well as trips to Europe, China, and the Philippines. His sister and he have developed the annual Alamos international photo festival with the Sonoran Cultural Institute in northwestern Mexico, which travels throughout the state of Sonora.
Create better digital pictures with simple lighting techniques, improved composition and become more familiar with Photoshop CS2.
Workshop Cost for Hacienda Guests is $300
ORTIZ TIRADO MUSIC & CULTURAL FESTIVAL \
(Jan. 18 - 26, 2008)
Enjoy the traditional "XXIII Festival Dr. Alfonso Ortiz Tirado" when Alamos opens it doors to entertainment, music, art and design. From Singing in the Streets to Daily Art Walks, this is one of the most magical times to experience all of the sights and sounds of a truly historic Mexican village.
You may want to know...
Alma de Mexico now makes it easier than ever to travel to Cuidad Obregon and lamos from several destinations in Mexico. Cilck here [http://www.alma.com.mx/destinos.php] for more information.
Who would Alamos appeal to?
This multifaceted destination can be thrilling for anyone into history, architecture, photography, birdwatching, hiking, and many other outdoor activities.
Filter
Get specific results
Download here our complete hotel directory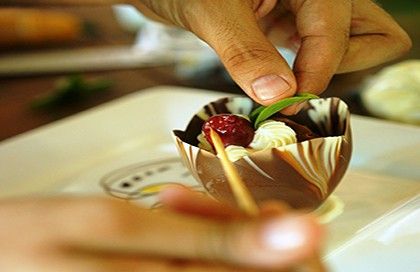 Teresita's Panadería and Bistro
Alamos, Sonora
In the contreversial Álamos Sonora there are many things to offer to local and foreign travelers. But for sure its gastronomy is distinctive due...
ver mas
Descargar aqui el directorio completo de nuestros hoteles