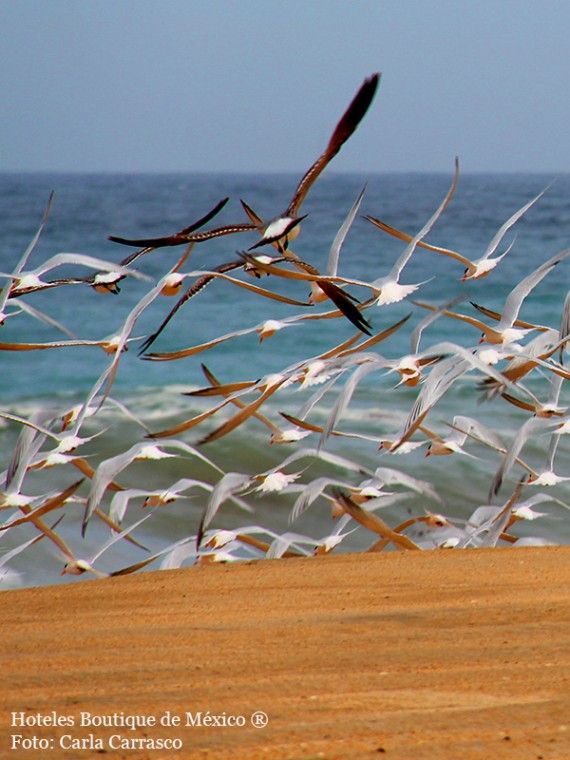 Costalegre
Costalegre, Jalisco
Costalegre, is the perfect region to do one of the most beautiful drives in Mexico along the 133 miles (212 km) of the Costalegre. While not strictly a coastal road, Highway 200 rewards the traveler from time to time with glimpses of the Pacific Ocean. Linking Puerto Vallarta with Barra de Navidad and Manzanillo, the road passes through unspoiled tropical jungle, over hills and mountains. It cuts through mango, papaya, banana and coconut plantations and is crossed by numerous side roads that meander west to hidden beaches, bays and lagoons filled with exotic water birds, to inlets and rivers, tiny fishing villages and a few luxury hotels. The entire stretch of coastline is ideal for those who wish to escape for a while from the rapid pace of big cities.
COSTALEGRE'S HISTORY
Costalegre began to have a peak from the nineties, mainly because it is a luxury destiny with a broad ecological approach, although its history dates back to mid-1500 when the Spanish used it to repair their ships and as departure place for going to the Philippines.
Much of the cultural richness of this area is due to settlement and legacy of three ethnic groups, the Cora, Huichol and the Nahuas, although it is known that the first settlements occurred around 300 BC.
WHERE IS COSTALEGRE ?
Costalegre is located in the Mexican Pacific Riviera. It covers the following towns: Cihuatlán, La Huerta, Tomatlán and Cabo Corrientes, as well as the coastal of Bahía de Navidad, Bahía Tenacatita, Costa Careyes, Bahía de Chamela, Costa Majahuas and Cabo Corrientes.
INTERESTING PLACES TO VISIT (FROM NORTH TO SOUTH)
Yelapa – Large Caleta where the Tuito River ends. A magical calm beach, perfect for swimming and doing various water and adventure sports. Do not miss the famous Yelapa pie.
The Animas-Soft sand beach, suitable for diving by the coral formations and marine life. Also, fishing boats can be rented to sail through the beach area and visit the homes and cabins.
Quimixto-Known for its impressive cascade of ten meters high, which can be reached by a pleasant horseback ride or on walking/ hiking. Is a perfect excursion for family living.
Tehuamixtle– Admirable cove protected with turquoise waters, which provide shelter for yachtsmen wishing to stay overnight to navigate, and where the cuisine is an adventure for the palate, being prepared with seafood and fish freshly collected from the bay.
El Tuito– is the municipality and gateway to Cabo Corrientes. Their colors, aromas and history make it a good place to rest. In the main square you can see the garden with its temple, surrounded by palm trees and magnificent trees, like the tree 'Mary'. The ruins of the former Hacienda San Jose, is another attraction that dates back to 1875. Also near the head office, you can find petroglyphs, "Las Juntas y Veranos" Park  and visit the Botanical Garden.
Cajon de Peña-The largest dam of Jalisco, with its huge curtain that resembles a fortress that holds the most picturesque landscapes, surrounded by a range of contrasting green colors and where water sports like bass fishing, skiing and windsurfing are practiced. It also has comfortable cabins to rest and forget the daily routine.
Cruz de Loreto– Gateway Community to tourist concept: impressive in its original rustic charm in communion with nature, their respect for ecology and architecture harmonized with the environment, the use of sunlight and the use of candles at night, stunning sunrises and great variety of birds, the mystery of 'Estuary of the Hermit' and countless other attributes. It feels like  time stopped here.
Majahuas-This is the ideal place for camping. The extensive and impressive beaches blends with its gentle stream, making it a pleasant place to experience nature. Also, here is one of the most important turtle camps in the state.
Islas Pajareras– Among these islandas the most attractive is Isla Cocinas with a soft white sand beach, faithful companion of inviting crystal clear waters to dive immediately. Isla Pajarera, is the home to a wide variety of endemic birds that accompany the natural beauty of the place with its charms. It is also home of the exotic bird Bobo, which with its particular  characteristics, make them the best attraction of the place.
Punta Pérula-Fishing village with beautiful natural sea beach of fine golden sand, offering a gentle surf. Place where you get most of the seafood consumed in Costalegre, so rustic in their palapas' restaurants where you can enjoy fresh sea products.
Chamela-This exquisite beach with open sea, soft sand and a dreamy landscape is ideal for various activities, including water sports, fishing and exciting exploration of the nearby islands, where you can enjoy diving and the tranquility of swimming.
Careyes-Lined with reefs and rocks that hide jealously this exclusive beach where everything seems magical, from the shadows that are projected onto buildings, until the different tones of the enigmatic sunsets. Surrounded by an exotic and sophisticated nature, all together make it the best kept treasure, ready to be discovered.
Cuixmala-wrapped in a luxury exotic jungle surrounded by lakes, rivers and beaches, this exclusive place offers the alternative of a unique experience, whether family adventure, group living or couple hideaway. Unspoiled site declared ecological reserve, home of various species of flora and fauna.
Reserva de la Biósfera de la Sierra de Manantlán -Environmental protection and conservation of flora and fauna are the work of this reservation. The ecological area has more than twelve thousand acres and nearly three thousand species of plants, plus significant vegetation representing the ecological conditions of the mountain area of the country.
Tenacatita-famous for its spectacular mangroves, wrapped from a wide diversity of flora and fauna, is known for its beautiful golden sandy beach, reflected in the contrast of the sea color, blue to emerald green, so transparent that sometimes allows us to observe the toy fish. It has a typical air that surrounds and invites to return and enjoy boat trips, snorkeling and diving, or just relax admiring its majesty.
Boca de Iguanas -An impressive beach surrounds this corner of nature and tranquility. With no towns nearby, its beauty has remained intact. Therefore, activities include camping, hiking, horseback riding, boat trips & fishing.
The Manzanilla-Embellished by its palm extending to Boca de Iguanas, with gentle waves and soft sand, La Manzanilla shows as an admired and preferred site for the international visitors. Its estuary, with fascinating mangroves, is the natural habitat of crocodiles and various species of birds that contrast with its architecture, but also makes it the ideal complement to visit the original kiosk, galleries, craft shops and restaurants of traditional and international cuisine.
Cuastecomate- Is Mix of Sensations for tropical rainforest, sandy beaches and the towering cliffs. It is a beautiful sheltered bay, which gives gentle waves, ideal for children and for water sports like sailing, swimming, diving and windsurfing.
San Patricio Melaque-Sheltered between rocks is the beach of Melaque, gentle surf and golden gray sand that is ideal for practicing a wide variety of water sports, including the skimboard. It is a traditional place to visit with your family. It has interesting attractions such as the Punta Melaque viewpoint from which you can see the most amazing sunrises. Walk in the shopping area and also part of the traditional feast in honor of St. Patrick, on March 17.
Barra de Navidad- Picturesque fishing village, the delight of national and international tourism. There is magic in this place: either by the sand or the blue of the sky, the majestic ocean waves or the peaceful lagoon. The cool breeze crossing the skin. Its beauty and the kindness of the people. It is the miraculous image of Christ's Cyclone and the enigma of his arms, is the panorama of the boardwalk, is the possibility for sport fishing catching a , a marlin, a dorado or tuna, as well as participate in national and international tournaments, is to fall in love in a spectacular sunset.

HOW TO GET TO COSTALEGRE ?
The Costalegre can be accessed by air from airports in both Puerto Vallarta (2.5 hours) and Manzanillo (1 hour).
Airlines to Puerto Vallarta Airport
Aero Calafia, Aeromexico, Alma de Mexico, Aviacsa, Magnicharters, Mexicana, Interjet, Viva Aerobús, Air Canada, Air Transat, Alaska Airlines, American Airlines, Continental Airlines, Delta Airlines, First Choice Airways, Frontier Airlines, Northwest Airlines, Sun Country Airlines, Sunwing Airlines, Skyservice, United Airlines, Thomsonfly, US Airways, USA 300 Airlines, West Jet.
Airlines to Manzanillo Airport
Air Transat, Alaska Airlines, American West, Continental Airlines, Delta Airlines, Northwest Airlines, Sky Service, Sun Country Airline, Sunwing Airlines, West Jet, Aeromar, Magnicharters, Mexicana.
As part of the personalized service offered by hotels located in this area, you can travel in comfort chauffeured transportation service (this service is for customers who arrive at the airport of Puerto Vallarta or Manzanillo), so you can relax and enjoy the trip to the property.
To travel by bus from Puerto Vallarta or Manzanillo companies traveling in the bus route are Costalegre, Elite, and Autocamiones Cihuatlán Autocamiones Pacific.
HOW TO GET AROUND IN COSTALEGRE
The Federal Highway 200 communicates the municipalities in the Costalegre. As for buses, many companies offer the service from Puerto Vallarta to Manzanillo or vice versa, making stops in towns that make up the Pacific Coast in Jalisco.
Another option is to rent a car that offers travelers more flexibility in schedules and destinations at a reasonable cost.
However the best way to see around is by private transport service, offering trips on Suburban with air conditioning, towels, water, sodas, with greater comfort in addition to the security of traveling with drivers who know the perfection routes in the region.
WHAT SHOULD YOU TASTE ?
If we talk about Gastronomy, the main attraction is the seafood obtained daily at various locations; here the creative art of chefs in the region is shown with his wit delight with succulent recipes where they use these products.
Along the coast you will find various restaurants and special category hotels. Jalisco is famous worldwide for the production of Tequila, so our best advice is to enjoy margaritas, tequila sunrise, with one of our certified more than 80 brands of Tequila
WHAT SHOULD YOU BUY ?
For those who enjoy shopping, the region offer a myriad of local handicrafts such as pottery, embroidery, decorative figures of onyx, shell-based jewelry and traditional clothing.
TALKING ABOUT THE CLIMATE IN COSTALEGRE
In this region of the country the predominant climate is warm the most part of the year with temperatures going from 25º C and 27º C (yearly average). The rainfalls are between June and July.
FABULOUS TRIPS AND EXCURSIONS
The activities promoted in the area are closely linked to the enjoyment and preservation of the ecosystem, such as water sports, fishing, swimming with dolphins and more.
SPECIAL EVENTS
The various towns of the Costalegre have their own festivals, such as parades commemorating Mexican Revolution on November 20th, the Independence celebrations, and especially the religious celebrations that have all over the year.
From November to March is the season of humpback whales that migrate to the shallow waters of the Mexican Pacific to give birth.
In the season between July and December, turtles leave the ocean to lay their eggs. During the months of August through March is the period when the pups are born.
MAYBE YOU WOULD LIKE TO KNOW
It is important to be prepared and have cash because this area has only ATMs in Puerto Vallarta, Tomatlán, Melaque, and Manzanillo. If we talk about gas station, in the road you will find one at La Cumbre, and a second one in the cruise of La Cruz de Loreto.
WHO WOULD ENJOY THE COSTALEGRE ?
Definitely the perfect place for those wishing to get away from everyday stress of the big cities, those who enjoy close contact with nature. An intimate, romantic, exclusive, and relaxing place. 100% designed to display, preserve and exalt the Mexican roots.
Filter
Get specific results
Download here our complete hotel directory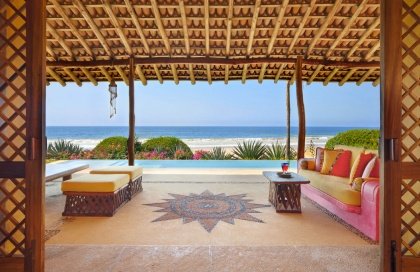 Las Alamandas
Costalegre, Jalisco
Created by Isabel Goldsmith-Patino, Las Alamandas is a secluded sanctuary on Mexico's Costalegre, located within a 700-hectare nature reserve peppered with palms and wild...
ver mas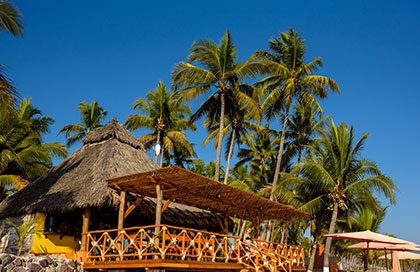 Chantli Mare
Costalegre, Jalisco
The Mexican Costalegre (an area that spans between Puerto Vallarta and Manzanillo) has long been known for its multimillion dollar homes and few exclusive...
ver mas
Descargar aqui el directorio completo de nuestros hoteles