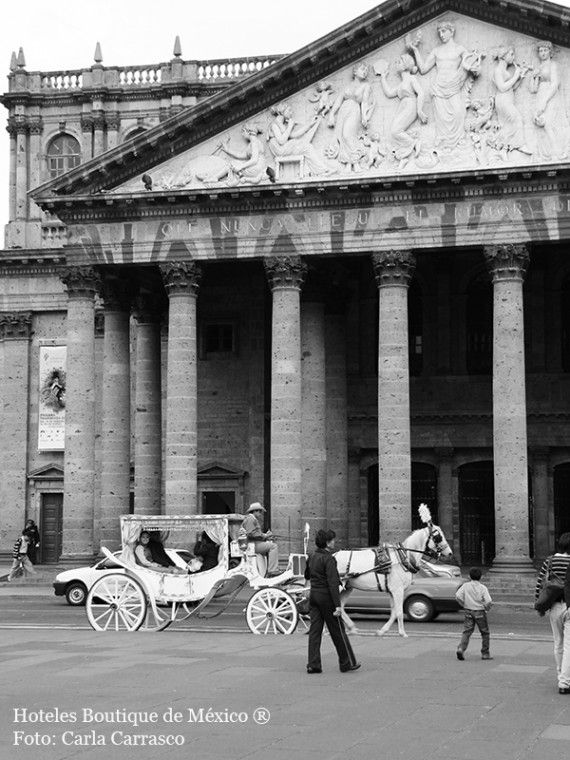 Guadalajara
Guadalajara, Jalisco
The city´s name is derived from the Arab phrase "Guadal-jiihara" which means "river running between rocks". Guadalajara was founded in 1542 in the spot where its historic center lies today and its greater metropolitan zone is now comprised of the municipalities of Guadalajara, Zapopan, Tlaquepaque y Tonalá. Mansions along the main boulevard into Guadalajara have been turned into boutique and luxury hotels and MBH represents a few of them.
Where is Guadalajara
To Lagos de Moreno – 189 km – 117.43 mi – 2:10 hrs
To Colima – 202 km – 125.51 mi – 2:30 hrs
To Manzanillo – 250 km – 155.34 mi – 3:00 hrs
To Guanajuato – 277 km – 172.11 mi – 3:05 hrs
To Puerto Vallarta – 335 km – 208.15 mi – 4:12 hrs
To Morelia – 321 km – 199.46 mi – 4:16 hrs
To Zacatecas – 320 km – 198.83 mi – 4:55 hrs
What should you taste?
There are innumerable fine dining restaurants with all types of international cuisine, but one must not miss out on the opportunity to savor the typical dishes of the area and enjoy the festive ambiance of the bars and trendy night spots.
Our favorite local dish:
The torta ahogada – large sandwhich that is typically made with pork but now comes in several versions and is bathed in a special salsa (the spicy version is optional). Ahogada means ´drowned´, thus the salsa bath.
It is common practice in Gguadalajara to see ´cenadurias´ that are set-up in people´s home garages or driveways. These are casual eateries that serve a variety of mexican delicacies. Your hotel can suggest specific local dining experiences.
What should you buy?
Bring an extra bag. Or two! Guadalajara is ideal for shopping and, in addition to the city centre, with its extensive street and underground malls, excellent purchases can be made in typical markets such as San Juan de Dios e Hidalgo. Inaugurated in 1969, Plaza del Sol was the first commercial mall in Guadalajara and was followed by 40 more, among them the Gran Plaza, Centro Magno, Plaza Pabellón, Plaza México, Plaza Universidad and Plaza Millenium.
For arts and crafts, you´ll be amazed! Jalisco is particularly renowned for arts and crafts that are simple in beauty and design. Much of what is seen in many coastal resort towns can be found here at a portion of the price in Tlaquepaque and Tonalá. Among the most sought out items, you will find jewelry, ceramics, nativity scenes, wrought iron, earthenware, blown glass, paper maché items and furniture known as equipal and rústico.
What´s the weather like in Guadalajara
Thanks to its moderate climate, with an annual average of 19.2 degrees centigrade, it is the site of many flourishing parks and gardens and is known as "The City of Roses".
Keeping busy
There is a large selection of recreational and sports activities to enjoy from the simple enjoyment of strolls in the city centre to golf, tennis, horseback riding, tours, boliche (a type of lawn bowling) and swimming. Highly recommended outings are the Guadalajara Zoo, the Magic Forest (Selva Mágica), or, on the cultural side, the Museum of Caza Benito Albarrán and the Centro de Ciencia y Tecnología Planetario (Science and Technology of Astronomy).
Within the metropolitan zone of Guadalajara as well as in its the surrounding areas, many natural attractions elevate the quality of life of the city. Varying micro climates contribute to the diversity of its flora and fauna and the visual splendor. Bird watching, excursions, and simple appreciation of the natural beauty can be enjoyed in many spots set aside for recreation. Those worthy of mention are: the canyons of Colimilla and Oblataos-Huentitán, the forests named La Primavera and Los Colomos, the Cerro de la Reina, the Tres Caídas waterfall, the Ixcatán geysers and several parks known as Parque Agua Azul, Parque del Deán, Parque de la Solidaridad Iberoamericana and Parque Metropolitano.
To enjoy the cultural life of Guadalajara, begin by strolling the historic center and take in the abundant architectural beauty of its colonial buildings adorned with sculptures and story-telling frescos. Notable buildings include the Cathedral, Instituto Cultural Cabañas, Palacio de Gobierno and Museo de la Ciudad. The list doesn´t end there! Museums offering a look at everything from archaeology, handicrafts, ceramics and indigenous art, to the history of the area´s military include the following: Casa Museo José Clemente Orozco; Instituto de las Artesanías Jaliscienses; Museo de Arqueología de Occidente de México; Museo de Cera; Museo de la Artesanía Huichol; Museo de Paleontología de Guadalajara; Museo del Ejército y de la Fuerza Aérea; Museo del Periodismo y las Artes Gráficas; Museo Nacional de la Cerámica and the Museo Regional de Guadalajara.
UNESCO World Heritage Sites in or around Guadalajara
HOSPICIO CABANAS - downtown, Guadalajara.
The Hospicio Cabañas was built at the beginning of the 19th century to provide care and shelter for disadvantaged orphans, the elderly and the physically challenged. This remarkable complex, which incorporates several unusual features designed specifically to meet the needs of its occupants, was unique for its time. It is also notable for the harmonious relationship between the open and built spaces, the simplicity of its design, ad its size. In the early 20th century, the chapel was decorated with a superb series of murals, now considered among the masterpieces of Mexican art. They are the work of José Clemente Orozco, one of the greatest Mexican muralist of the period.
AGAVE LANDSCAPE AND ANCIENT INDUSTRIAL FACILITIES OF TEQUILA – only 45 minutes from Guadalajara.
This 34,658-hectar site, located between the foothills of the Tequila Volcano and the deep valley of the Rio Grande River, is part of an expansive landscape of blue agave, shaped by the culture of the plant which has been used since the 16th century to produce tequila spirit and over at least 2,000 years to make fermented drinks and cloth. Within the landscape are working distilleries reflecting the growth in the international consumption of tequila in the 19th and 20th centuries. Today, the agave culture is seen as part of national identity. The area encloses a living, working landscape of blue agave fields and the urban settlements of Tequila, Arenal, and Amatitan with large distilleries where the agave Ôpineapple´ is fermented and distilled. The listed property includes fields, distilleries and factories (both active and not), tabernas (distilleries that were illegal under Spanish rule), towns and Teuchitlan archaeological sites. The property includes numerous haciendas, or estates, some of which date back to the 18th century. The architecture of both factories and haciendas is characterized by brick and adobe construction, plastered walls with ochre lime-wash, stone arches, quoins and window dressings, and formal, neo-classical or baroque ornamentation. It reflects both the fusion of pre-Hispanic traditions of fermenting mescal juice with the European distillation processes and of local technologies and those imported from Europe and the U.S.A. The property also covers archaeological sites which bear testimony to the Teuchitlan culture which shaped the Tequila area from 200 to 900 A.D., notably through the creation of terraces for agriculture, housing, temples, ceremonial mounds and ball courts.
Definitely the best way to visit Tequila is with a certified tour guide who will share with you the wonders of Tequila and Guadalajara.
Special Events
Guadalajara offers extensive convention, event and exhibition facilities. As of 1987 Expo Guadalajara entered the scene as a modern convention centre with 90,000 square metres for exhibition area. In 2001, the centre produced 102 international events themed on everything from clothing, jewelry, handicrafts, furniture, decor and gifts to transport, recreation and culture. Among the most important, is the International Hispanic Book Fair .
You may want to know...
Mariachi
There are many traditions that must not be missed in Guadalajara. World famous is the lively and romantic Mariachi music, synonymous with fiesta, fandango and alegría-festivity, joy and happiness. Few persons know that this music is a product of the Mestiza culture (persons of mixed Spanish-Indian roots), and the evolution of religion and music that began to emerge as of the 16th century when the Coculán natives were influenced by music of the Spanish through religious education that was being imposed on them. This exposure resulted in the incorporation of the violin, guitar, viola and bass into the music, eventually adding the harp in the 19th century. Today, the troupes can be heard in folkloric restaurants as well as in the traditional Plaza del Mariachi, located beside the temple of San Juan de Dios. Each year during September the grand Encuentro Internacional del Mariachi y la Charrería, a colour and exciting event, which merges two traditions and is known to feature the best performers of Mexican music in the world along with competing "charros" in a spectacular fiesta.
Charrería
Charrería, now a national sport, was introduced in the 16th century by the indigenous people, then as a new pastime, showing off their skills as wranglers of cattle and horse. It evolved to a grand show of "charros" -landowners, ranchers and their most trusted servants alike-displaying their valor, skill and dexterity in a variety of competitions that highlighted the most creative techniques and maneuvers of handling their animals with rope, force and strength. A show of these practices is not to be missed should the opportunity arise. While impromptu street shows and scheduled events occur at other times of the year, the previously mentioned Encuentro Internacional del Mariachi y Charrería is a time to catch some of the best examples of this sport.
Undoubtedly Tequila is one of the world´s most known beverages and Jalisco is the only official producer of this national beverage with the Tequila denomination. This liquor is made by fermenting and distilling the heart of the Maguey cactus and, while produced and known throughout Mexico in a similar form as Mezcal, the most famous is that of the Tequila region, just a short drive northeast of Guadalajara. It is differentiated from other Mezcal beverages as it is produced industrially and must meet exacting standards in order to received the Tequila denomination.
The most significant areas of the service sector are banking and financial services, commercial and residential rentals, hotels, food and beverage, recreation and entertainment. In the industrial sector, the most active areas are in the production and manufacturing of textiles, footwear, food and drink, furniture, rubber and plastic products, pharmaceuticals, jewelry and, not least of all, the production of tequila. As well, Guadalajara is a known centre for high tech, electronic and communications industries.
Filter
Get specific results
Download here our complete hotel directory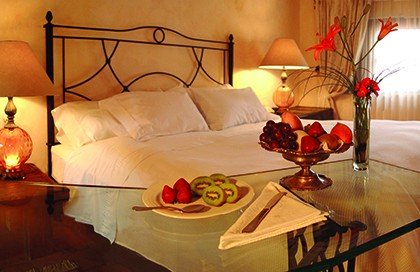 Villa Ganz Boutique Hotel
Guadalajara, Jalisco
Admire the locally collected antiques throughout this haven in an exclusive neighborhood of Guadalajara and you´ll know why this part of Mexico is an...
ver mas
Descargar aqui el directorio completo de nuestros hoteles