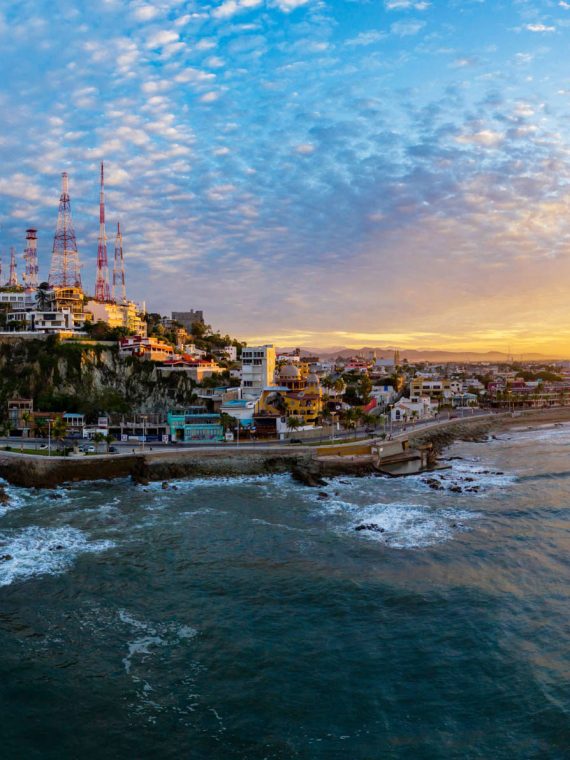 Mazatlán
Sinaloa, Sinaloa
WHERE IS IT?
In the northwest of Mexico in the state of Sinaloa, it is located 21 kilometers south of the Tropic of Cancer, between meridians 105 ° 56'55 "and 106 ° 37'10" west of the Greenwich meridian, and between parallels 23 ° 04'25 "and 23 ° 50'22" north latitude.
HOW TO GET THERE?
BAY LAND: Highway 15 Mexico – Nogales offers the opportunity to interconnect with many highway sections of the south-central-western and northern part of the country. The scenarios and contrasts found on this road provide a pleasant journey. The Pan-American Highway 40 is the road that connects Mazatlan with the lagoon zone and the north and northwest part of Mexico; this option is full of natural contrasts, because the Mazatlan-Matamoros section has all kinds of scenarios.
BY SEA: Mazatlan offers ferry connections to the Baja California peninsula, and receives cruise ships such as Carnival, Norwegian and Princess, among others.
BY AIR: The main international connections can be made in Mexico City and Los Angeles, USA. The airlines servicing Mazatlan are: Aeromexico, Interjet, Viva Aerobús, West Jet and Alaska Airlines.
WHAT TO EAT?
Gastronomy is part of the attractions that distinguish Mazatlan. This destination is known as "the shrimp capital".
Their dishes are mostly made of fish and shellfish, such as their ceviches tostada, shrimp tacos, marlin turnovers, shrimp tamales, stuffed shrimp, shrimp broth, fish dumplings, squid rinds, Chinese fish, Sinaloa shrimp, campechanas, aguachile and the costella soup.
In addition to seafood, we can find other dishes such as chilorio, Sinaloa-style roast chicken, mochomo or beef jerky, duck in lychee sauce, pozole, cocido, birria and barbecue.
WHAT TO BUY?
In Mazatlan you can find everything from outdoor stores to specialized stores, where you can easily get handicrafts, artworks, leather clothes and souvenirs such as sea snails, spirits and traditional Sinaloa sweets.
Nidart is a craft workshop and gallery where masks and sculptures of leather and fish skin are exhibited. The owners of this fantastic place developed their technique in 1989, inspired by Moroccan and Italian leather art.
The Pino Suarez Market reflects the charm of this beautiful destination. Here you will find fresh products, handicrafts from the region and of course you can taste the different typical dishes of the port.
Sea Shell City, located in the Golden Zone, is a place that offers an array of handicrafts made in shell, a great variety of details that will delight all types of travelers.
WHAT TO DO?
Mazatlan as a tourist destination combines sun and beach with the architectural richness and history of its infrastructure.
Modern hotels and restaurants make up its spectacular Golden Zone, featuring more than 10 km of beautiful beaches such as Playa Norte, Playa Gaviotas, and Playa Venados, ideal for surfing, diving and sportfishing of marlin and sailfish.
It also features sites with lush natural resources, such as Cerro del Crestón, ideal for activities such as ecotourism and climbing, as well as the Rock of Gibraltar; great golf courses, overlooking the sea, and two marinas that offer docking and maintenance services for all types of boats.
Other important historical places to visit are the ancient mining towns of Cosalá and El Rosario, now declared Magical Towns, as well as other picturesque villages such as Copala, El Quelite, Puerta de Canoas, and La Noria.
The pre-Hispanic site called Las Labradas has recently been declared an Archaeological Zone of Mexico and is the annual venue of the Equinox Festival in March.
Filter
Get specific results
Download here our complete hotel directory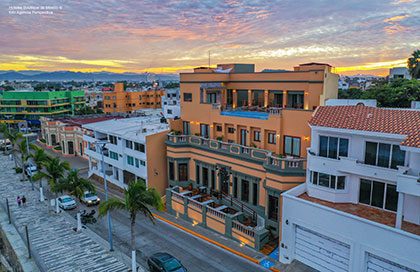 Casa Lucila
Mazatlán, Sinaloa
Located in the beautiful port of Mazatlan "La Perla del Pacifico", Casa Lucila retains its original facade that mixes colonial and neoclassical influences. Conchita...
ver mas
Descargar aqui el directorio completo de nuestros hoteles