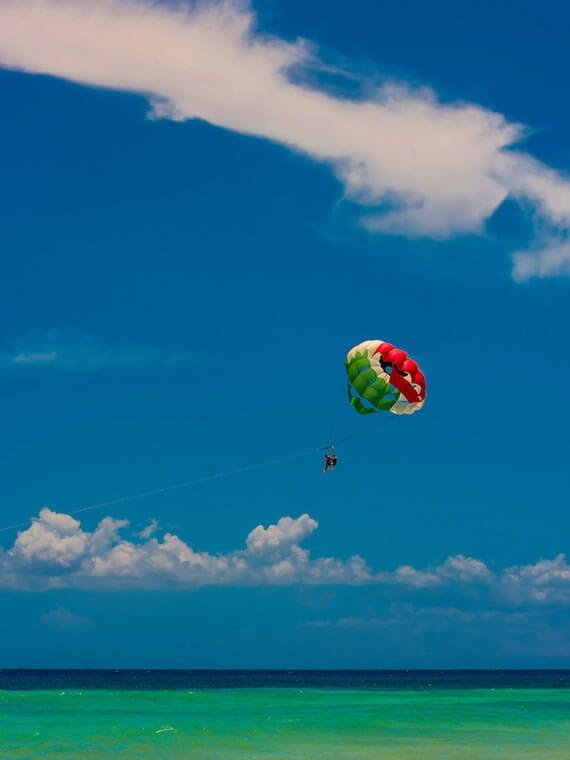 Riviera Maya
Riviera Maya, Quintana Roo
WHERE IS IT?
The Riviera Maya forms part of the Mexican Caribbean coastline in the state of Quintana Roo, distinguished by its dynamic tourism, natural beauty and historic significance.
67 km (42 miles) – 50 minutes from Cancun International Airport
300 km (186 miles) – 3 hours 4 minutes from Merida, Yucatan
HOW TO GET THERE?
By air: Many of the world's major cities offer direct flights to Cancun International Airport, located about 60 kilometers (37 miles) north of Playa del Carmen. A taxi from the airport takes less than an hour.
By land: To get to Riviera Maya from Cancun, you can rent a car and head south on Highway 307; you can also take a bus, which operate regularly.
Bus: There is a regular bus service to the Riviera Maya from Cancun airport that runs every thirty minutes from 7:00 hrs to 18:00 hrs.
WHAT TO EAT?
The pre-Hispanic heritage of this region can be noted most clearly in the cuisine of the Riviera Maya, which includes delicacies based on fresh seafood from the Caribbean Sea, prepared with Mayan ingredients and techniques. As if that were not enough, this part of the country is experiencing a culinary boom thanks to the number of renowned chefs who are reinterpreting regional dishes with a gourmet touch.
Furthermore, if you wish to savor the beverages that were sacred to the Mayan people, then you simply must try Balché and Saka. Balché is a wine made from the bark of a tree of the same name and Saka or "Sacred pozol" is a drink made of partially cooked hominy grits.
WHAT TO BUY?
To complement an unforgettable experience in the Riviera Maya, you are recommended to purchase original items that are exclusive to the area. The craftsmanship that you will find in this region is unrivalled, famous for its bright colors and shapes inspired by the Mayan culture and boasting a wide selection of shops, stalls and galleries.
Beautiful jewelry made by local artisans with semiprecious stones such as amethyst, onyx, opal, turquoise and lapis lazuli, usually embedded in silver, is very common in the Riviera Maya. All of this in addition to the typical traditional wares such as blankets and sombreros, hammocks and sarongs, paintings on canvas or leather, and stone or wood sculptures.
Playa del Carmen and the main points interest in the region (Chichen Itza, Cancun, etc.) offer a wide range of souvenirs that will not disappoint.
WHAT TO DO?
Experiencing firsthand the heritage and culture of the Riviera Maya in all its aspects is the best way to spend your time in the region, from visits to the ruins of ancient Mayan settlements to modern attractions and fun excursions.
Chichen Itza: A UNESCO world heritage site, this archeological site is, without a doubt, one of the most important Mayan cities, receiving thousands of visitors from all over the world.
Tulum Mayan Ruins: Regarded by many as the most beautiful ruins in the area, Tulum archaeological site faces the beautiful turquoise waters of the Mexican Caribbean surrounded by verdant vegetation. Definitely a must-see during your vacation in Cancun or the Riviera Maya. Entrance fees are symbolic, costing less than $50 Mexican pesos (about $3USD) and visiting hours run from 8 am to 5 pm daily.
Puerto Aventuras - With such a diversity of activities, this community provides the perfect way to spend a fun day fully entertained. It has a lovely marina with 240 moorings, a 9-hole golf course that is open to the general public, restaurants, a shopping center and even a nautical museum.
Xpu-Há - Beautiful fine, white sand and a stunning lagoon feature at this near virgin beach (except for the Robinson Club at the southern end). Xpu-Ha is a wonderful place to spend the day. Just 32 km (20 miles) from Playa del Carmen, it offers casual dining and boat tours for snorkeling, diving and sportfishing.
Akumal - If you are a diver, you have surely already have heard of Akumal, one of the most beautiful bays in Mexico. For the rest of us, this is a great place to enjoy a quiet, tropical atmosphere in the privacy of its wide beaches. You will find some restaurants and bars here too.
Filter
Get specific results
Download here our complete hotel directory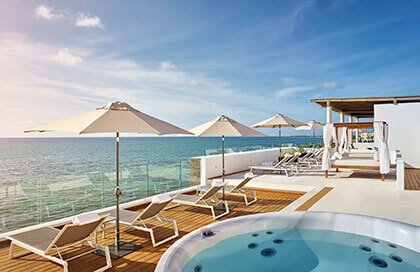 Senses Riviera Maya by Artisan
Riviera Maya, Quintana Roo
If you are looking for a few days of romance and relaxation by the sea, Senses Riviera Maya by Artisan is the ideal hotel,...
ver mas
Descargar aqui el directorio completo de nuestros hoteles