Fine Art Destinations

Share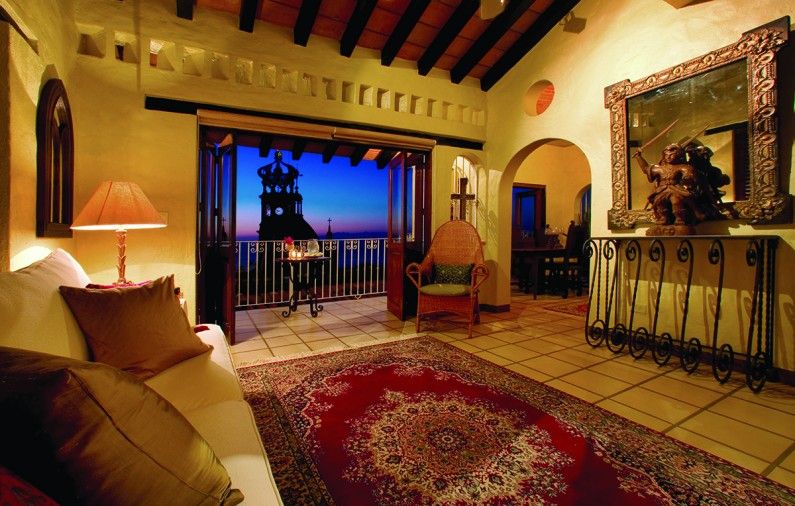 Mexico Boutique Hotels Highlights Cool Contemporary and Traditional Fine Art Destinations
Mexico is quickly being recognized as a hub for emerging contemporary art but also is noted for its rich history or traditional art. Mexico Boutique Hotels, a full service online hotel collection specializing in extraordinary boutique properties, highlights tucked away hotels that incorporate art in various ways, from art galleries exhibited within the hotel, art tour packages, recommendations for local galleries and more.
Hacienda San Ángel – Puerto Vallarta: The 16-room Hacienda San Angel located in downtown Puerto Vallarta, is a restoration masterpiece of several classic-style houses overlooking the expansive Banderas Bay. The hotel houses a vast and prestigious collection of antiques, one-of-a-kind artifacts, and authentic artwork from large original oil paintings circa 1560 through mid 1900's, and other exquisite rare relics. Downtown Puerto Vallarta has a number of art galleries featuring contemporary local artists. A popular Art Walk is hosted every Wednesdays from 6-10pm (October to April) highlighting two of the hotels favorite spots, including Galeria Uno a pioneer in the PA art world, and Galeria Pacifio, known for exhibiting art from Mexico City, Oaxaca and Guadalajara.
Hacienda de los Santos – Alamos: Relax in a beautifully restored 17th century 27-room hacienda just blocks from the main plaza, mercado and cathedral in the colonial gem of Alamos. The elegant property also features three swimming pools, two putting greens, a theater, a Revolution-era cantina and a full-service spa. The Hacienda is a Mecca for art and architecture students with seminars often held by experts in various fields. Local artists frequently paint at the hotel, among them Richard Murphy, Catherine Callingham and Millard Davidson. In addition, the hacienda houses one of the finest private collections of retablos in Mexico, with prominent religious pieces from statues, to Ex-Votos and oil paintings dating back to 1500's with a selection for sale in the Galeria. The well-known Mexican wood carver, Augustin Parra, created several carved mirrors for the suites, as well as two large gilt figures for the stage of the Teatro.
La Quinta Luna – Cholula: La Quinta Luna is a 17th-century mansion converted into a beautifully intimate seven-room retreat located in Cholula, the American continent's oldest city. The hotel features a gallery of over 40 original contemporary artworks by renown Mexican artists including Federico Silva, José Lazcarro, Gerardo Brito Ramos, Fernando Camino, Raymundo Sesma, José Bairo, Mario Benedetti, Germán Montalvo, and many others. The hotel can arrange the sale of work directly with the artist from oil painting, prints, lithographs, to sculptures. In addition, the hotel offers an Art Tour package starting at $395 including accommodation. The tour includes visits to talavera pottery workshops and studios of contemporary artists along with an a la carte dinner at the hotel's acclaimed La Antigua Capilla restaurant.
Mesón Sacristía de la Compañía – Puebla: This intimate eight-room 19th century colonial hotel is located in the heart of Puebla's historic center. The property itself acts a gallery where all the décor and furnishings from fine antiques, reproductions, and traditional crafts can be purchased. The galleries currently shows works from the famous painter Jalicience Chucho Herrera, Jose Maria Velazco, Jesus Reyes Ferrerira and other international artists. In addition, Meson offers an "Art Experience" package that includes six nights in a Junior Suite, a 15-hour in- studio workshop in Talavera pottery making including materials, passes to two prominent museums in Puebla, a tour of the historic center, daily breakfast, ans lunch or dinner in Meson Sacristía de la Compañía Restaurant. The package starts at $1,300 per couple, tax included.

Sylvie Laitre
Comunicologa y Licenciada en Ciencias del Ocio y del Desarrollo Turistico. Vinculada al sector hotelero por varios años en diferentes países de Norte y Latinoamérica. Relacionista Pública, políglota, docente universitaria en múltiples disciplinas tales como filosofía, Ocio como herramienta de desarrollo social, investigación, etc. Experta en calidad de servicio. Consultora y conferencista en diferentes foros internacionales como experta en la industria turística boutique y viajes de lujo. Directora Hoteles Boutique de México entre 2002 y 2014 lo que gustas poner.