Alebrijes

Share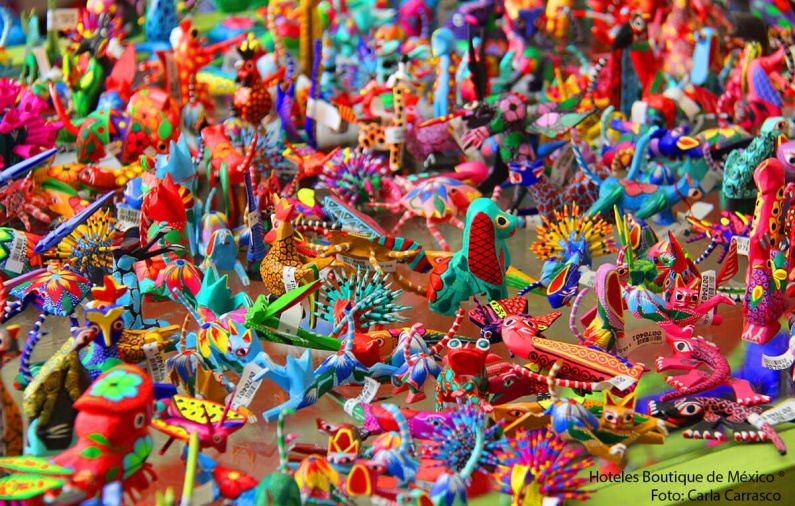 The first time I saw them I didn't know if I was more fascinated by their brilliant colors or their fantastic forms. They were born in 1936 thanks to the creativity of artisan Pedro Linares López, a native of Mexico City.
These figurines are traditionally made of paper modeled on a wire structure and covered by multicolored hand-made designs. The figures formed are a mixture of animals we could considered mythological, a product of Pedro's dreams during a period of bad illness, when he saw winged donkeys, horned roosters, etc. When he got well he started to mold the figures he imagined, thus creating a new handcraft which would become widely recognized in Mexico and the world. A large part of this recognition stemmed from a documentary by Judith Bronowski. In 1990, Linares López received the National Sciences and Arts Awards by the alebrijes.
Its popularity spread in such a way that it became a very popular handcraft in Oaxaca, but created with a different method as they are not made of paper and cardboard, but of copal wood. it is important to note that molds are used in neither technique, so each piece is unique and unrepeatable.
In your next trip, discover a fantastic world of colorful creatures.

Mary Carmen López (Eng)
With over 10 years of experience in the hospitality industry and a bachelors in Hospitality and Tourism Management specializing in marketing and sales, Mary Carmen has developed her career working at various hotels in Mexico and abroad, focusing in recent years on the boutique hotel industry. Passionate about tourism in Mexico, in every trip she seeks to find the cultural, culinary and historic highlights of each destination.