Best View Hotel Awards – Capella Ixtapa

Share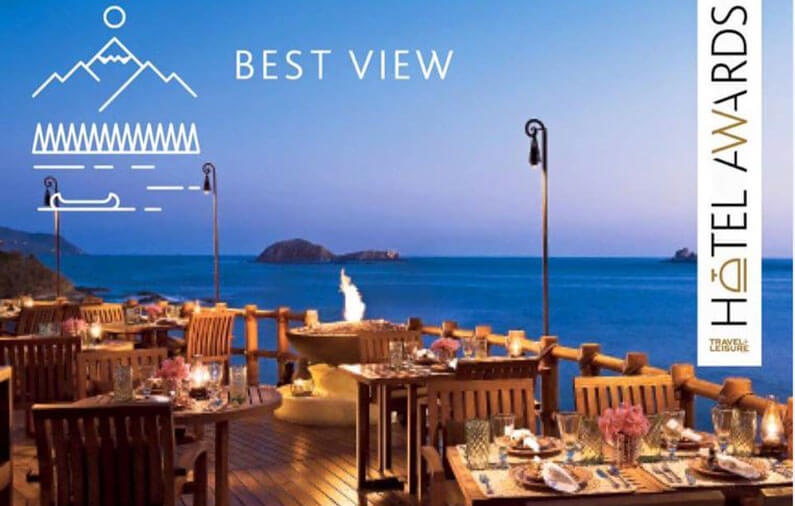 To talk about Capella Ixtapa is to talk about magic, relaxation and elegance.
The most attractive feature for travelers is the fact that each suite has its own private terrace with a pool, either roofed to be in complete relaxation under the shade or al fresco for those who want to be caressed by the sunlight; and by night you can control the terrace lighting with a control panel according to your preference and create a magical and special environment.
This already sound truly PERFECT, there is one more ingredient which makes it INCREDIBLE, and it is the marvelous postcard of the Pacific Ocean you can gaze; a sunset on the terrace of a Capella suite is an unforgettable memory for those who have had the fortune to stay in this incredible boutique hotel.
All this is why our distinguished member of Mexico Boutique Hotels received las t Friday May 27th the award BEST VIEW HOTEL by Travel & Leisure, leaving behind last year's winner one and only Palmilla Hotel in San José del Cabo, and many other renown hotels as La Casa Que Canta in Zihuatanejo, Four Seasons in Riviera Nayarit, and Bayan Tree Marqués in Acapulco.
We congratulate Capella Ixtapa for this well-deserved award and invite our travelers to come and know this place which along with the views features first-level services which together will result in a complete and extraordinary boutique experience.
Come to know and reserve Capella Ixtapa here or call us at Toll Free USA & CAN: 1 855 223 6061

Angela Ortega (Eng)
Born in the central region of Mexico, but having lived most of her life in the beautiful state of Nayarit, Angela fell in love with this area's landscapes and its natural beauty. With the firm conviction from an early age that she wanted to be part of the way tourism was managed in her state and the country at large, she studied a degree in Tourism Management and Development at the Technological University of Nayarit. Immediately following her studies, she immersed herself in the world of hospitality in Puerto Vallarta, an iconic city within Mexico known for its wide range of hotels. Working within this field, she took various positions, which allowed her to develop many skills such as teamwork and great service as well as to learn about the standards of operations at a large hotel complex. After taking a break from the hotel industry for personal reasons, her path met Mexico Boutique Hotels, a company that closely matched her personal convictions, which involve presenting Mexico to the world as a brand that guarantees memorable experiences thanks to its natural beauty and the excellent hospitably of its people who by their very nature provide great service and are excellent hosts. Angela currently serves as Chief E-Concierge and Travel Designer for the aforementioned company, offering travelers the opportunity to live a different experience every day, where attention to details make a huge difference.