Casa de Mita, Consistently Superb.

Share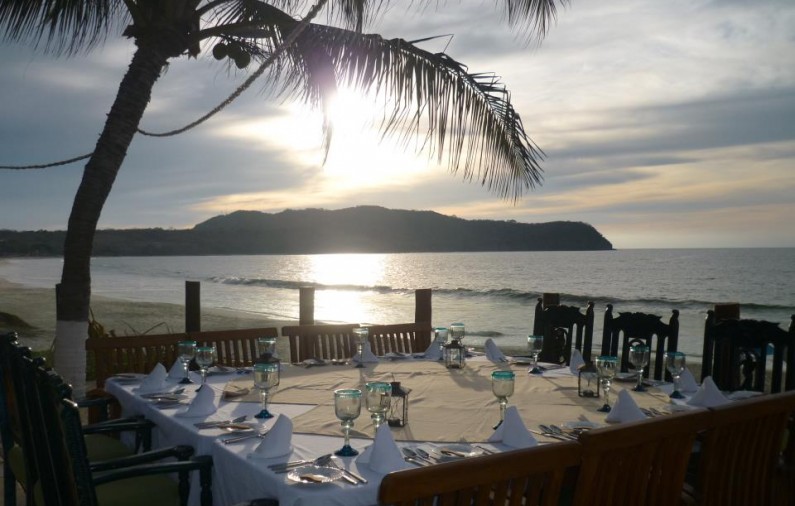 Yesterday, I posted about a great review for Gran Casa Sayula in the tiny town of Sayula, Jalisco. This morning I got a Tripadvisor alert for a new Casa de Mita review.
Now, Casa de Mita reviews are always spectacular but the recent few really describe the hotel's magic. Here's what guests who stayed in March 2012 have to say:
"Superb! Un paraiso Mexicano!"
5 of 5 stars Reviewed March 30, 2012 NEW

My husband and I just returned from our honeymoon at Casa de Mita, and it was more wonderful than we ever imagined it could be. In a word, Casa de Mita is paradise; we're already planning to return next year. It was nearly impossible to leave and we talk about how stunning it was every day. Here's the breakdown:

Grounds/rooms: Casa de Mita is very small — only 8 rooms — so it feels as though you're staying in someone's home. The rooms are beautiful, and the attention to detail everywhere is fantastic. The tiled floors and showers, the decor, and the beautiful common spaces make this place truly unique. Each room has a balcony and a view of the ocean.

Food: The food at Casa de Mita is fantastic. The chef has been there for years and knows how to prepare fresh and authentic Mexican food. We had grilled shrimp, chicken mole, burritos, filet mignon, ceviche, wonderful breakfasts with fresh, homemade, baked goods — just amazing food, and I'm a foodie (www.kitchengurl.blogspot.com)!

Service: The service is beyond exceptional. Sammy, Lalo, Memo, Robert, Mauritzio and Manuel are wonderful people. Their attention to detail is fantastic, and they're truly lovely people. They made our stay there absolutely perfect.

I cannot say enough about this place. It was the most wonderful place I've ever stayed, and I've been around the world. Mexico is a beautiful country, and the people are warm and wonderful. Don't allow what you hear on the news to affect your perception of this amazing country, and when you go, check out Casa de Mita.
And…
"Beyond words… We'd pay twice what we paid!"

Reviewed March 30, 2012 NEW

1

person found this review helpful

Having been to a Mexican 'all inclusive' 5 star a few years ago I was very suspect as to how this would fare. My previous experience left me with a bit of disdain all such things. From the moment we were greeted by Sammy at the front door of Casa de Mita I found myself grinning like an idiot. Each staff member was amazing. They were all friendly, VERY accommodating and very genuine. I do feel obligated to mention and thank everyone on staff that we met… Sammy, Robert, Lalo Maemo (sp?) and Maurizio were unbelievable.

'Tradition Mexican' food that's available in NYC disgusts me. I feel like I'm looking at cafeteria slop. That being said Casa de Mita's food was unbelievablely beautiful and simply delicious. Grilled meats & seafood with great vegetables were served at lunch and dinner and breakfast was pretty much whatever you want. Our rooms were breathtaking and the other guests were super friendly. We ended up making some friends and going to a local art gallery opening.

If you're someone who enjoys going to the mall, going to Disney, watching TV & being entertained this may not be your cup of tea. If you like beautiful food, genuine people and love the beauty of a quite beach you will LOVE Casa de Mita. I'd happily pay twice what we paid for our time there and we can't wait to go back!

Stayed March 2012, traveled as a couple
I'm always thrilled to see we're choosing amazing hotels to be a part of the Mexico Boutique Hotels collection. We have the easy part, talking about them. Congratulations to the staff that truly embodies excellence.

Sylvie Laitre
Comunicologa y Licenciada en Ciencias del Ocio y del Desarrollo Turistico. Vinculada al sector hotelero por varios años en diferentes países de Norte y Latinoamérica. Relacionista Pública, políglota, docente universitaria en múltiples disciplinas tales como filosofía, Ocio como herramienta de desarrollo social, investigación, etc. Experta en calidad de servicio. Consultora y conferencista en diferentes foros internacionales como experta en la industria turística boutique y viajes de lujo. Directora Hoteles Boutique de México entre 2002 y 2014 lo que gustas poner.