"Capirotada" The sweet part of Lent

Share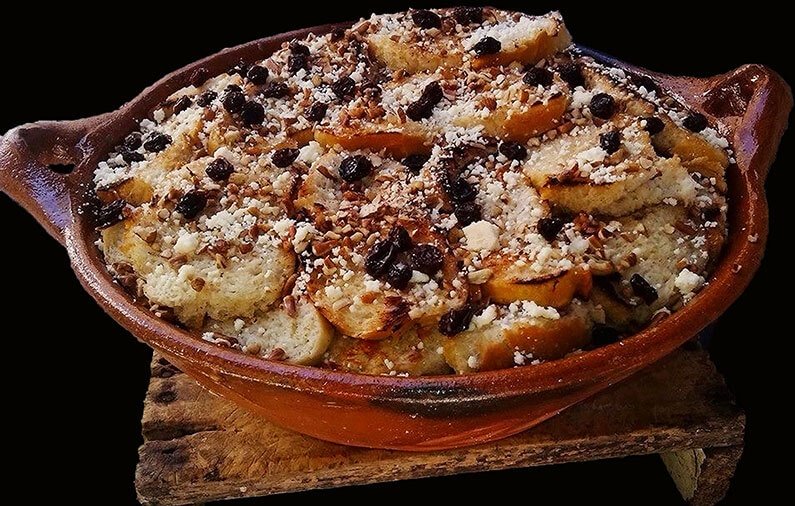 When the vigil season comes to Mexico, it comes accompanied of its typical gastronomy, in which meatless dishes with many options in fish and vegetables stand out, but it also has a sweet side, and who doesn´t love desserts? In Mexico one of the most representative desserts is the "capirotada".
Similar to a pudding, this dish is composed by a base of bread sliced with various ingredients that vary according to the zone but that usually include raisins, nuts and peanuts covered in a sugar cane-based syrup with milk or water; in some regions they also add fruit.
We share a recipe of this characteristic and unique dessert for those who like the idea and want to adventure into trying to prepare it:
Ingredients:
Plantain – 2 pieces
Bread – 7 pieces
Sugar Cane – 3 to 4 cones
Cinnamon – 1 stick
Clove – 3 pieces
Prune – 300 grams
Raisins – 250 grams
Queso fresco – 200 grams
Peanuts – 150 grams
Evaporated milk – 245 ml
Procedure:
Place the sugar cane with 2 liters of water in a casserole
Add the cinnamon and the clove, let it stew until the sugar cane is diluted and you are left with a light syrup
Slice the bread into large pieces and toast it until crunchy
Butter up the container where we are going to bake the capirotada
Slice the banana in thick pieces and dice the queso fresco
Place a layer of bread on the bottom of the container
Add a layer of the raisins, prunes, peanuts, plantain and cheese
Add one third of the sugar cane syrup previously strained and some evaporated milk, repeat until mold is filled
Cover the mold in tinfoil
Bake the capirotada at 200°C for around an hour until it is soft and the bread is moist

Angela Ortega (Eng)
Born in the central region of Mexico, but having lived most of her life in the beautiful state of Nayarit, Angela fell in love with this area's landscapes and its natural beauty. With the firm conviction from an early age that she wanted to be part of the way tourism was managed in her state and the country at large, she studied a degree in Tourism Management and Development at the Technological University of Nayarit. Immediately following her studies, she immersed herself in the world of hospitality in Puerto Vallarta, an iconic city within Mexico known for its wide range of hotels. Working within this field, she took various positions, which allowed her to develop many skills such as teamwork and great service as well as to learn about the standards of operations at a large hotel complex. After taking a break from the hotel industry for personal reasons, her path met Mexico Boutique Hotels, a company that closely matched her personal convictions, which involve presenting Mexico to the world as a brand that guarantees memorable experiences thanks to its natural beauty and the excellent hospitably of its people who by their very nature provide great service and are excellent hosts. Angela currently serves as Chief E-Concierge and Travel Designer for the aforementioned company, offering travelers the opportunity to live a different experience every day, where attention to details make a huge difference.