Social media and travels, good or bad combination

Share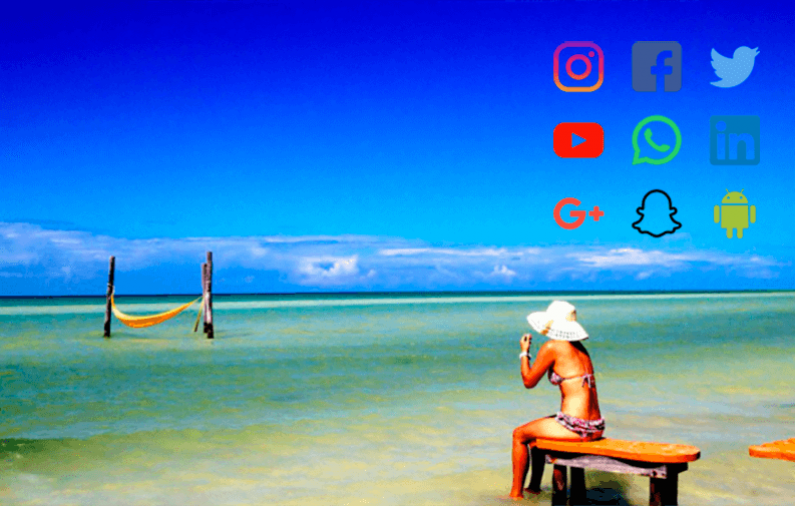 Social media are currently an important connecting bridge between physically separated people. However, social network addiction have reached amazing limits. It is very common to see people who share every detail of their life on them, from her mood to pictures of places they visit or the food they eat. The goal is, of course, "to let everybody know they are having a wonderful time".
It is a trend for those who have the extraordinary opportunity to travel not to stop sharing with everyone news of their trips through social media. However, right at that moment they don't realize the time the invest on dozens of photographic takes they make in search of the best and most perfect images to cause a high impact and amazement among their contacts.
It is very common but unfortunately very few people have realized that it is just on vacations when the use of mobile devices rises, thus the time on social networks during the days they are supposed to be working compared to the ordinary work or school days.
The average time of one person in social media is 8.5 hours per week. However, this number usually rises around 50% on holiday seasons. These figures are really alarming, as this again reflects the extremes of these limits we were talking about at the beginning regarding the people's addiction to social media.
While it is true that pictures are a testimonial of our travels, we must apply a good criterion in order to know when the ideal moment to take them without affecting the time we have to enjoy all those colors, smells, flavors and new faces we can perceive while traveling is.
Thousands of wonderful things may be happening in front of you without your realizing at the moment you open any of your social networks apps, select a picture, filter it and upload it with emotional messages. There may be thousands of pictures, but without memories or real moments to support them, it is not worth taking them.
So it is time to consider, is it worthy to spend so much money and effort on a travel which will be enjoyed more by those who see your pictures on social media than by yourself?

Angela Ortega (Eng)
Born in the central region of Mexico, but having lived most of her life in the beautiful state of Nayarit, Angela fell in love with this area's landscapes and its natural beauty. With the firm conviction from an early age that she wanted to be part of the way tourism was managed in her state and the country at large, she studied a degree in Tourism Management and Development at the Technological University of Nayarit. Immediately following her studies, she immersed herself in the world of hospitality in Puerto Vallarta, an iconic city within Mexico known for its wide range of hotels. Working within this field, she took various positions, which allowed her to develop many skills such as teamwork and great service as well as to learn about the standards of operations at a large hotel complex. After taking a break from the hotel industry for personal reasons, her path met Mexico Boutique Hotels, a company that closely matched her personal convictions, which involve presenting Mexico to the world as a brand that guarantees memorable experiences thanks to its natural beauty and the excellent hospitably of its people who by their very nature provide great service and are excellent hosts. Angela currently serves as Chief E-Concierge and Travel Designer for the aforementioned company, offering travelers the opportunity to live a different experience every day, where attention to details make a huge difference.