Pan de Muerto

Share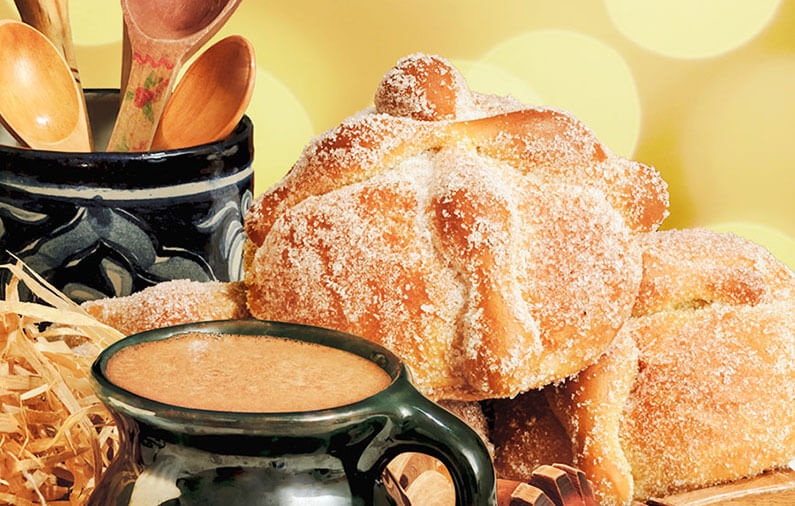 One of the most deeply-rooted traditions among Mexican people is the celebration every November 2nd of Día de Muertos, Day of the Dead, that far from being a gloomy occasion, is a festivity for families to honor their deceased in different manners.
The customary visit to the gravesites and the setup of the altars with all its elements to receive the departed spirits on their return home are unmissable rituals, and pan de muerto is an essential element of the altar.
The story of pan de muerto in not exactly glamorous; some version say the Aztecs used to offer a still beating heart of a virgin to their gods, and the main priest would dip it into a pot of amaranth and would bite it as a sign of gratefulness to the gods.
Of course, Spanish catholic priests were horrified and decided to eradicate these traditions, and to substitute this act they created a syncretic wheat bread with equivalent elements: the upper circle represents the human skull and the four bone-shaped phalanges pieces symbolize the body's bones pointing to the four directions of the universe. The original bread's versions were drenched in red dye to represent blood, a true "bread of the dead".
Nowadays pan de muerto can be found months before November and its preparation depends on the region of the country: in Oaxaca the same dough for other type of bread is used and characteristic elements are added; in the Poblano mixteca they have human shape and in some places you can find more modern versions filled with butterfat, chocolate or in a boast of cultural syncretism, with Nutella.
No matter what your favorite version is, do not miss this delicacy and come visit the dead altars set up in every town and city of our country.

Paco Morás (Eng)
A translation and interpretation specialist, Paco Morás is also passionate for literature, music and tourism. For the last fifteen years he has worked as a language and service trainer in the high-end hotel industry in the Vallarta – Nayarit area. He has also collaborated as a free-lance writer in several electronic and printed media.