4 unmissable spots to practice yoga

Share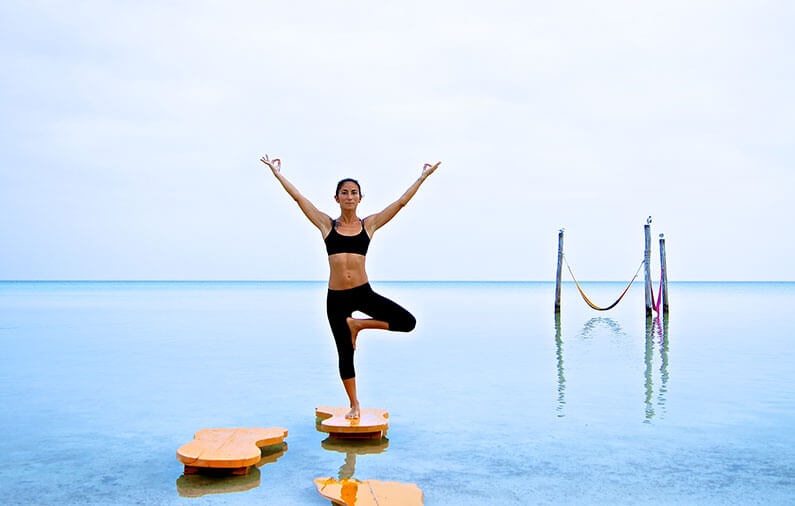 1- Villas Flamingos: On this island contact with nature is one of the main motivations for travelers to come. Along the year there are yoga retreats with different instructors, one of them Julieta Magan, who has practice this discipline for 10 years. She has focused on Hatha, Vinyasa flow, and Ashtanga styles. This is a magic place, as the sea level and the tranquility of its turquoise waters allow you to make some motions inside the water.
2 -Playa Escondida: A recently inaugurated palapa, built especially to practice yoga, is located on a small cliff overlooking the sea. Instructor Maya Wof has a long experience in yoga. Playa Escondida offers daily lessons and it is possible to enjoy private sessions for 1 to 15 people under request.
3- Argovia: In the middle of the Chiapas jungle in Chiapas you will find yourself surrounded by nature. You will find yourself on a large platform, surrounded by exotic flowers and trees and enjoying the coffee plantation view. Along the year there are several workshops to introduce guests into this discipline or to improve their skills.
4- B Cozumel: Yoga lessons are offered here Monday through Friday at 8 am and Sundays at 8:30 am. Instructor Tammy Cervantes has over 15 years of experience teaching different experience levels all over the world, from dancers, professional athletes and celebrities to low-income communities. She is deeply involved in labor with addicts, and alcoholics, and for the last 5 years she assists in the organization of Conference "Yoga + Meditation for Recovery" at Esalen Institute in Big Sur, California. She has directed yoga councils for addiction recoveries and helps in the funding of rehab center "La Esperanza" in Cozumel. Ms. Cervantes trains yoga teachers and gives courses, retreats and workshops in Mexico and other countries. Her way of teaching is focused on a commitment to present consciousness with compassion.
"Punta Beleza", where lessons are offered, has a spectacular location: over the Caribbean Sea, with the turquoise bottom which helps relaxation and connection with the spirit. Hatha, Vinyasa and Mindfulness yoga are offered here, along with yoga retreats and lessons focused on yoga philosophy along the year, when the sound of the sea is part of meditation and relaxation.

Mary Carmen López (Eng)
With over 10 years of experience in the hospitality industry and a bachelors in Hospitality and Tourism Management specializing in marketing and sales, Mary Carmen has developed her career working at various hotels in Mexico and abroad, focusing in recent years on the boutique hotel industry. Passionate about tourism in Mexico, in every trip she seeks to find the cultural, culinary and historic highlights of each destination.