4 dishes you must taste at La Compañía

Share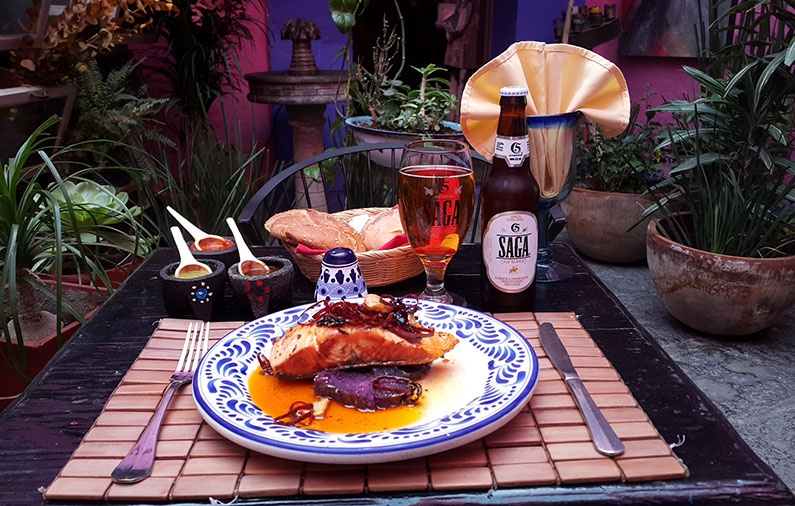 Did you know that one of the main reasons to visit Puebla is its gastronomy? At Mesón Sacristía de la Compañía, they know it and that is why we bring you four recommendations by its chef for you to taste in your next visit:
Escamoles (seasonal)
San Pascual beef: flank steak with huitlacoche, served with house salad and rice with avocado.
Salmon al ajillo: salmon griddled with caramelized yam slices, served with ajillo sauce with three chilies and pumpkin seeds.
They also feature the three salads of the house: flower salad, a mix of lettuce with pumpkin flower and lime and honey vinagrette. Chef's salad, purely poblana and reusing the flavors of a cemita on vegetables, served with papaloquelite vinaigrette, and the cactus salad, the typical marketplace salad served with cheese.
We invite you to visit this magical destination.

Mary Carmen López (Eng)
With over 10 years of experience in the hospitality industry and a bachelors in Hospitality and Tourism Management specializing in marketing and sales, Mary Carmen has developed her career working at various hotels in Mexico and abroad, focusing in recent years on the boutique hotel industry. Passionate about tourism in Mexico, in every trip she seeks to find the cultural, culinary and historic highlights of each destination.