Culture, colors and tradition that must perdure… "Guelaguetza"

Share
In the month of July in Oaxaca de Juárez everything turns into fiesta and color.  During two Mondays in the month, the Guelaguetza is the protagonist and offers an unparalleled show to those living there and those who visit this beautiful city.
We have surely hear about this celebration, source of pride for the Oaxaqueños.  Today I would like to go deeper into the origins and meanings.
The word Guelaguetza is of Zapotec origin.  Its meaning comes from the word "cooperate"; however, it carries within the feeling of brethren amid the Zapotec community, where the objective of showing appreciation for sharing life and being reciprocal with the gifts nature gives away is the true reason to celebrate, besides adoring Our Lady of Mount Carmel on July 16 – this celebrations comes to happen after the conquest of Mexico by the Spaniards and the establishment of Christianism).
Another name given to this festivity in Oaxaca is "Monday of Cerro", as the main place of celebration is "El Cerro del Fortín", point of arrival of the folkloric groups from the eight regions of Oaxaca, who with their usual passion wear the typical, colorful dresses, filling the place with life and joy.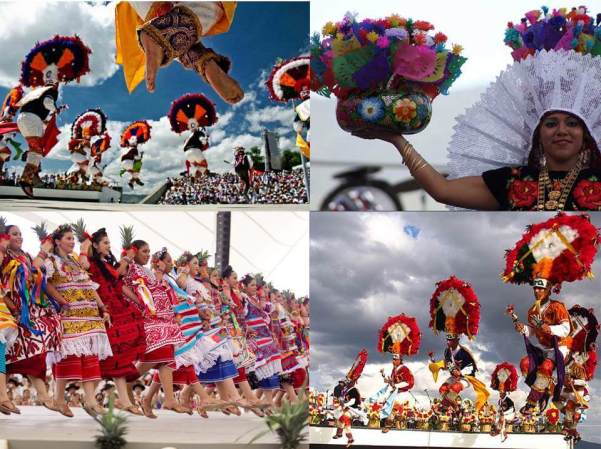 Dances, music and songs form ancestral origin and pre-Hispanic roots make you evoke those ages when human being really appreciated what Mother Nature gave them.  It is a feeling that vanishes more and more in these times, thus the importance of the recognition of these celebrations and of their lasting for a long time.
In 2018 the Guelaguetza celebration will be holding its 86th edition on Monday 23 and 30 of July.  There is still time for those who have interest in getting to know and live first-hand this marvelous experience, unique in the whole continent.
Boutique hotels tip:
Hacienda Los Laureles, Oaxaca
Gastronomy tips to taste:
Mole ein its several kinds: green, red, black and yellow.
The oh-so-famous tamales Oaxaqueños with different fillings wrapped in banana leafs
Tlayudas, corn dough flat bread of over 16 inches of diameter, for those with good teeth
Chocolate (beverage)
Sherbet ice-cream

Angela Ortega (Eng)
Born in the central region of Mexico, but having lived most of her life in the beautiful state of Nayarit, Angela fell in love with this area's landscapes and its natural beauty. With the firm conviction from an early age that she wanted to be part of the way tourism was managed in her state and the country at large, she studied a degree in Tourism Management and Development at the Technological University of Nayarit. Immediately following her studies, she immersed herself in the world of hospitality in Puerto Vallarta, an iconic city within Mexico known for its wide range of hotels. Working within this field, she took various positions, which allowed her to develop many skills such as teamwork and great service as well as to learn about the standards of operations at a large hotel complex. After taking a break from the hotel industry for personal reasons, her path met Mexico Boutique Hotels, a company that closely matched her personal convictions, which involve presenting Mexico to the world as a brand that guarantees memorable experiences thanks to its natural beauty and the excellent hospitably of its people who by their very nature provide great service and are excellent hosts. Angela currently serves as Chief E-Concierge and Travel Designer for the aforementioned company, offering travelers the opportunity to live a different experience every day, where attention to details make a huge difference.