A hotel made with love… Moreh Narváez's La Casa del Naranjo

Share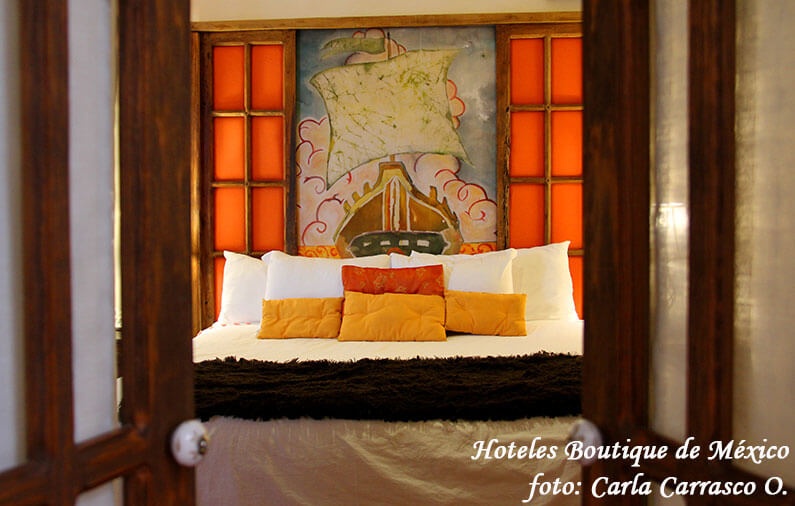 La Casa del Naranjo: casual, centric, simple elegance.
The story of this hotel is fascinating not only because it is currently one of the most sought-after hotels in Querétaro, but also because it involves passion, soul and feelings from its owner and founder María de Jesús Narváez, who for those of us who have the pleasure to know her, is simply "Moreh".
This time we will share her comments about how the idea and concept of her beautiful and cozy hotel was born:
"The architects only signed the planes and went over the technical issues, but I invented each of the spaces with my ruler, calculated the drainages, made the cement bars in the bathrooms with my own hands, flattened the walls with a mixture of lime, cactus juice and bats' guano, kind of a magical mix… I was dressed as a mason, plumber, electrician, etc… I truly say it, when I remember it I start to laugh! So, there was no architect nut my heart and mi passion for doing things!" says a proud Moreh.
The estate remodeling, made specifically to turn the original house into a "Boutique Hotel", started in 2007. It was formerly a house and worked as a cultural space.
All the changes in the property were in charge of owner María de Jesús  Narváez Crespo, who is not an architect but who for 5 years worked building houses in the city. it was an engineer who signed as the responsible and who went over everything related to structural loads, as it was a house with traces from the 17th century with changes made almost all over in the 19th century.
The new decoration was centered on "the orange tree" within the patio, which is thought to be over a hundred years old. It has been found that this property was part of the Santa Clara Convent, the first of its kind in the city which featured its own orchard with all kinds of fruit trees. From there comes the theme of every room, regarding a fruit tree.
Come and visit this beautiful place.
La Casa del Naranjo

Angela Ortega (Eng)
Born in the central region of Mexico, but having lived most of her life in the beautiful state of Nayarit, Angela fell in love with this area's landscapes and its natural beauty. With the firm conviction from an early age that she wanted to be part of the way tourism was managed in her state and the country at large, she studied a degree in Tourism Management and Development at the Technological University of Nayarit. Immediately following her studies, she immersed herself in the world of hospitality in Puerto Vallarta, an iconic city within Mexico known for its wide range of hotels. Working within this field, she took various positions, which allowed her to develop many skills such as teamwork and great service as well as to learn about the standards of operations at a large hotel complex. After taking a break from the hotel industry for personal reasons, her path met Mexico Boutique Hotels, a company that closely matched her personal convictions, which involve presenting Mexico to the world as a brand that guarantees memorable experiences thanks to its natural beauty and the excellent hospitably of its people who by their very nature provide great service and are excellent hosts. Angela currently serves as Chief E-Concierge and Travel Designer for the aforementioned company, offering travelers the opportunity to live a different experience every day, where attention to details make a huge difference.