Travels and Yoga, excellent combination

Share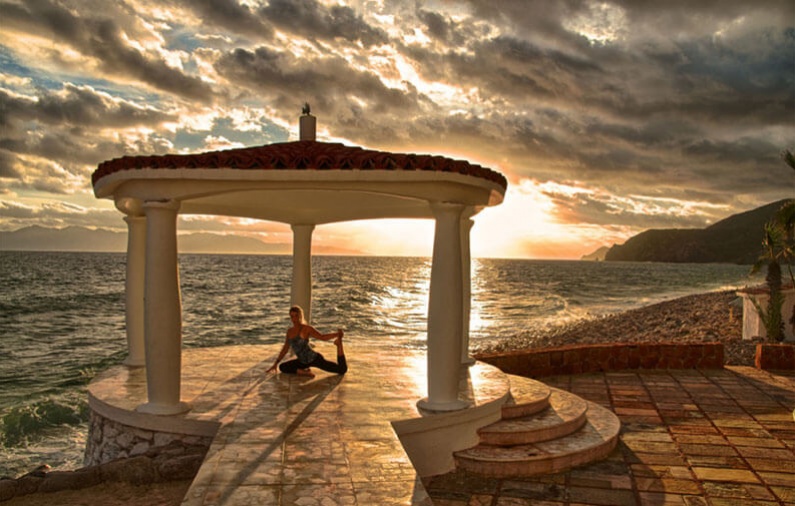 Talking about travels always excites us, and talking about traveling by Mexico is for sure our passion. As Agnes Repplier well said, "the Impulse to travel is one of the hopeful symptoms of life.
Travels are fascinating by themselves, and if we give them a special sense, they can be even better. Imagine the combination of traveling to incredible places full of magnificent natural sceneries where you can enrich your soul through corporal control that only yoga can give you.
In Mexico, the most part of capital cities in the pre-Hispanic culture were erected and ruled under astronomic standards, and many of them are thought to have powers of positive energies on specific days of the year, so they attract large crowds looking to fill up with that positive energy.
The pyramid of Kukulcan at Chiche Itza gives a phenomenon of special shades on the spring equinox, while the Sun and Moon pyramids at Teotihuacan are famous for emanating pisitive vibes to their visitors. The Bernal Rock, The Great Pyramid of Cholula and Monte Alban are also very visited for spiritual themes, and all of them offer an ideal environment for yoga, meditation of spiritual cleansing practices.
here are some of our hotels specialized in offering yoga services.
1- Villas Flamingos: Contact with nature is one of the main reasons travelers visit this island. Along the year yoga retreats are held with different instructors. One of them is Julieta Magan, who practices this discipline since ten years ago. She has focused on teaching the styles hatha, vinyasa flow and ashtanga yoga. This place is magical, as the sea level and the placidness of its turquoise waters allow even to make some of its motions in the sea.
2- Argovia: In the middle of the Chiapas jungle you will find yourself surrounded by nature. There is a large platform where you can enjoy the view of the plantation surrounded by coffee flowers and exotic trees. Along the year there are workshops to introduce the guests to this disciplin or improve their skills.
3- Playa Escondida: They recently opened a special palapa to practice yoga, located on a small rock that oversees the sea. Instructor Maya Wolf has an ample experience in yoga. Playa Escondida features daily classes and it is possible to have private sessions from one to fifteen people under request.
4.- Rancho Las Cruces: Beautiful private beaches or its ocean-front malecon will be excellent locations for the practice of yoga in this exclusive hotel.
Travel and practice yoga in one of these wonderful hotels.
1 8552236061

Angela Ortega (Eng)
Born in the central region of Mexico, but having lived most of her life in the beautiful state of Nayarit, Angela fell in love with this area's landscapes and its natural beauty. With the firm conviction from an early age that she wanted to be part of the way tourism was managed in her state and the country at large, she studied a degree in Tourism Management and Development at the Technological University of Nayarit. Immediately following her studies, she immersed herself in the world of hospitality in Puerto Vallarta, an iconic city within Mexico known for its wide range of hotels. Working within this field, she took various positions, which allowed her to develop many skills such as teamwork and great service as well as to learn about the standards of operations at a large hotel complex. After taking a break from the hotel industry for personal reasons, her path met Mexico Boutique Hotels, a company that closely matched her personal convictions, which involve presenting Mexico to the world as a brand that guarantees memorable experiences thanks to its natural beauty and the excellent hospitably of its people who by their very nature provide great service and are excellent hosts. Angela currently serves as Chief E-Concierge and Travel Designer for the aforementioned company, offering travelers the opportunity to live a different experience every day, where attention to details make a huge difference.