Real beer baths, the latest from Casa Diamante

Share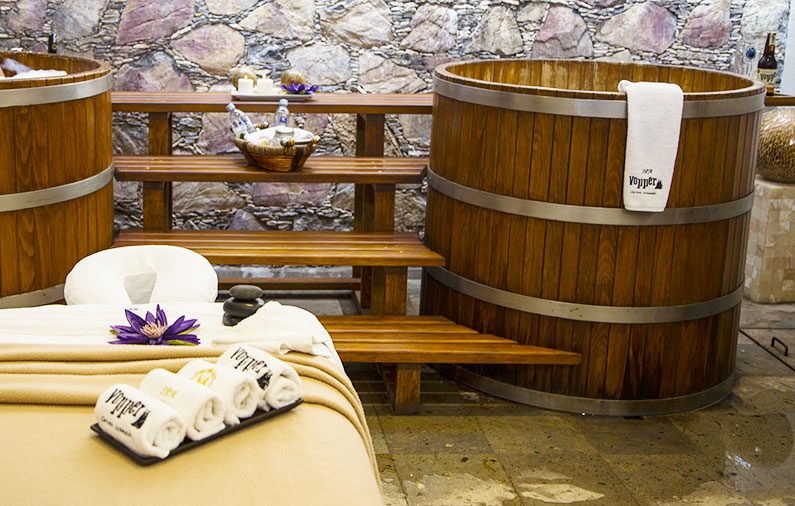 Casa Diamante Boutique Hotel houses in its premises the all-new Vopper Spa, with a truly unique and original concept that has called the attention of its visitors thanks to the ample variety of services it features. However, there is a special therapy that has to awaken a great interest in the public because of its originality. The Real Beer Baths. Yes! You read correctly!
Real beer baths is a soothing and relaxing treatment with beer as the main ingredient. It is just not any beer but the Vopper Artisan beer produced exclusively by Casa Diamante Boutique Hotel with a unique flavor and presentation.
Besides muscle relaxation, the benefits of the real beer bath are B vitamins for skin, proteins, and saccharin to soften and regenerate it and open and clean pores.
Those who dare to live the experience will enjoy being submerged in a beer barrel, complemented with the experience of tasting the home-made beer. Once you are inside the barrel, you will delight in a neck, shoulders and scalp massage by the hands of expert therapists to leave daily stress and worries aside.
The therapy can be made with the different kinds of beer produced by the hotel:
Golden: aromatic, fresh and pure, it is made with four ingredients: barley malt, water, hop, and yeast. The creator says it is an Ale with 4% alcohol content, its color is golden straw with a lightly-honeyed flavor that ends with a round fresh bitterness from hop; foam is dense and lasting.
Amber: considered a very balanced beer, with the fruity body and bitter notes; it is a Pale Ale with 5% alcohol content with caramelized malts, with a middle bitter flavor and a copper-brown color with reddish hues.
The real beer Baths has a cost of $950 pesos per person or $1,200 pesos for a couple of promotion. It lasts about an hour and includes a tasting of two beers.
We are delighted to announce that this coming October 8 there will be the official opening of the Vopper beer factory. The beer is currently distributed in all the Bajío area and it promises to reach more and more people to share its flavor and originality.
Do not miss the opportunity to enjoy the charm of this Magic Town full of mysticism and tradition, visit Casa Diamante and learn more about it.
Let us plan your weekend, call us at 1 855 2236061 or email us at [email protected]

Angela Ortega (Eng)
Born in the central region of Mexico, but having lived most of her life in the beautiful state of Nayarit, Angela fell in love with this area's landscapes and its natural beauty. With the firm conviction from an early age that she wanted to be part of the way tourism was managed in her state and the country at large, she studied a degree in Tourism Management and Development at the Technological University of Nayarit. Immediately following her studies, she immersed herself in the world of hospitality in Puerto Vallarta, an iconic city within Mexico known for its wide range of hotels. Working within this field, she took various positions, which allowed her to develop many skills such as teamwork and great service as well as to learn about the standards of operations at a large hotel complex. After taking a break from the hotel industry for personal reasons, her path met Mexico Boutique Hotels, a company that closely matched her personal convictions, which involve presenting Mexico to the world as a brand that guarantees memorable experiences thanks to its natural beauty and the excellent hospitably of its people who by their very nature provide great service and are excellent hosts. Angela currently serves as Chief E-Concierge and Travel Designer for the aforementioned company, offering travelers the opportunity to live a different experience every day, where attention to details make a huge difference.