Boutique Bathing: 10 unique hotel showers

Share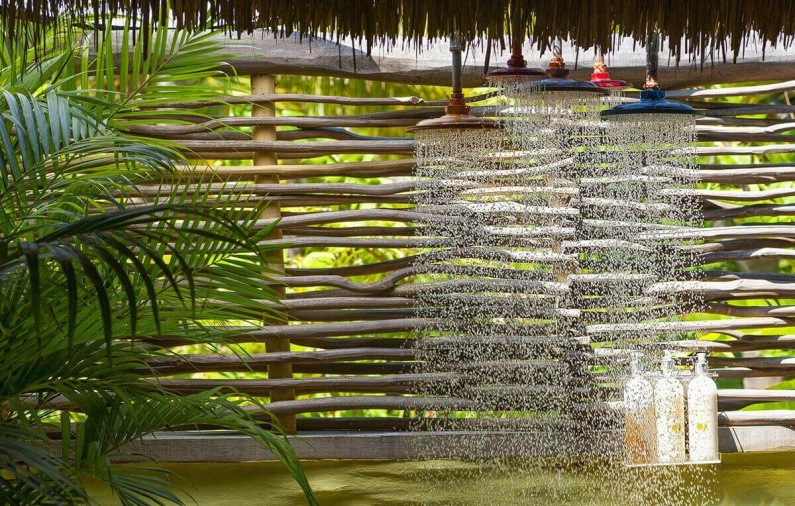 When we curate hotels, we curate everything about hotels and this means evaluating everything from sheets, to views to food to showers. Here's a list of 10 exceptional showers you will enjoy in our Mexico Boutique Hotels.
10- Villas Flamingos, Holbox: Island, rustic chic. Using local materials, showers were designed with shell water heads and water cascades from palm leaves cleverly placed on the sides. An outdoor feel with boutique hotel pampering.
9- Las Palmas Villas & Casitas, Huatulco: spacious marble or talavera showers feature ocean and jungle views while others have glass ceilings.
8- Azul de Oaxaca, Oaxaca: A hotel designed by contemporary artists can only be described as unexpected and exciting. Here, each suite, like its shower, is the creation of a Oaxacan artist and bathing spaces are unique. Fun and function blend perfectly here.
7- Cantera 10, Morelia: Its Suite Cantera features a bath, shower and sink that are encased in a glass room located in the center of this beautifully appointed accommodation. Showers in all other rooms are equally unique and design incorporates elements of the old building while incorporating modern comforts and style. This is a perfect example of old and new blended seamlessly.
6- Villa Rolandi, Isla Mujeres: Jade hues and marble finish create a peaceful, ocean-inspired feel for this space that features double shower heads and panoramic views.
5- Capella Ixtpa, Ixtapa Zihuatanejo: Luxurious, spacious showers combine marble, wood and tempered glass. Our favorite part? The view. Open your wooden blind and bathe under the warm breeze of the Pacific Ocean.
4- Playa Escondida, Sayulita: The bohemian vibe of this colorful, casual hotel can be particularly felt in oceanfront rooms that offer 'outdoor showers' with half walls, palapa roofs and spectacular views.
3- Casa Madero, Morelia: Glass ceilings, Bvlgary amenities, unique design. All in a strikingly pretty historical building.
2- Viceroy Riviera Maya, Playa del Carmen: Choice is always wonderful and having both an outdoor and indoor shower is quite nice. If the indoor version is comfortable and spacious with glass walls and wooden floors, the outdoor shower wins our heart. This jungle bath is discretely placed between palms and is the perfect venue for a midnight soak under the stars.
1- Hotelito Desconocido, Costalegre: The ultimate shower experience as far as we're concerned. A total of six—yes, six—rain shower heads are distributed at different heights and work with distinct intensity, resulting in heaven, under water. Showers are surrounded by wood and vegetation but allow you to take in the view and experience the outdoors 100%. And if the views and water pressure weren't enough, the floor is a large pumice stone. This is our all-time favorite shower by far.

Mary Carmen López
Más de 10 años de trayectoria en la idustria hotelera, Lic. en Administración Hotelera y Turística, con especializaciones en Mercadotecnia y Ventas. Se ha desarrollado profesionalmente en diversos hoteles en México y en el extranjero enfocándose en los últimos años en la hotelería boutique. Apasionada por el turismo en México busca en cada viaje conocer lo más destacado a nivel cultural, gastronómico e histórico de cada destino.