Shopping at Tepoztlán

Share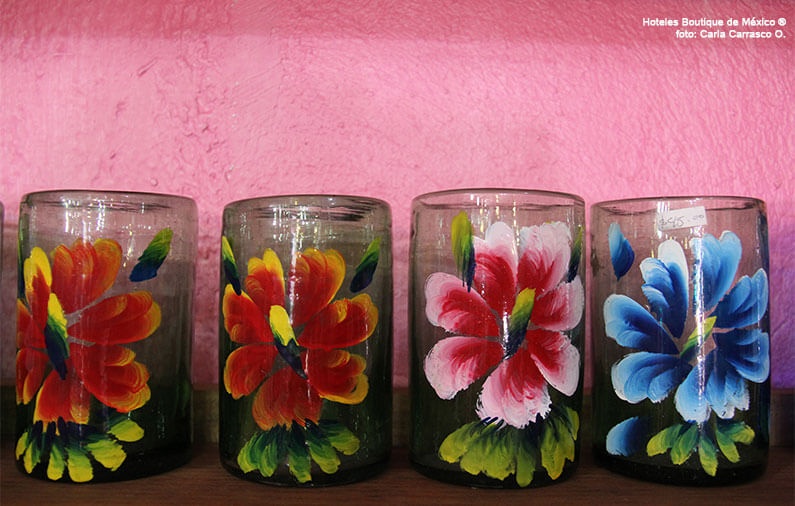 The mystical is all that which keeps in its essence something secret, something inexpressible but certainly existing and magical. So is Tepoztlan, a beautiful town located in the Mexican state of Morelos.
The Tepozteco mountain shelters this "Magical Town" (            called so since 2002), characterized by its cobblestoned streets spread over eight neighborhoods with the same layout they had in colonial times. Apart from being a town full of traditions and hard-working people, Tepoztlan has everything to seduce any kind of visitors, especially those who love to take home a piece of the place they visit in the shape of handicrafts and souvenirs. For them, we have designed this list of recommendations to help you in your next visit to Tepoztlan.
The Handicraft Market or Tianguis is a classic; it is part of what makes Tepoztlan's traditions heart beat. Here you can find all kinds of handicrafts, from pottery, baskets and painting works to wooden sculptures masterfully made in front of the visitors to sell at the spot. This market sets up on Wednesday and Sunday every week, with Sunday as the most popular and favorite of visitors. It is installed on the famous and well-known Revolución Avenue and apart from these marvelous articles, the best part is in the food area, where a large array of stands offer the traditional delicacies. If you come out of these days, do not worry, as you can find some stands open the rest of the week across from the Natividad church.
A shop that perfectly blends in with the mysticism of the place is "Taj Mahal", a classic spot in Tepoztlan, sought after by those looking for objects to connect with the Earth's energy. Here you will find quartz, stones and decorative objects, along with artisan jewels and materials to make your own.
A charming store is "Haiti", where you will find painted-wood puzzles, a classic of Mexican handicrafts. There are in all sizes and design, affordable and not that much, but they are all hand-made by the local artisans.
At number 2 Tepozteco Street, in the Santisima Trinidad hood, is located "Calaveras y Diablitos", an original store where you will find jewelry such as joyfully styled bracelets, necklaces, and rings, as well as decorations as picture frames, amazing bead works, and keyrings. We have to highlight that most of the products are made by the place owners.
Right in front of the main plaza is "La Piramide", where you will find beautiful embroiled clothingin a casual and relaxed style, just the way life happens in Tepoztlan. Here they sell artisan products mainly made local artisans and other indigenous groups of Mexico, definitively a unique shopping experience.
For the most curious buyers we can find stores such as Kodice Galería de Arte, a small but well assorted place where you can buy oil, watercolors and acrylic paintings as well as extraordinary screen-painting works on shirts, cups, cards and hundreds of objects that will allow you to take home true masterpieces on daily objects from this magial place.
Handicrafts in Tepoztlan go from the ancient to the modern, offering an ample variety of products for all likes.
Visit Tepoztlan and stay at SITIO SAGRADO, a select member of  MEXICO. BOUTIQUE HOTELS.

Angela Ortega (Eng)
Born in the central region of Mexico, but having lived most of her life in the beautiful state of Nayarit, Angela fell in love with this area's landscapes and its natural beauty. With the firm conviction from an early age that she wanted to be part of the way tourism was managed in her state and the country at large, she studied a degree in Tourism Management and Development at the Technological University of Nayarit. Immediately following her studies, she immersed herself in the world of hospitality in Puerto Vallarta, an iconic city within Mexico known for its wide range of hotels. Working within this field, she took various positions, which allowed her to develop many skills such as teamwork and great service as well as to learn about the standards of operations at a large hotel complex. After taking a break from the hotel industry for personal reasons, her path met Mexico Boutique Hotels, a company that closely matched her personal convictions, which involve presenting Mexico to the world as a brand that guarantees memorable experiences thanks to its natural beauty and the excellent hospitably of its people who by their very nature provide great service and are excellent hosts. Angela currently serves as Chief E-Concierge and Travel Designer for the aforementioned company, offering travelers the opportunity to live a different experience every day, where attention to details make a huge difference.