Centric, exquisite and with simple elegance, so is La Quinta Luna

Share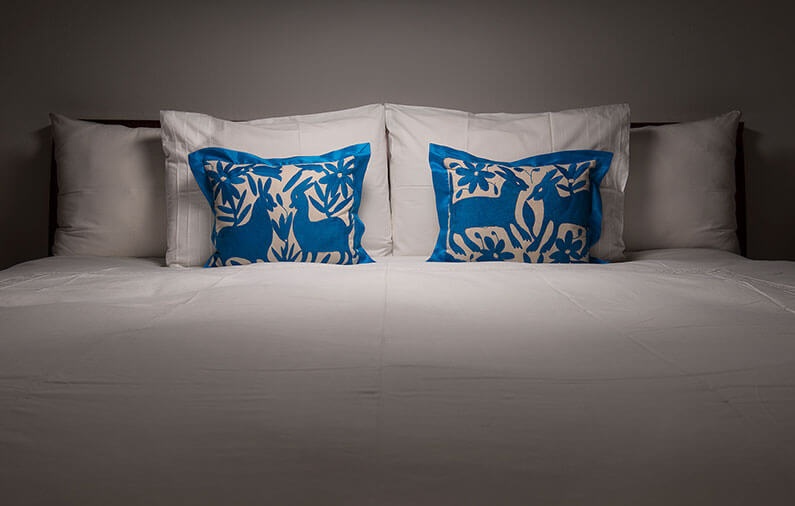 Centric, exquisite and with simple elegance, that is how we catalog La Quinta Luna, a hotel that encloses in its 17th-century built walls countless stories to tell. This hotel was an old casona which was restored between 1996 and 1998 very properly by its current owners, the Cárdenas González de Cosío family, who from the very start saw in this spot the potential to make it what it is now, a beautiful Mexico Boutique Hotel with the best service available in this kind of places.
THE TREASURES OF LA QUINTA LUNA…
La Quinta Luna guarantees a stay worth of demanding and discerning customers, but it also features the aggregated value of its marvelous premises of singular beauty. The building was named a historical monument by the INAH, the National institute of Anthropology and History, and still keeps its original structure, so when you arrive you can perceive the sensation of being in the age of the pre-Hispanic nobility but with a touch of modernity.
Almost magica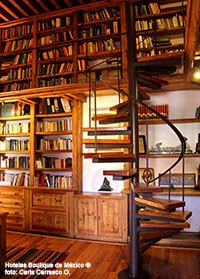 l is the contrast between the colonial architectural beauty and the contemporary furniture, but undoubtedly the ample collection of Mexican plastic art it possesses is a key element, as it dresses its wall with shape and color. Here we can find works of renowned Mexican artists such as Maestro Federico Silva, Maestro José Lazcarro Toquero, Gerardo Ramos Brito, Maestro Antonio Álvarez, among other artists. Besides the patio there is a 16th century Christ made with corn cane paste, really impressive and admired by all those staying in this place.
For reading lovers, I have excellent news. La Quinta Luna features an impressive library of high ceilings held by 400-year-old wooden rails. The library has an ample collection of varied topics such as design, economy, economy, Mexico's economic history and a small collection of novels; here you can find shelter for a rainy afternoon or simply chill out while you sip a cup of tea or coffee; guests have unrestricted access to borrow all the books you want during their stay.
SPECIAL SERVICES…
Keeping up with the concept of millenary traditions and ancestral heritage, we will now mention the Copalli Spa, a space to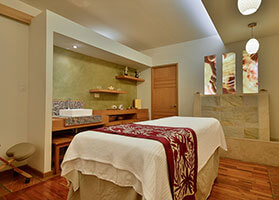 recall and enhance the marvels of the traditional Mexican medicine rituals using natural products of the region as well as traditional massage techniques as a means of purification and relaxation of body, mind and spirit.
Its flagship and most sought-after treatment is ozone therapy, which provides the body with nutrient oxygen through steaming techniques. The hotel also offers several packages including spa services which can be very convenient, so you can combine lodging and some therapy or massage at an excellent price.
MAGICAL CHOLULA…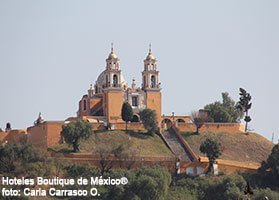 Cholula, Magical Town, is undoubtedly a cultural destination by excellence with much to see and know, so we bring you the following tips for your visit. Thanks to the centric location of La Quinta Luna you can walk to the Great Pyramid, icon of the town, and to the San Gabriel Convent, one of the oldest in Mexico, built in 1540 on top of the Quetzalcoatl temple ruins. You can also visit the archeological zones of Cacaxtla and Xochitecatl and colonial attractions as the Huejotzingo convent, the Tonatzintla and Acadepec churches and the city of Puebla.
Discover why Cholula is so famous and let yourself be wrapped by the magic it treasure on its streets, stay at La Quinta Luna and see why it is such a worthy member of Mexico Boutique Hotels.
Dial 1 855 2236061, email us at [email protected] and visit our website HERE.

Angela Ortega (Eng)
Born in the central region of Mexico, but having lived most of her life in the beautiful state of Nayarit, Angela fell in love with this area's landscapes and its natural beauty. With the firm conviction from an early age that she wanted to be part of the way tourism was managed in her state and the country at large, she studied a degree in Tourism Management and Development at the Technological University of Nayarit. Immediately following her studies, she immersed herself in the world of hospitality in Puerto Vallarta, an iconic city within Mexico known for its wide range of hotels. Working within this field, she took various positions, which allowed her to develop many skills such as teamwork and great service as well as to learn about the standards of operations at a large hotel complex. After taking a break from the hotel industry for personal reasons, her path met Mexico Boutique Hotels, a company that closely matched her personal convictions, which involve presenting Mexico to the world as a brand that guarantees memorable experiences thanks to its natural beauty and the excellent hospitably of its people who by their very nature provide great service and are excellent hosts. Angela currently serves as Chief E-Concierge and Travel Designer for the aforementioned company, offering travelers the opportunity to live a different experience every day, where attention to details make a huge difference.