Centric, exquisite and with simple elegance, so is La Quinta Luna

Share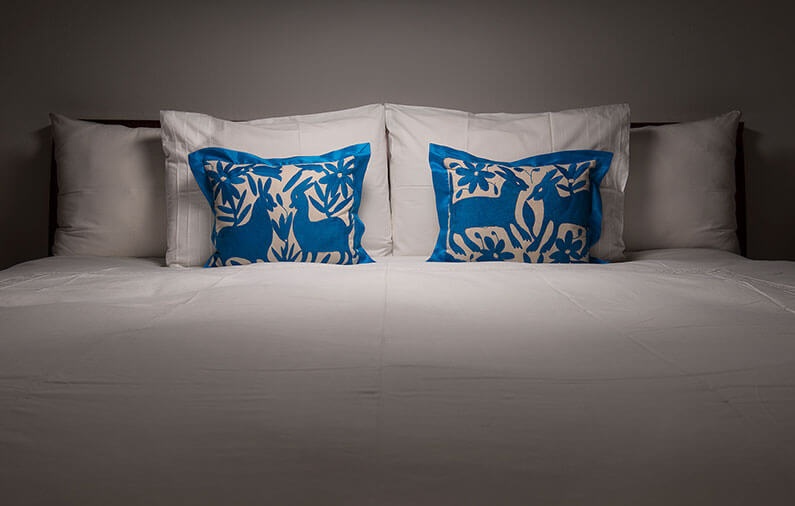 THE STORY BEGINS…
Centric, exquisite and with simple elegance, that is how we catalog La Quinta Luna, a hotel that encloses in its 17th-century built wa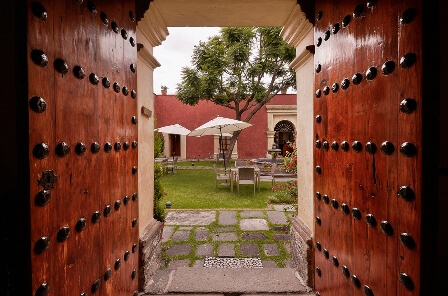 lls countless stories to tell. This hotel was an old casona which was restored between 1996 and 1998 very properly by its current owners, the Cárdenas González de Cosío family, who from the very start saw in this spot the potential to make it what it is now, a beautiful Mexico Boutique Hotel with the best service available in this kind of places.
THE TREASURES OF LA QUINTA LUNA…
La Quinta Luna guarantees a stay worth of demanding and discerning customers, but it also features the aggregated value of its marvelous premises of singular beauty. The building was named a historical monument by the INAH, the National institute of Anthropology and History, and still keeps its original structure, so when you arrive you can perceive the sensation of being in the age of the pre-Hispanic nobility but with a touch of modernity.
Almost m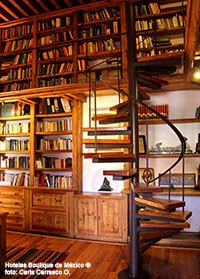 agical is the contrast between the colonial architectural beauty and the contemporary furniture, but undoubtedly the ample collection of Mexican plastic art it possesses is a key element, as it dresses its wall with shape and color. Here we can find works of renowned Mexican artists such as Maestro Federico Silva, Maestro José Lazcarro Toquero, Gerardo Ramos Brito, Maestro Antonio Álvarez, among other artists. Besides the patio there is a 16th century Christ made with corn cane paste, really impressive and admired by all those staying in this place.
For reading lovers, I have excellent news. La Quinta Luna features an impressive library of high ceilings held by 400-year-old wooden rails. The library has an ample collection of varied topics such as design, economy, economy, Mexico's economic history and a small collection of novels; here you can find shelter for a rainy afternoon or simply chill out while you sip a cup of tea or coffee; guests have unrestricted access to borrow all the books you want during their stay.
SPECIAL SERVICES…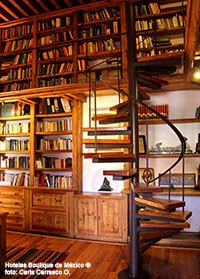 Keeping up with the concept of millenary traditions and ancestral heritage, we will now mention the Copalli Spa, a space to recall and enhance the marvels of the traditional Mexican medicine rituals using natural products of the region as well as traditional massage techniques as a means of purification and relaxation of body, mind and spirit.
Its flagship and most sought-after treatment is ozone therapy, which provides the body with nutrient oxygen through steaming techniques. The hotel also offers several packages including spa services which can be very convenient, so you can combine lodging and some therapy or massage at an excellent price.
MAGICAL CHOLULA…
Cholula, Magical Town, is undoubtedly a cultural destination by excellence with much to see and know, so we bring you the following tips for your visit. Thanks to t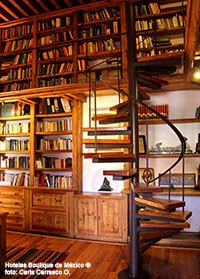 he centric location of La Quinta Luna you can walk to the Great Pyramid, icon of the town, and to the San Gabriel Convent, one of the oldest in Mexico, built in 1540 on top of the Quetzalcoatl temple ruins. You can also visit the archeological zones of Cacaxtla and Xochitecatl and colonial attractions as the Huejotzingo convent, the Tonatzintlaand Acadepec churches and the city of Puebla.
Discover why Cholula is so famous and let yourself be wrapped by the magic it treasure on its streets, stay at La Quinta Luna and see why it is such a worthy member of Mexico Boutique Hotels.
Dial 1 855 2236061, email us at [email protected] and visit our website HERE.

Angela Ortega
Nacida en el centro del país, pero pasando la mayor parte de su vida en el bello estado de Nayarit adquirió el amor por esas tierras y por las bellezas naturales que estas poseen. Con la firme convicción de ser gestora del crecimiento turístico en el estado y en el país, estudio la Licenciatura en Gestión y Desarrollo Turístico en la Universidad Tecnológica de Nayarit. De manera inmediata al finalizar sus estudios se incursionó en el mundo de la hotelería en Puerto Vallarta Jalisco, una cuidad icono del país, bien conocida por su amplia oferta hotelera. Estar inmersa en ese ámbito y desempeñando diversos puestos en diferentes áreas, le permitió desarrollar sus habilidades de trabajo en equipo, de espíritu de servicio, así como aprender los estándares de operación de un gran complejo hotelero. Pasados un par años y por motivos personales se retiro de la hoteleria, pero la vida puso en su camino a Hoteles Boutique de México, una empresa con convicciones muy similares a las personales, las cuales involucran representar a México ante el mundo como una marca que garantiza escenarios memorables gracias a sus bellezas naturales poseídas, así como un excelente trato por parte de una población que por herencia es servicial y buena anfitriona. Actualmente funge como Chief E-Concierge and Travel Designer en la empresa antes mencionada, ofreciendo día a día al viajero la oportunidad vivir una experiencia diferente donde la atención a los detalles hacen una enorme diferencia.