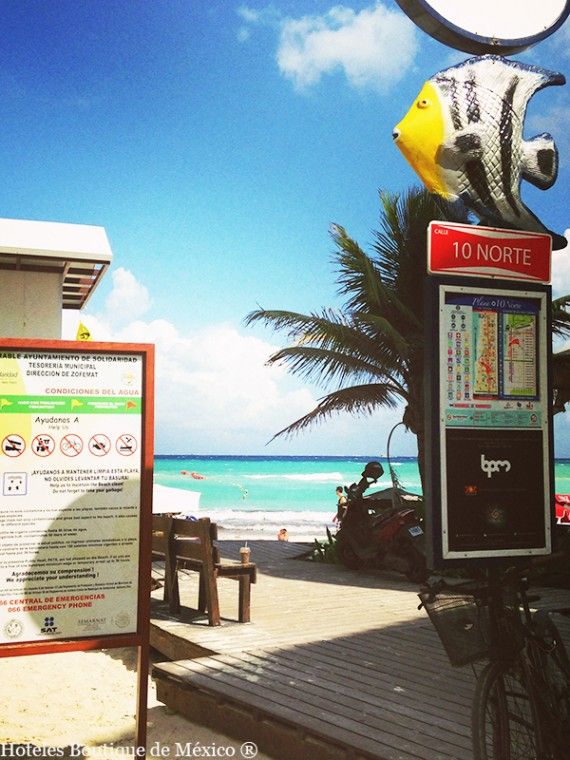 Playa del Carmen
Playa del Carmen, Quintana RooQuintana Roo, Quintana Roo
Ideally situated on the Rivera Maya, the charismatic coastal town of Playa del Carmen is fast becoming one of Mexico´s most popular resort destinations, while retaining its kick-back authenticity.
Where is Playa del Carmen
Playa del Carmen is located on the beautiful stretch of coastline in Mexico´s Yucatan Peninsula known as the Riviera Maya, facing the resort island of Cozumel.
To Tulum – 46 km/30 mi – 40 minutes
To Coba – 92 km/60 mi – 1:45 hours
To Chichen Itza – 4 hours (50 minutes by plane)
To Cancun – 74 km/45 mi – 50 minutes
To Cozumel – 20 km/12 mi – 30 minutes
To Isla Mujeres – 1:35 hours
To Holbox – 3:40 hours to Chiquila then 20 minutes by boat
To Merida – 391 km/242 mi – 6 hours
How to get to Playa del Carmen
Most visitors fly into the international airport in Cancun 42 miles away, but Cozumel´s airport is a second option. And Playa del Carmen has an airstrip that handles small charter aircraft and private air taxis, AeroCaribe the main local small aircraft operator.
Ferries ply between Cozumel and Playa del Carmen almost every hour on the hour, arriving on 5th Avenue, which is also where the bus station is. Buses run every 15 minutes between the Cancun airport and Playa, or you can take a taxi or book an airport transfer. White suburban vans called "collectivos" carry up to 10 passengers and their luggage comfortably for just a few dollars each. And you can drive from Cancun by taking Highway 307.
How to get around in Playa del Carmen
This resort is exceptionally easy to navigate, most streets having numerical names. The tourist zone stretches from the Caribbean coast to Highway 307. The main thoroughfare, the kilometre-long Quinto Avenida or 5th Avenue (known as Playa del Carmen´s pedestrian walkway), runs parallel to the coast and within sight of it, the 10 or so streets it intersects leading right to the beach.
Most of the town is accessible on foot and walking around is by far the best way to experience it. In certain areas, the only transportation allowed is tricycle taxis – the Mexican version of a rickshaw.
The air-conditioned collectivos drive up and down the highway between Playa and Tulum and Playa and Cancun, and if you stand on the side of the highway in a visible spot they will pick you up.
If you want to travel independently in the region, it may be a good idea to rent a car for part of your stay. This would enable you to gypsy along the Riviera Maya coast and stop whenever the mood strikes. You can also rent Harleys, scooters and bicycles.
If you would like to traverse the coast in a boat, simply walk the beach and speak to any of the small boat owners and arrange a tour.
And you can take a bus from Playa del Carmen to virtually any destination in Mexico.
What should you taste?
Playa offers the rare opportunity to experience timeless Mayan recipes. Emphasizing exquisitely fresh fish and fruit, regional specialties include anything in the Zik, Pibil, or Tikin Xic Mayan styles, ceviche, seafood cocktails, shrimp prepared with coconut or epazote, fish grilled in Hoja Santa or baked in cilantro sauce, whole grilled chicken in chipotle rub, and some of the best custard fruit, pineapples and coconuts you will ever have – a pina colada the thing to ask for in the bar. Both enthusiastic foodies and finicky eaters are happy here, restaurants and cafés ranging from Middle Eastern and Moroccan to Argentinean and American fast food. MacDonald´s, Burger King and Starbucks are here, as well as lots of Chinese and pizza places that deliver – even to your beachfront blanket!
A favorite? Try Yaxche, a gourmet mayan cuisine restaurantin downtown Playa. Something definitely unique.
What should you buy?
This is a good place to buy unique Mayan arts and crafts you won´t find elsewhere. Shops around the main plaza sell colorful Mexican blankets, masks, paintings, ceramics, leather goods, Cuban cigars and rum, while boutiques offer silver, gold and amber jewelry.
What´s the weather like in Playa del Carmen
Average highs are in the mid 80s, lows in the mid 70s. The hottest months are July and August, the coolest January and February, and the rainy season between May and October. The 2005 hurricanes did relatively little damage to Playa del Carmen, thanks to the large island of Cozumel, which helps protect it.
Keeping busy
KID STUFF IN PLAYA DEL CARMEN:
What child doesn´t love building sandcastles on the beach? The ones here have lifeguards, and you can wade out quite a distance in many spots. Coral forms ponds where the kids can safely play, tiny tropical fish making snorkeling fun – especially at Xel-Ha, a water park with an amazing cave system, natural lagoons and inlets, where they can float on an inner tube, swim with dolphins and more 35 miles south. Xcaret, a Mayan eco-Disney World just three miles away, thrills both young and old with its aquarium, Mayan village replica, horseback riding and other activities. You can easily spend the entire day at these and numerous other family friendly spots.
RECREATION IN PLAYA DEL CARMEN:
Some of the region´s best golfing is in Playa del Carmen, Playacar and El Camaleon Mayakoba two beautiful and challenging options. There are caves to explore and cenotes all over this area – large holes in the ground where you can swim, snorkel or dive in spring water. And along with deep sea fishing, fly fishermen are happy here too, as are devotees of most every water sport, including kayaking and jet skiing. Bike, hike, horseback ride, bird watch, you name it. And you can even fly above the jungle on a zip line and the ocean on a parasail.
NIGHTLIFE IN PLAYA DEL CARMEN:
Playa del Carmen stays awake until about midnight, bands along the 5th Avenue strip playing reggae, salsa and mariachi music and sports bars televising all the big games. But if you want to party until the sun comes up, nearby Cancun is the place to do it.
Great tours and excursions
You would have to stay in Playa a very long time to run out of great tours to take within an hour drive. Major Mayan ruin sites include Tulum and Xel-Ha on the coast and Coba and Punta Laguna inland. And a little further, but well worth the trip, is the great Chichen Itza! Then there are a number of interesting towns and villages to visit as well as nature and theme parks – with great beaches to be discovered everywhere you go.
Here´s a sampling:
Tulum – Meaning "wall" in Mayan, these ruins spectacularly situated on the sea 30 miles from Playa del Carmen were once an important fort and ceremonial center dedicated to the gods. Conquistadores found the site around 1518, and today it is still considered one of Mexico´s prettiest.
Coba – One of the largest cities from the Mayan age is 30 miles inland from Tulum. To give you an idea of its magnitude, this ancient commercial and ceremonial center has 45 roads.
Sian Ka´an Biosphere Reserve – 60 miles south you will find the second largest barrier reef in the world and 62 miles of beachfront, along with freshwater canals, tropical forests and mangrove wetlands home to jaguars, pumas, 345 bird species and much more.
Tres Rios Ecological Park – 10 miles north, the cenotes form three shallow 1.2 km-long rivers, where you can kayak and canoe in unspoiled nature, hike and bike through the jungle with guides, or simply soak in the pristine beach.
Xpu-Há – A stunning white, powdery sand beach 21 miles south that is relatively undeveloped and a nice spot for a day trip, with restaurants and snorkeling, diving, and deep-sea fishing excursions.
Cozumel – The largest inhabited island in Mexico with its superb diving and snorkeling, restaurants, open-air shops and moped rentals is 20-45 minutes away, depending on the boat you take.
Cancun – Mexico´s most visited resort destination with its glitz, glamor and endless round of events and activities is just an hour´s drive.
Isla Mujeres – A small beautiful island 8 miles and a short ferry ride from Cancun. Funky and quaint, it offers excellent beaches, restaurants and shopping.
Akumal – A beautiful bay and quiet village 20 miles from Playa offering wide sandy beaches and a peaceful tropical atmosphere. The Centro Ecologico here has regularly scheduled presentations and workshops on preserving the rich coastal environment and the Mayan culture.
Puerto Aventuras -– A luxurious resort community 18 miles away with a 240-slip deep-water marina, 9-hole golf course open to the public and good restaurants.
Puerto Morelos – 20 miles north, has great beaches, a crocodile farm, and botanical gardens nearby.
You may want to know...
*Although Playa is growing rapidly, there are strict controls on development. And in the town centre, shop fronts and restaurants are being remodeled using a variety of traditional building methods and materials such as palm leaves for roofing; the streets themselves being re-paved with artistic tile bricks, rather than tarmac.
*Along with a new Wal-Mart, Playa del Carmen has lots of Internet cafés, banks with ATM machines, money exchanges and pharmacies in the main tourist areas.
Who would Playa del Carmen appeal to?
Anyone looking for relaxing, hassle-free beach holiday with a free-spirited Mexican-Caribbean feel. Swim, sunbathe, stroll wonderful beaches, neat little streets, and dance the nights away to open-air bands. Those with a bent for history, having fun or both, will delight in the many ancient and modern, natural and man-made, wonders to be discovered nearby.
Filter
Get specific results
Download here our complete hotel directory
Descargar aqui el directorio completo de nuestros hoteles