Discovering Guanajuato

Share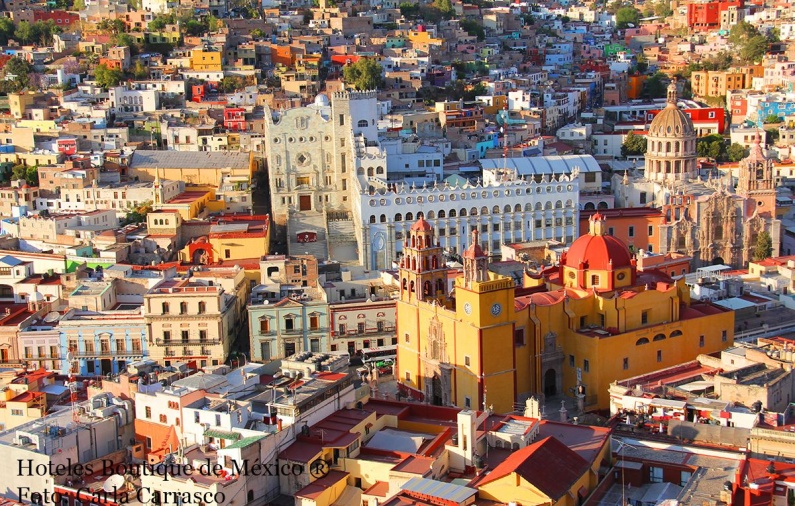 The best way to get to know a destination is traveling with a local person who shows you all its secrets and makes the best recommendation so you won't miss anything. That is why for this occasion we got in touch with Karina, concierge at Quinta Las Acacias in Guanajuato, who has created these recommendations especially for our Boutique Travelers.
"Guanajuato is a beautiful city characterized not only for its historic and cultural richness, but also for its offer of natural landscapes and open-air activities for its visitors. Fiestas, colors, folklore, gastronomy, people and each one of its activities have given personality and life to this magical town.
Guanajuato is a museum on itself; the simple fact of walking along its streets and admiring all its architectonic beauty is a full experience. Sites such as the Underground Street, the majestic Juárez Theater, the University of Guanajuato´s main building, the Legislative Palace, the Hidalgo market, the Alhóndiga de Granaditas, the casonas on Paseo de Presa Street, mines and haciendas, plazas, alleys and multi-colored casitas that provide a great personality to this place.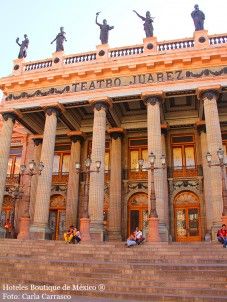 Natural Reserves
Santa Rosa Mountain Range:Santa Rosa mountains feature protected natural areas where you can practice activities such as trekking, bird watching, horseback tours, ATV or bicycle tours.
The Bufa and Picachos mount, ideal to practice rappel and hiking all the way to the top and gaze the whole city flooded by color.

Extreme Sports:
Rappel on the La Bufa y Los Picachos mount, with an unsurpassed panoramic view.
Mountain biking on the high lands of Santa Rosa Mountains, coming downhill to downtown and visiting Camino Real de Tierra Adentro, abandoned mined and the true mining towns.
ATV tours through the Santa Rosa Range, with impressive views of town and touring the historic Silver Road.
Art Galleries:
Gene Byron (gallery and museum
Kusnt Niehus (gallery and workshops)
Casa Cuatro (gallery, concerts and restaurants)
Ex Convento Dieguino (gallery and museum)
Galería Hemenegildo Bustos y Polivalente de la
Universidad de Guanajuato (gallery)
Expo Guanajuato Bicentenario (gallery, temporary exhibitions, concerts, recreational park)
Museums:
Casa Diego Rivera: the house where Diego María Rivera Barrientos, one of the greatest Mexican painters, was born. Exhibited are the artist's different stages with landscapes, nudes, allegories and still lifes.
Alhóndiga de Granaditas: historic building, stage of the most important battle in the beginning of Independence War. You will find halls with permanent collections or Archeology, History, and Ethnography among others.
Quixote's iconographic: considered the most important of its kind in the world, with a patrimony of over 800 pieces representing the figure of Quixote and other characters of Miguel de Cervantes Saavedra's novel, as well as that of the author.
Ex Dieguino Convent: on its first stage it exhibits the change of levels the city has gone through, as well as its religious architectonic style during the 17th century.
People's Museum: a casona from the 17th century that used to belong to the San Juan de Rayas Marquises. It exhibits a collections of handcrafts, toys and works by Guanajuato artists.
Galería Mariana de la Basílica Colegiata de Nuestra Señora de Guanajuato: it features five halls devoted to the cult and veneration of Virgin Mary. The gallery's guiding principle is the dissemination and study of the image of Our Lady of Guanajuato.
Museum of the Traveling Mummies: recently opened in the community of Sangre de Cristo, near the Cubilete mount, where the idea is to develop it as a touristic center, as it will create an integral  touristic product by combining with religious center Cristo Rey and the highest vineyard in Mexico, Caminos D'Vinos.

Celebrations and Festivals:
World Rally Championship: every year at early March this international rally travels all over the five continents; watch all the power of these vehicles that cross high-risks sceneries at high speed.
Book Fair and University Cultural Festival: carried out every spring with conferences, film cycles, concerts, exhibitions and editorial presentations.
Friday of Dolores: a Friday before Holy Week. Altars with offerings to the Virgin of Dolores are set up at homes, businesses and mines, for it is the miners' patroness.
Medieval Festival: jousts, duels, parades and theater plays as in the medieval ages, with people up dressed. It is celebrated during Easter week.
Guanajuato gastronomic Festival  ¡Sí Sabe!: in June it is possible to live an unsurpassed gastronomic experience. Mexico and Spain, guests and local chefs and Guanajuato's traditional cocineras guide us through a full gastronomic experience in different venues.
La Olla Dam Opening: important popular fiesta in the city of Guanajuato where locals gather to witness how the floodgates of the La Olla Dam are opened, on the first Monday of July.
Guanajuato International Film Festival: at the end of July this festival shows a selection of films, screenings, short films and documentaries, a night full of glamour, spotlights and celebrities.
The harvesting: in the state outstand the vineyards of Dolores Hidalgo, San Miguel de Allende and now the one in Guanajuato, Caminos D'Vinos. In the harvesting fiesta there are grapes footprint, wine tasting and sale of each vineyard' products.
The Storming of La Alhóndiga de Granaditas: military and civilian parade to commemorate the feat of El Pípila. He set the door of the building on fire to defeat the Spanish army. The parade is in September.
Cervantine International Festival: during October, it is the most important and traditional cultural and artistic encounter. The event to enjoy international music, scenic arts, performances, visual arts, dance and theater shows.
Pan-American Race: considered the most relevant race in the classic cars milieu, it crosses the country from southeast to north. It passes through Guanajuato between October and November.
Day of the Dead and Alfeñique Fair: during the last week of October and the first one of November there is an exhibition of a large variety of alfeñiques, or skull-shaped sugar candies mainly celebrating the Mexican tradition of Day of the Dead. On November 2 there is also an ephemeral exhibition called "Death on the Billboard" along with the traditional plays ""Don Juan Tenorio"  or the burlesque version "Don Juan Jolgorio".
Karina Gómez – Quinta las Acacias