Discovering "San Bernardo" with Mary

Share
San Bernardo Hotel & Spa en la Montaña
Imagine the calm of the wood, beautiful conifer landscapes and a charming little town. This is how my trip to San Bernardo Hotel & Spa en la Montaña, the welcoming was very warm on behalf of the staff, receiving me with a raspberry punch, one of Tapalpa's and San Bernardo's specialties.
Immediately they show me my room, called half moon, which has that cabin charm reflected in their wooden floors and ceilings without taking of sight the comfort and luxury with the goose feather blankets to keep you warm.
The first thing I did was to relax for a while in the sofa of the room, which is very wide, it gives the feeling of being in some other place except form a hotel room. The details of the architecture, the décor is simple, but with an excellent taste and with so much attention to detail.
The truth is that the trip makes me really hungry, fortunately it was already time to have dinner and I was welcome at the restaurant, a very cozy place with a rustic decoration. Luis approach to me, one of the boys that are at the restaurant, very nice and friendly to offer me the menú they have prepared for that night… tamales yumiiii! I choose Gloria's recommendation, owner of San Bernardo, chards tamales (cultivated by them), accompanied by artisan chocolate, made at Tapalpa. The perfect ending of the night, ready to enjoy that delicious bed.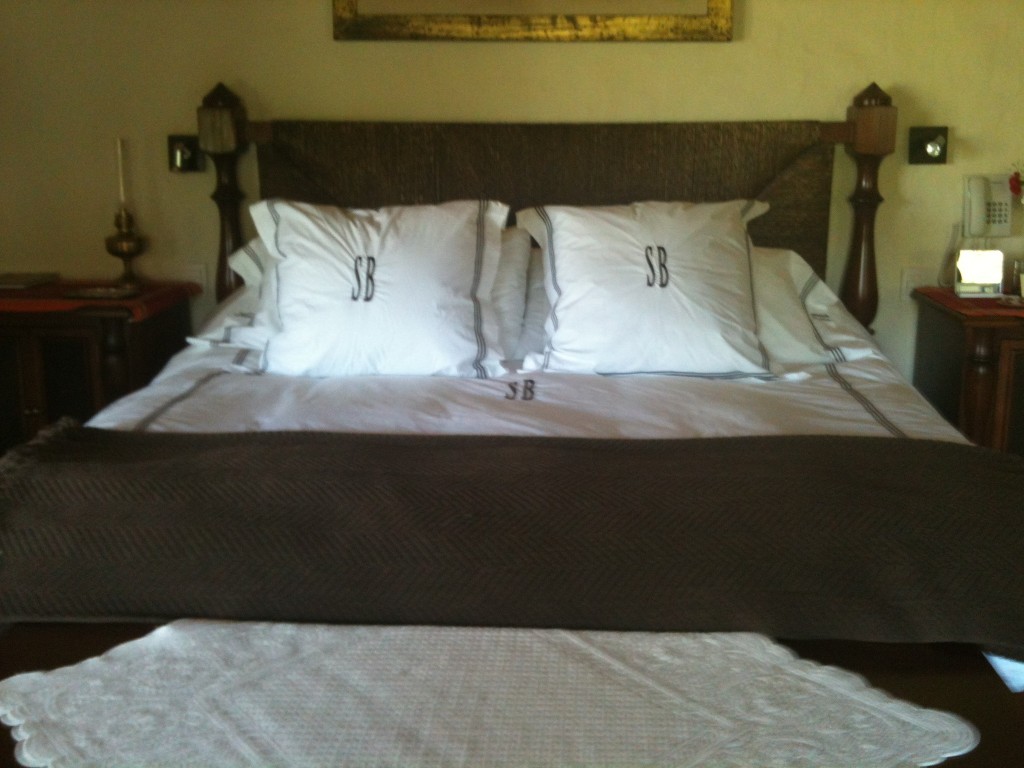 By the way they offered me to light up the chimney, it was not necessary at it was not that cold, but it is a great detail to have them, as well as the heaters especially for the winter.
The next morning I decided that the first thing had to be to take a look at the place I was, as I have arrived at night I couldn't appreciate the landscape. What a marvelous surprise it was to open the wooden windows, a perfect view of the property, the ponds that they have (built by a dam), clear blue sky and the mountains at the bottom. To start the morning I prepare myself a delicious "Parroquia" coffee, the rooms are equipped with coffee makers, coffee and tea service, ideal for those like me that cannot start the morning without our daily coffee doses.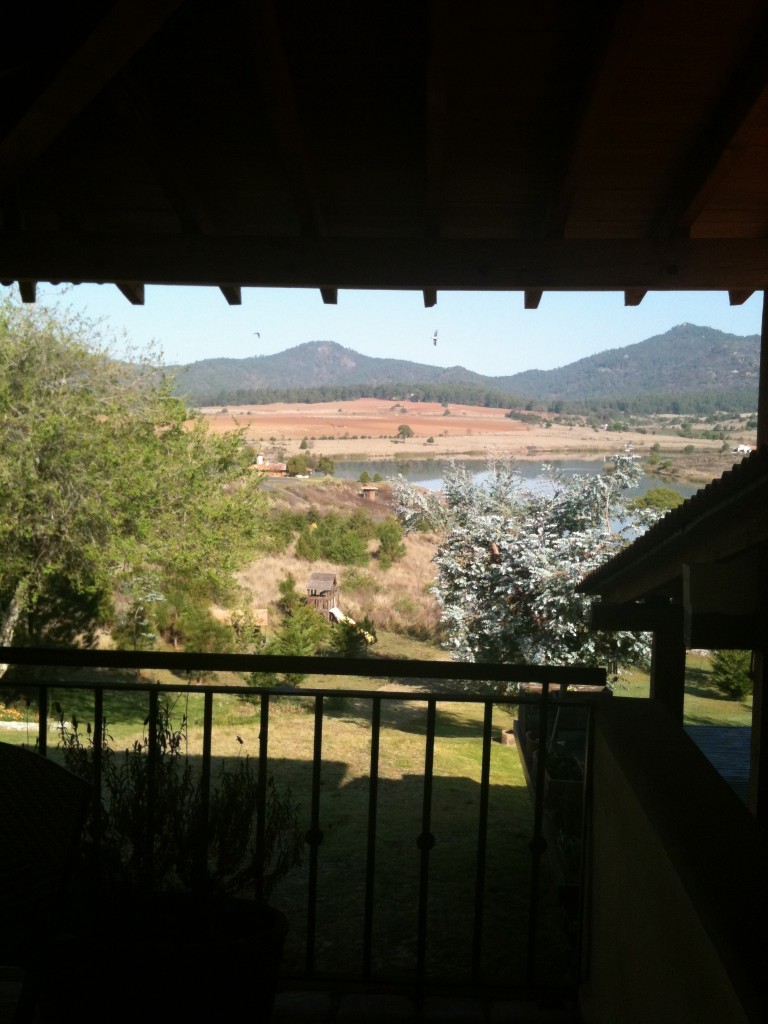 The bathrooms are wide, with marble and a very modern decoration. The amenities are biodegradable so you will also be helping the planet ;)!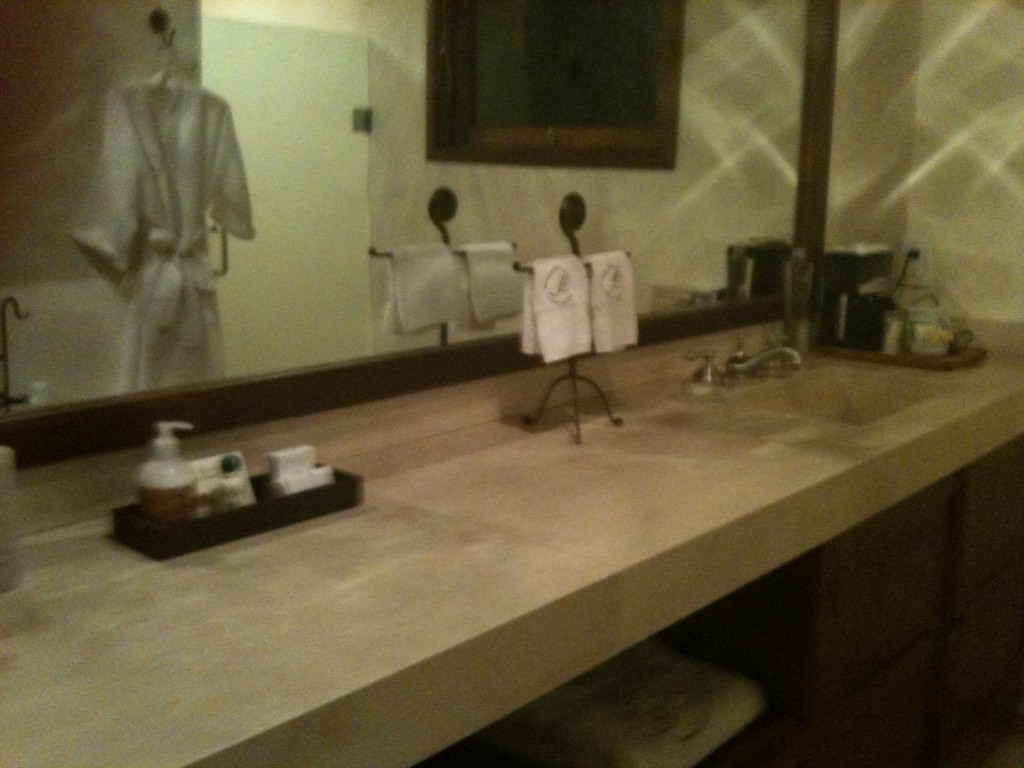 Gloria has always been worried to develop the sustainable tourism, it is important to mention, that there are many art crafts at the property are made at a community that is close from Tapalpa, as well as the baskets and trash baskets. Within the benefic works that she does she supports trainings for the creation of micro business base in the production of local tin fruit.
I went to the dinning room to have breakfast ad when I arrived they had mi table already set up with a colorful party, a plate of fresh fruit, especially with many berries and the raspberries are the most sweet and creamy that I have ever tasted (due to Tapalpa's weather this region has transformed into a very important producer of berries), yogurt, cereals, homemade honey, and homemade jams.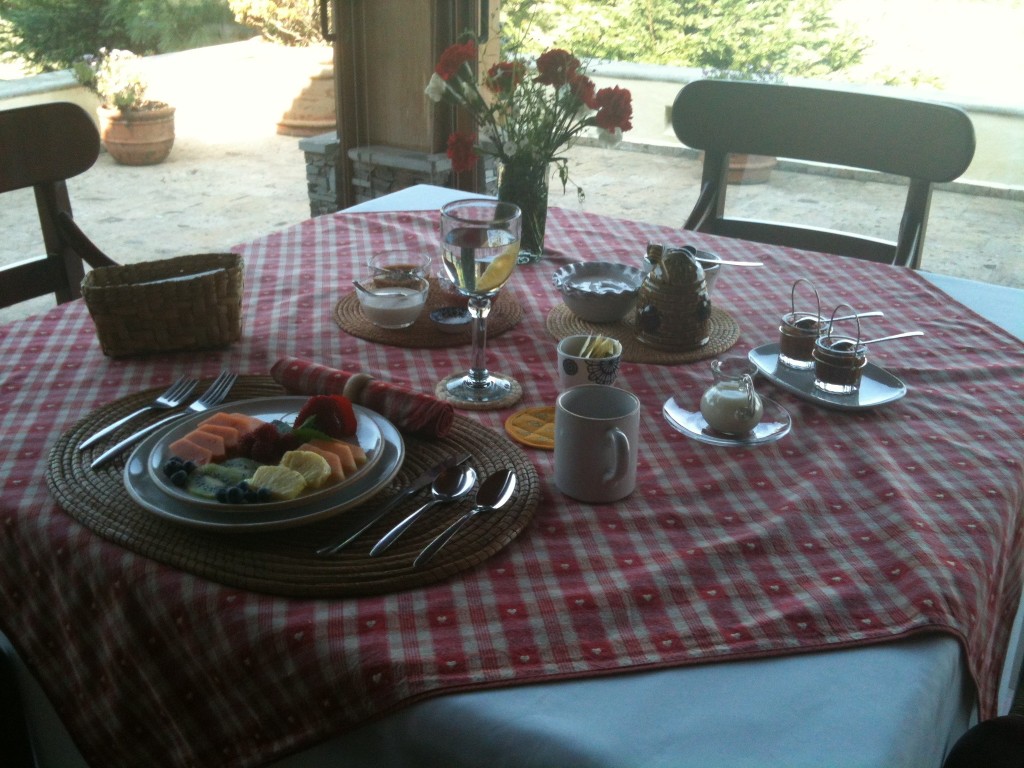 They offer me lime juice and a menu with a variety of eggs, chilaquiles and cereals. I decided to choose the red chilaquiles accompanied by fried eggs (taking advantage that these are also part of the production of the small farm that they have in the property), at the end they offered me delicious banana bread.
Followed we went to make a tour on the place, the first to see was the organic orchards (chards, lettuces, onions, plums, etc.) and the farm (cows for milk, turkeys, hens, rosters and rabbits).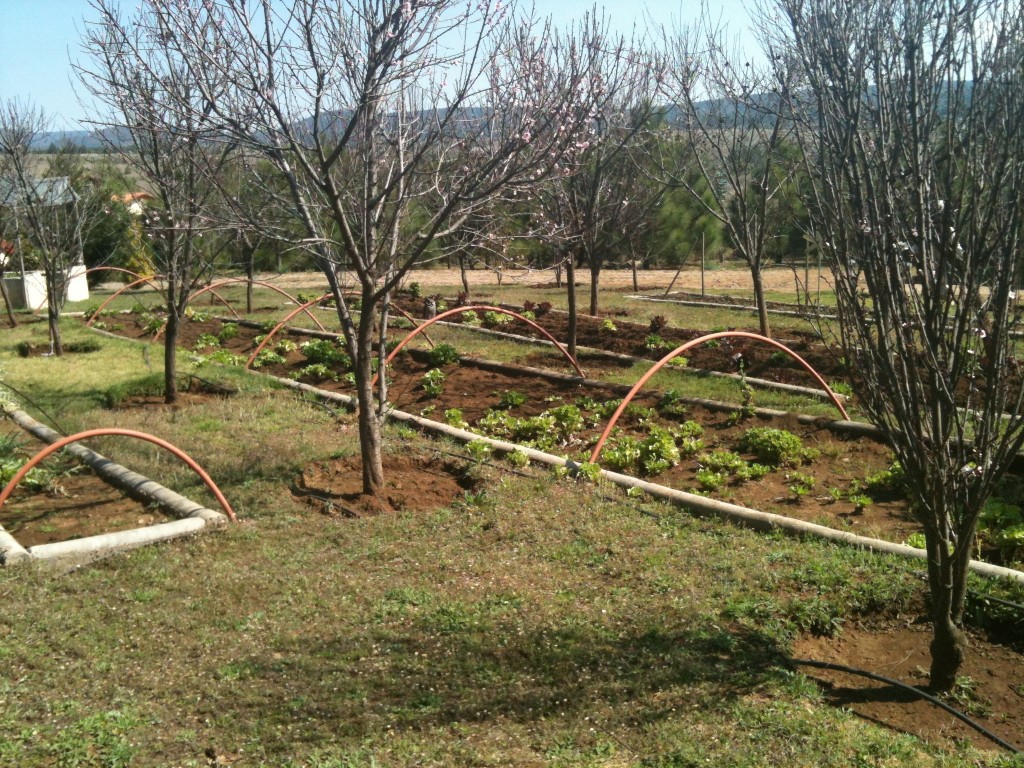 The hotel has their own chapel in which they already had several weddings baptizes, first communion with a capacity for about 60 persons. I had the chance to see some other rooms, all of them with their own charm; they even have ideal options for families. If you are going in a romantic plan the room you should choose is Lavenders, and ask for the packages of romantic dinners that they offered, they can organize them in the patio call oranges or in the lavenders one.
As far as activities they have mountain bikes, a small sailboat and a pool table.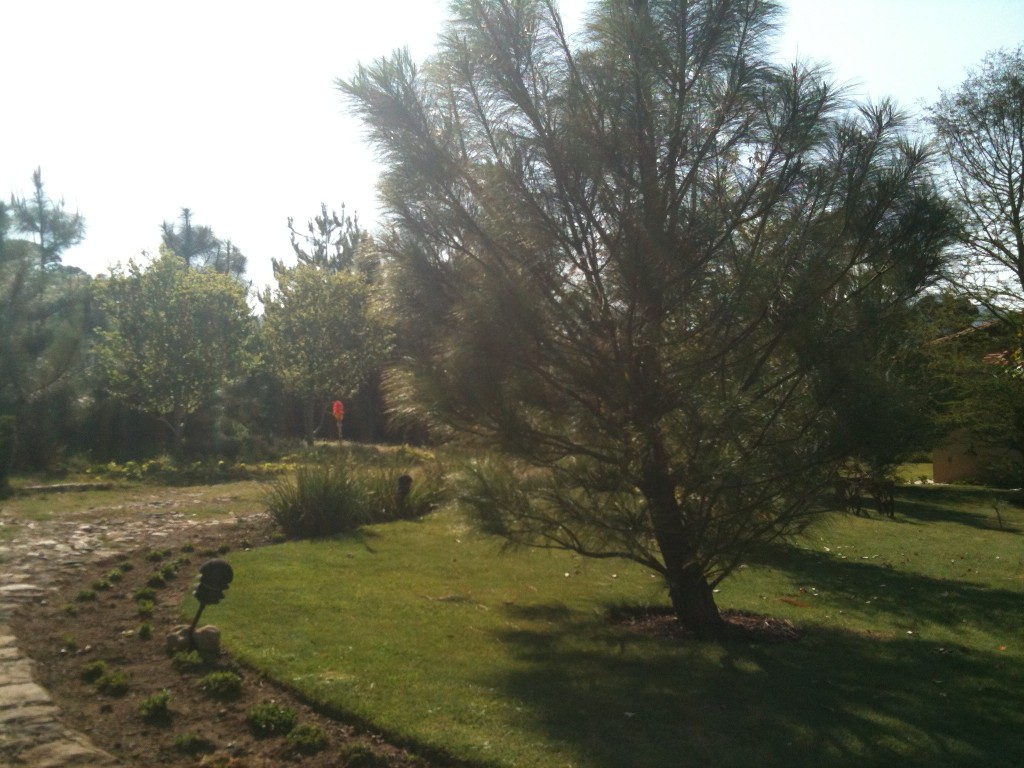 For lunch the Chef Fernando prepare a variety of dishes to taste: tongue with homemade mayonnaise, a trilogy of fried tacos (marlin, shrimp and octopus) and some duck pastor style tacos. After he offered two options of creams: cheese and chipotle chili or locust, for the risky palates (I have tos ay that I choose that one and it was delicious, with a very smooth flavour, perfect to be paire with an spaniard wine, just like we did) both of them with a crust of puff paste. As a main course roasted salmon over pasta with a sweet corn sauce. To finish a chocolate explosion, a cupcake filled with melted warm chocolate. But definitely the best where my hosts who made me feel like home.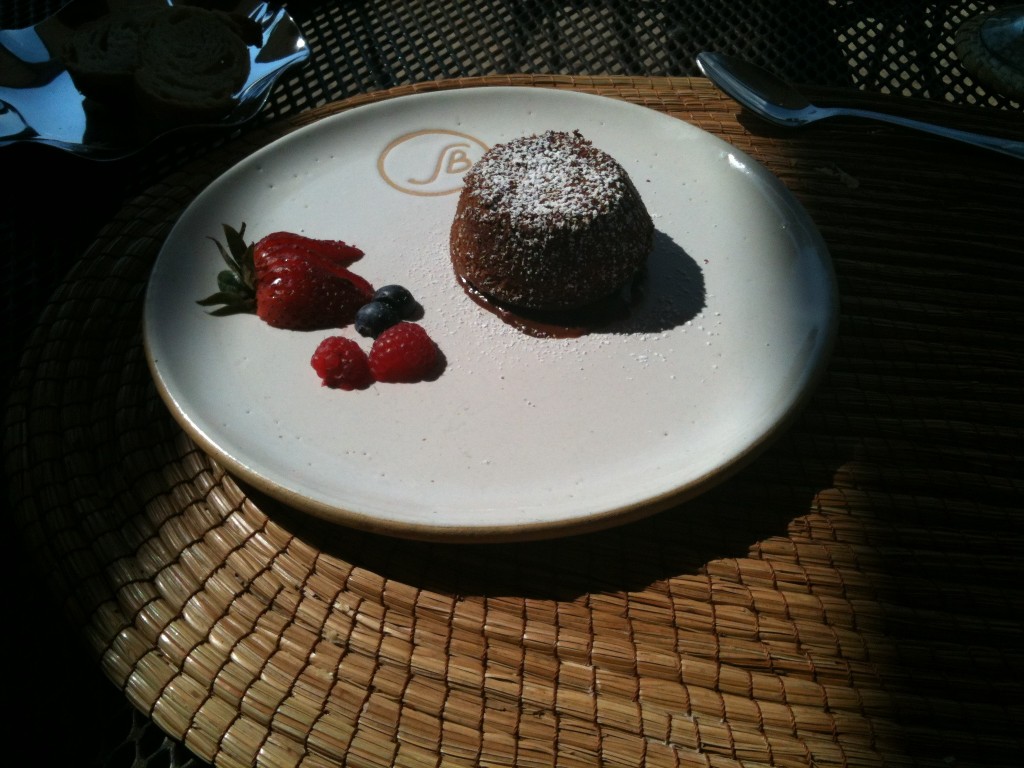 Ideal for couples, romantic weekends, family events o business meetings.

Mary Carmen López
Más de 10 años de trayectoria en la idustria hotelera, Lic. en Administración Hotelera y Turística, con especializaciones en Mercadotecnia y Ventas. Se ha desarrollado profesionalmente en diversos hoteles en México y en el extranjero enfocándose en los últimos años en la hotelería boutique. Apasionada por el turismo en México busca en cada viaje conocer lo más destacado a nivel cultural, gastronómico e histórico de cada destino.