23rd Edition of the Festival Gourmet International, Puerto Vallarta-Bahía de Banderas-Tepic

Share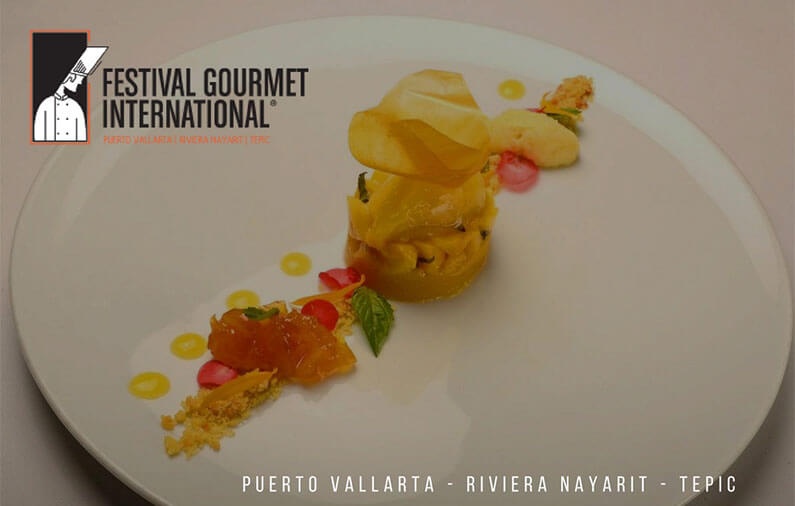 Puerto Vallarta, Jalisco, icon of Mexico with its "Seahorse", which talks about the natural beauties this area has on the shores of the Pacific Ocean.  The sea's vicinity and the fresh ingredients it produces have brought about a strong gastronomy, making it grow exponentially both domestically and internationally.
It's been 23 years since the "Gourmet Festival" was born in Puerto Vallarta thanks to its creators, Thierry Blouet y Heinz Reize, chefs born abroad but with a fully-Vallartan heart. Their idea was to promote and raise the culinary level of the area to international standards to make it more competitive, thanks to the interaction with the new methods and creativity of highly-qualified chefs. In 2000 Chef Roland Menetrey joined the cause, bringing in his experience to foster this great culinary fiesta.
The original format is still on, meaning that every participating restaurant invites a celebrity of the culinary world, Mexican or foreigner, to share their best and most representative recipe of their gastronomy. 28 top-notch hotels and restaurants are participating this year.
This culture and gastronomy exchange has benefitted everybody: local chefs, guest master chefs, our tourists and therefore all the community promoting the proverbial Mexican hospitality in a peerless gourmet experience.
This 23rd edition features a special activities program to honor wine, cheese and jazz, with an attractive polo tournament. The dates are November 10 through 19, 2017.
See the full program here.
Also, every night in all the participating restaurants and hotels, delicious culinary creations will be served, created by their guest chef. Click here to learn more.

Angela Ortega (Eng)
Born in the central region of Mexico, but having lived most of her life in the beautiful state of Nayarit, Angela fell in love with this area's landscapes and its natural beauty. With the firm conviction from an early age that she wanted to be part of the way tourism was managed in her state and the country at large, she studied a degree in Tourism Management and Development at the Technological University of Nayarit. Immediately following her studies, she immersed herself in the world of hospitality in Puerto Vallarta, an iconic city within Mexico known for its wide range of hotels. Working within this field, she took various positions, which allowed her to develop many skills such as teamwork and great service as well as to learn about the standards of operations at a large hotel complex. After taking a break from the hotel industry for personal reasons, her path met Mexico Boutique Hotels, a company that closely matched her personal convictions, which involve presenting Mexico to the world as a brand that guarantees memorable experiences thanks to its natural beauty and the excellent hospitably of its people who by their very nature provide great service and are excellent hosts. Angela currently serves as Chief E-Concierge and Travel Designer for the aforementioned company, offering travelers the opportunity to live a different experience every day, where attention to details make a huge difference.