The fun side of Puebla – Travel with children

Share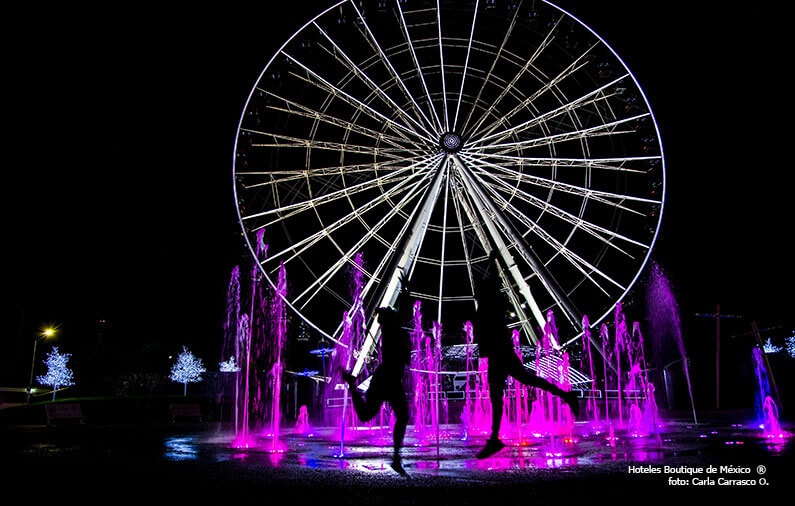 To speak of Puebla is to talk about history and tradition; it is to know that many of the most important and crucial episodes of Mexico took place there, and that its culture, its unique and incomparable cuisine, as well as its beautiful buildings are signs that have taken it to a position as a symbol of Mexicanity.
Puebla has been evolving and creating, over the years, many options to receive more and more people of all ages, national or foreign who visit it eager to soak up the history and tradition that we talked about previously, but that when traveling with children they have the need to look for options that can keep them entertained and happy during the trip.
Let's list some of these options:
CALLE DE LOS DULCES: On 6 Oriente Street, in the heart of the capital of Puebla, there are more than 40 stores where you can taste and buy delicious sweets made by by local artisans of this city, who keep the original recipes passed to them by past generations. Rompope sweets, muéganos, Santa Clara cakes, cocadas, jamoncillos, among many more sweets, will be in charge of offering a true feast of flavor to the palates.
LA ESTRELLA DE PUEBLA: Inside the linear park, in the area of Angelópolis, a perfect space has been developed to get to know Puebla from the heights; we are talking of a huge ferris wheel with 54 available seats that offer the opportunity to appreciate the beautiful landscapes of the capital city in a fun and very meaningful journey, at their feet are benches to rest as well as dancing fountains with colored lights that create a magical and fun atmosphere.
IMAGINA MUSEUM: Located in the area of Los Fuertes, about 15 minutes from downtown, is located this place whose main objective is to encourage interactive learning in children with workshops focused on science, technology and art, an ideal place to share quality time in family.
PLANETARIO DE PUEBLA: Simular estar en una estación de servicio planetario en el espacio exterior deber ser una actividad por demás interesante y divertida para un niño. En este sitio será posible hacerlo conocer galaxias y aprender que hay fuera de nuestro planeta, todo esto gracias a sus impresionantes proyecciones IMAX.
PUEBLA PLANETARIUM: Pretending to be in a planetary service station in outer space will be an interesting and fun activity for a child. In this site it will be possible to make him learn about galaxies and what is outside our planet, thanks to its impressive IMAX projections.
TRAINS NATIONAL MUSEUM: The railroad, a means of transport that was very popular years ago, is now almost unknown to children who have seen them perhaps only on television. In this spot you can admire the structure of old railways that were once active and served as a means of transportation, passenger cars, freight cars, machinery, tools and even whole locomotives can be appreciated if you visit this place.
AFRICAM SAFARI: An always attractive way to keep children happy is to visit places where they can see animals and have contact with nature, which is why we suggest this activity within our list of recommendations. In this place you can get in your own vehicle and it offers you the opportunity to see up close more than 300 species including Bengal tigers, African elephants, giraffes, rhinos, and deer, among many more.
TURIBUS: A fun way to get to know Puebla is to do it by Turibus; this comfortable and traditional vehicle has become famous in several cities for offering the alternative of touring the most representative of each place without physical effort, skipping the long walks.
If we talk about lodging, finding a hotel that offers the necessary and elementary comforts for trips with children turns out to be sometimes complex. However in MEXICO BOUTIQUE HOTELS we always have the best options:
CASONA MARÍA
Comfortable rooms furnished to spend nights of real rest, there are connecting rooms for the older children who can already sleep in another room and there are the Junior Suites with additional beds and a Jacuzzi so that the little ones can enjoy their bath time to the fullest; it features a spa, a boutique and city tours upon request.
MESÓN SACRISTÍA DE LA COMPAÑÍA
You will find the purest representation of Puebla in this hotel, which faithfully preserves the essence of this city. It offers comfortable Junior Suite rooms with 2 double beds for those traveling with children, as well as cooking workshops that can be very fun.
VISIT PUEBLA AND LET US GUIDE YOU!
1 855 2236061

Angela Ortega (Eng)
Born in the central region of Mexico, but having lived most of her life in the beautiful state of Nayarit, Angela fell in love with this area's landscapes and its natural beauty. With the firm conviction from an early age that she wanted to be part of the way tourism was managed in her state and the country at large, she studied a degree in Tourism Management and Development at the Technological University of Nayarit. Immediately following her studies, she immersed herself in the world of hospitality in Puerto Vallarta, an iconic city within Mexico known for its wide range of hotels. Working within this field, she took various positions, which allowed her to develop many skills such as teamwork and great service as well as to learn about the standards of operations at a large hotel complex. After taking a break from the hotel industry for personal reasons, her path met Mexico Boutique Hotels, a company that closely matched her personal convictions, which involve presenting Mexico to the world as a brand that guarantees memorable experiences thanks to its natural beauty and the excellent hospitably of its people who by their very nature provide great service and are excellent hosts. Angela currently serves as Chief E-Concierge and Travel Designer for the aforementioned company, offering travelers the opportunity to live a different experience every day, where attention to details make a huge difference.