En Mi mero Mole

Share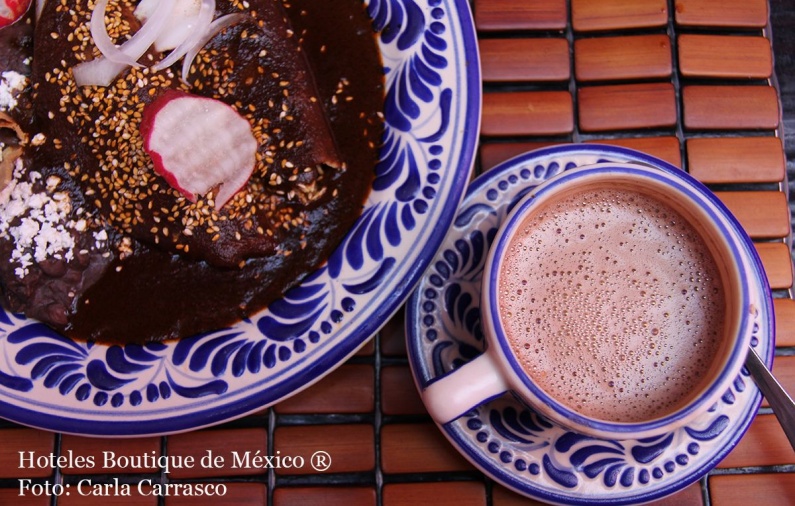 Mole, flagship of Mexican gastronomy; and deservedly so thank to its complex preparation. Taking its name from nahuatl mōlli, meaning sauce, it is also a true reflection of our country's mestizaje, or miscegenation.
We don't know for sure the origin of this dish. However, one of the most popular legends tells than the archbishop went to visit the Saint Rose Convent in the city of Puebla.  The nuns in the convent didn't have enough food to prepare a dinner worth of the dignitary, so they prayed and brought everything they found in the kitchen to create this marvelous sauce to pair the turkey meat.  The archbishop was fascinated and when asked for the name, the nuns only could mutter mole, the word used back then to mean "mix".

These are some of the different moles in our country:
The 7 from Oaxaca:
Yellow: originally made with yellow costeño and chicostle chilies, it is currently prepared with guajillo or chihuacle chilies. Its characteristic flavor is given by hoja santa and it is thickened with corn dough.
With almonds: it is a mole without chili; beside almonds it takes capers, olives, raisins, cinnamon and sesame seeds.  It is thickened with yolk bread, typical from Oaxaca.
Green: based on serrano or Jalapeño chilies, it take several vegetables such as chayote, zucchini, potato and two characteristic herbs from Oaxaca cuisine: wormseed and hierba santa.  This mole is also thickened with corn dough.
Black: lord of the moles from Oaxaca, of Zapotec  origin, it takes black chihuacle, mulato, black ancho and pasilla chilies.  Among the spices used we find sesame, peanuts, nuts, almonds, cinnamon and burnt chili seeds.  Plantain presence is also a special feature.
Coloradito: based on red chihuacle, red ancho, pasilla and guajillo chilies, it is spiced with clove, sugar, sesame, cinnamon, raisins and almonds.  It takes plantain, chocolate and is thickened with yolk bread.
Manchamanteles: it name means "cloth stainer"; it is more an adobo made with red ancho, red chihuale and guajillo chilies.  It also has oregano, tomila, marjoram, pineapple and plantain.
Chinchillo: special because it is made with burned tortilla, it takes marjoram, avocado leafs, green bean and chayote and is based on black chihuacle, pasilla and mulato chilies.
The  Poblano one:
The classical one is prepared with cocoa, chocolate and ancho, mulato, pasilla and chipotle chilies.  It is spiced with almond, nuts, raisins, sesame, clove, cinnamon and more.
Mole de olla:
Or mole in the pot, it could be considered more like a thick soup, it is prepared with beef, ancho and pasilla chilies.  It is complemented with xoconoxtles (a kind of cactus), corn, carrots and zucchini.  It is served with corn dough balls cooked inside the sauce.
Pipián:
Its name comes from the Spanish for pumpkin seed, "pepita", and depending on the extra ingredients it can be red, purple or green.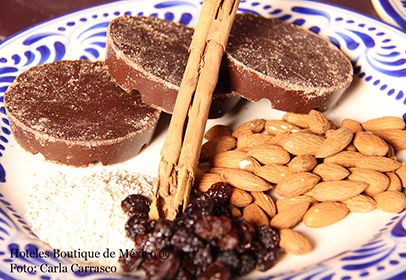 Mesón Sacristía de la Compañía

Mary Carmen López (Eng)
With over 10 years of experience in the hospitality industry and a bachelors in Hospitality and Tourism Management specializing in marketing and sales, Mary Carmen has developed her career working at various hotels in Mexico and abroad, focusing in recent years on the boutique hotel industry. Passionate about tourism in Mexico, in every trip she seeks to find the cultural, culinary and historic highlights of each destination.